Optimize Vision Processing with AI Accelerator Card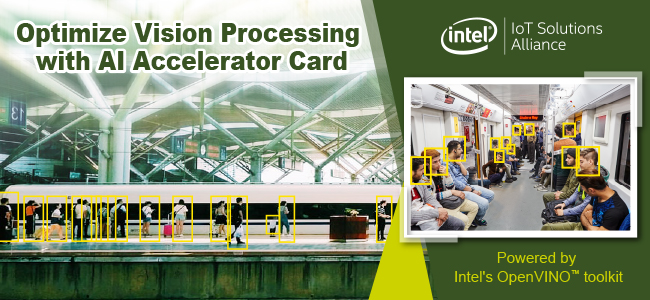 Optimize Vision Processing with AI Accelerator Card
Undoubtedly, the improvement of vision analytics technology brings numerous insights and benefits to the society.
Detecting faces and movements of pedestrians in public places for the purpose of people counting and public safety enhancement is a common vision analytics application.
In order to immediately process and analyze a large number of image files, and compare the analysis results, it is required to have a high-performance hardware device and advanced software technology to handle the task.
IEI releases the Mustang series AI accelerator cards which is integrated with Intel® Arria® 10 FPGA / Intel® Movidius™ VPU and support Intel® Open Visual Inference & Neural Network Optimization (OpenVINO™) toolkit to provide an excellent solution for optimizing vision processing.
Why Intel® Solution

Cross platform: easy to be implemented in the existing projects
Heterogeneous: integrate all Intel's accelerators
Fast integration: easy to convert a trained model to Intel platform.
Compact size: small in size and scalable.
Power efficiency: FPGA with 40W TDP; VPUx8 with 25W TDP.
Better performance/$/W: Intel® solutions have better FPS/$/W, compared to other solutions

What OpenVINO™ toolkit offers

Intel® Distribution of OpenVINO™ toolkit is based on convolutional neural networks (CNN), the toolkit extends workloads across multiple types of Intel® platforms and maximizes performance.

It can optimize pre-trained deep learning models such as Caffe, MXNET, and ONNX Tensorflow. The tool suite includes more than 20 pre-trained models, and supports 100+ public and custom models (includes Caffe*, MXNet, TensorFlow*, ONNX*, Kaldi*) for easier deployments across Intel® silicon products (CPU, GPU/Intel® Processor Graphics, FPGA, VPU).

Advantages of using VPU-based accelerator card

Low power consumption
High scalability
Multi-Tasks
Compact size
Longevity 5 years
Medium & low resolution image( < 1080P)

Mustang-M2BM-MX2

Deep learning inference accelerating M.2 BM key card with 2 x Intel® Movidius™ Myriad™ X MA2485 VPU, M.2 interface 22 mm x 80 mm, RoHS

- Specifications - Product News

- IEI Mustang mini AI accelerator cards introduction
[English][Chinese]

---

Mustang-MPCIE-MX2

Compact size mini PCIe 30x50mm Two Intel® Movidius™ Myriad™ X VPU can execute Two topologies simultaneously.

- Specifications - Product News

- IEI Mustang mini AI accelerator cards introduction
[English][Chinese]

---

Mustang-V100-MX4

Computing Accelerator Card with 4 x Intel® Movidius™ Myriad™ X MA2485 VPU, PCIe Gen 2 x 2 interface, RoHS

---

Mustang-V100-MX8

Computing Accelerator Card with 8 x Movidius Myriad X MA2485 VPU, PCIe gen2 x4 interface, RoHS

- Specifications - Brochure
- IEI Deep Learning Inference Acceleration Card - Mustang V100 [English][Chinese]

Advantages of using FPGA-based accelerator card

Low latency (3ms in ResNet-50)
Continued improved performance
Industrial grade
10-year longevity
High resolution image (>1080P)

Mustang-F100

PCIe FPGA Highest Performance Accelerator Card with Arria 10 1150GX support DDR4 2400Hz 8GB, PCIe Gen3 x8 interface

- Mustang-F100-A10 OpenVINO™ Toolkit Installation Guide
[English][Chinese]

New Products

AFL3-W07A-AL | IP65 Panel PC

W7" light industrial panel PC
12V DC input with lockable DC jack
Selectable AT/ATX power mode
On board IEEE802.3 at standard

---

AFL3-WXXA-AL | IP64 Panel PC

9 V ~ 30 V wide range DC input with lockable DC jack
Selectable AT/ATX power mode
Support PoE PD IEEE803.2 af/at/bt

- Specifications - Product News

- IEI Unboxing|Fixing your problem with IEI panel PC|AFL3-W15A-AL [English][Chinese]

- IEI's Cost Effective and Flexible Power over Ethernet Panel PC|AFL3-W10A-AL[English][Chinese]

---

PulM-1G8T-BCM5720 | NIC for PUZZLE-IN001

Broadcom BCM5720 based Network Interface Card with 8 x RJ-45 by 4 PCIe 2.0 x 2 Interface
IEI Integration Corp.

---

Tel:+886-2-8691-6798
+886-2-2690-2098
Fax:+886-2-6616-0028

sales@ieiworld.com
| | |
| --- | --- |
| Copyright©2019 IEI Integration Corp. All Rights Reserved. Design and specifications are subject to change without prior notice. | |