Media contact
IEI Integration Corp.
TEL: +886-2-8691-6798
+886-2-2690-2098
FAX: +886-2-6616-0028
IEI Technology USA
TEL: +1-909-595-2819
FAX: +1-909-595-2816
IEI Integration China
TEL: +86-21-3462-7799
FAX: +86-021-3462-7797
IEI Integration Corp. 東京支店
TEL: +81-3-5901-9735
FAX: +81-3-5901-9736
Network Firewall Solution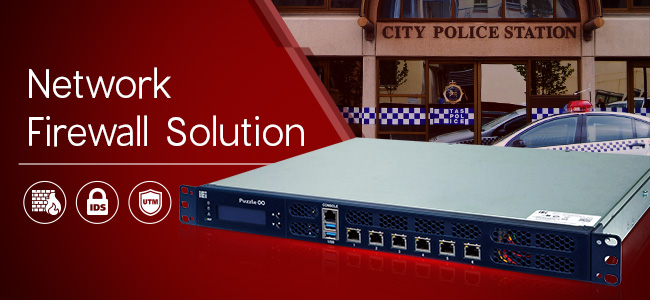 Network appliance for implementation of an open source software firewall
The old firewall at the police station, based on proprietary software and hardware, was ready for an upgrade. With the ever-increasing volume of data traffic, they needed a solution that would see them through the next few years and allow for expansion and upgrades in the future. There's a lot of attention on uCPE and its provision of high flexibility on commercial off-theshelf hardware with a generic operating system and open source software. They were looking to leverage this technology to lower both their overall capital expenditure and operating expenses, but perhaps even more importantly were interested in the flexibility of managing the related VNFs with readily available open source software.
IEI's PUZZLE range of networking appliances offers a comprehensive assortment of options for differing applications. For our client's specific requirements we recommended the PUZZLE-IN002. With its simple design and more budget conscious feature set, the PUZZLE-IN002 strikes a more conservative balance of power to cost.
Our client's system needed to use the Ubuntu operating system. An issue that sometimes arises is when hardware requires specific drivers that may be proprietary or even unavailable. The PUZZLE series, being designed explicitly for running software-based VNFs within a vCPE model, naturally support the open source software that powers these systems, specifically the LINUX operating system on which Ubuntu is based, and the firewall software that runs on it. Unforeseen dependencies can complicate the installation of the operating system, but the PUZZLE-IN002 has been explicitly tested and supports Ubuntu right out the box.

Provisioning of the new equipment could have been difficult and complicated if proprietary hardware had been implemented on the PUZZLE-IN002, but with the choice of readily available hardware, and pretesting for compatibility, the client's installation of Ubuntu worked flawlessly from the start. With the Ubuntu operating system running smoothly and all hardware dependencies taken care of, our client successfully installed all their required virtualization packages and quickly integrated the PUZZLE-IN002 into the VNF infrastructure.

More Information about PUZZLE Series

PUZZLE Series Network Appliance

X86-based

PUZZLE-A001 New!

1U Rackmount Network Appliance with AMD EPYC™ Embedded 3000 series processor, 1 NMS & 2 PCIe x4 slots

- Specifications - Product News

PUZZLE-A002

1U Rackmount Network Appliance with AMD R-Series RX-421ND processor, Support 6 x GbE RJ45

PUZZLE-IN001

1U Rackmount Network Appliance with Intel® Xeon® E, 8th Generation Intel® Core™/Pentium®/Celeron® Processor, up to 2 NMS and 2 PCIe slots

- Specifications - Product News

PUZZLE-IN002

1U Rackmount Network Appliance with 8th Generation IntelCore. i7/i5/i3, Pentiumor CeleronProcessor, 1 PCIe slots.

- Specifications - Product News

---

ARM-based

PUZZLE-M801

1U Rackmount Network Appliance with Marvell® Armada® 8040 ARM v8 A72 quad-core System-on-Chip

- Specifications - Product News

---

Smart NICs -

PulM-1G8T-BCM5720 New!

Broadcom BCM5720 based Network Interface Card with 8 x RJ-45 by 4 PCIe 2.0 x 2 Interface

PulM-10G4SF-MLX New!

Mellanox ConnectX-4 Lx based Network Interface Card support Quad 10GbE with 4 x SFP+ by 2 PCIe 3.0 x 4 Interface

PulM-10G4SF-XL710 New!

Intel® Ethernet Controller XL710-BM1 based Network Interface Card with 4 x SFP+ by 1 PCIe 3.0 x8 interface

PulM-10G4T-AQC107 New!

Aquantia AQC107 based Network Interface Card with 4 x 10GBASE-T by 4 PCIe 3.0 x2 Interface

PulM-25G2SF-MLX New!

Mellanox ConnectX-4 Lx based Network Interface Card support Dual 25GbE with 2 x SFP28 and PCIe 3.0 x8 Interface

New Products

Mustang-V100-MX4 | VPU Accelerator

Computing Accelerator Card with 4 x Intel® Movidius™ Myriad™ X MA2485 VPU, PCIe Gen 2 x 2 interface, RoHS

Mustang-M2BM-MX2 | VPU Accelerator

Deep learning inference accelerating M.2 BM key card with 2 x Intel® Movidius™ Myriad™ X MA2485 VPU, M.2 interface 22 mm x 80 mm, RoHS
IEI Integration Corp.

Tel:+886-2-8691-6798
+886-2-2690-2098
Fax:+886-2-6616-0028
Email: 

sales@ieiworld.com
| | |
| --- | --- |
| Copyright ©2019 IEI Integration Corp. All Rights Reserved. Design and specifications are subject to change without prior notice. | |