Consolidate Your Multiple Network Application Portfolio with PUZZLE Series
Consolidate Your Multiple Network Application Portfolio with PUZZLE Series
---
【Taipei, Taiwan, November 12th, 2020】IEI PUZZLE series network appliance focuses on network markets, such as firewall, intrusion detection, and SD-WAN. The challenge we found from early appliances is that complexity and fragmentation made development slow and presented barriers to compatibility and expansion of networks at a speed that matched their adoption. Moreover, their lack of multi-function support in one device will increase the cost of hardware purchasing in order to fulfill multiple application requirements.
A good network appliance needs to be a jack-of-all-trades, allowing quick and flexible upgrades and installation of expanded network functions providing a one-stop shop for all possible networking needs on the provided hardware with no hardware or software compatibility issues.
IEI PUZZLE series offers the following benefits:
Reduced CapEX - fewer machines needed
Reduced OpEx - consolidated management, fewer contracts and less licensing costs
Network Ecosystem – implement with SD-WAN, uCPE and NFV to build up network environment for efficient use of resources and also certificated with Intel® Select Solution for uCPE on CentOS and ADVA
All-in-One Functions – support virtual network functions (VNFs) to run router, switch, UTM, VPN and firewall on one single machine
Equipped with powerful CPU – high computing capability and optimized network transmission. The PUZZLE series includes x86-based– Intel® and AMD, and ARM-based - Marvell, product solutions
Easy Upgrade – offer a selection of smart NIC module cards, the PulM series, to provide various speed and function upgrade.
High Expansion Capability – designed with PCIe x4 or PCIe x8 to support different add-on cards, such as PoE cards or AI accelerator cards, to meet any demand.
Successful Story Sharing - Firewall Solution
Based on the above advantages of the PUZZLE series, IEI is going to share one of successful case studies - Next Gen. Firewall Solution, to assist you to understand this series more.
Cybersecurity is an important issue of big data transmission. An advanced and long-term firewall solution is able to support clients to ensure their data security. The traditional route of a dedicated hardware firewall is too bulky and costly; plus, the hardware is hardly upgraded and typically applies for a singular purpose. 
IEI PUZZLE series can distribute the resources via VM to reach uCPE applications and integrate multi-functions into one device, such as VPN, router and firewall, and it can be customized with any service by client requirements. This series has tested to work with Ubuntu 16.04, so it is ready to go with any modern Linux distribution and CentOS to help client easily deal with open source software compatibility. Hence, by using the PulM smart NIC cards, the client has high flexibility to upgrade devices at any time, and when the hardware system lags behind, they do not need to find a new supplier, just find the most suitable upgrade component with the least resources.
» More Successful Stories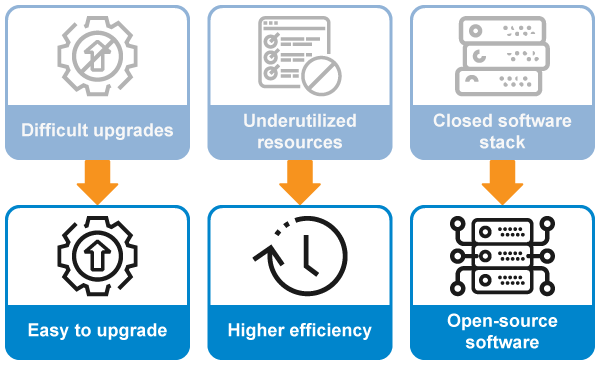 About IEI Integration Corp.
IEI Integration Corp. is a leading industrial computer provider. IEI's products are applied in computer-based applications such as factory automation, computer telephony integration, networking appliances, security, systems, and in fields like AI, IoT (Internet of Things), national defense, police administration, transportation, communication base stations and medical instruments. IEI continues to promote its own-brand products as well as serving ODM vertical markets to offer complete and professional services.
IEI Integration Corp.

---

Tel:+886-2-8691-6798
+886-2-2690-2098
Fax:+886-2-6616-0028

sales@ieiworld.com
| | |
| --- | --- |
| Copyright©2020 IEI Integration Corp. All Rights Reserved. Design and specifications are subject to change without prior notice. | |