IEI Launches High Core Density 1U Network Appliance PUZZLE-9030 with 3rd Gen AMD® EPYC™ 7003 Series Processor
IEI Integration Crop., a leading provider in edge computing, introduced a new addition to its network appliance - the PUZZLE-9030 for SD-WAN architecture and secure access service edge (SASE) solutions. The PUZZLE-9030 is a 1U 19" rack-mount network appliance with up to 4TB system memory. It features two high throughput AMD® EPYC™ 7543 processors with 64 cores in a dual socket system, delivering up to 36% improvement compared to the 2nd Gen AMD® EPYC CPUs, which is made for cybersecurity vendors that require faster CPU performance to accelerate.
A big challenge for network operators is to ensure 24/7/365 non-stop network operation. The PUZZLE-9030 supports enhanced availability and serviceability, by including tool-less design, hot-swappable cooling fans and redundant power supplies, which ensure excellent heat dissipation and continuous power delivery.
note: The PUZZLE-9030 is request by order.
Expandable Network Bandwidth Compliant with OCP 3.0
Design and customize your appliance for today's dynamic network environment. The PUZZLE-9030 is built-in with four onboard OCP NIC 3.0 slots, aiming to deliver flexibility and scalability. Choose IEI's PulM module, the PulM-100G2SF-CX6, featuring dual 100GbE network ICs, for the PUZZLE-9030 to support the highest-bandwidth of NIC expansions up to 800GbE.
U.2 NVMe Delivers Low Latency and Low Power Consumption
The U.2 SSD interface features high-speed, low-latency and low-power NVMe standard protocol. The dual 2.5" U.2 NVMe drive bays of the PUZZLE-9030 support PCIe Gen4 x4 channel which provides up to 7000MB/s data transmission speed. It is 2 times faster than PCIe Gen3 U.2 (3200MB/s) and 10 times faster than SATA (500MB/s).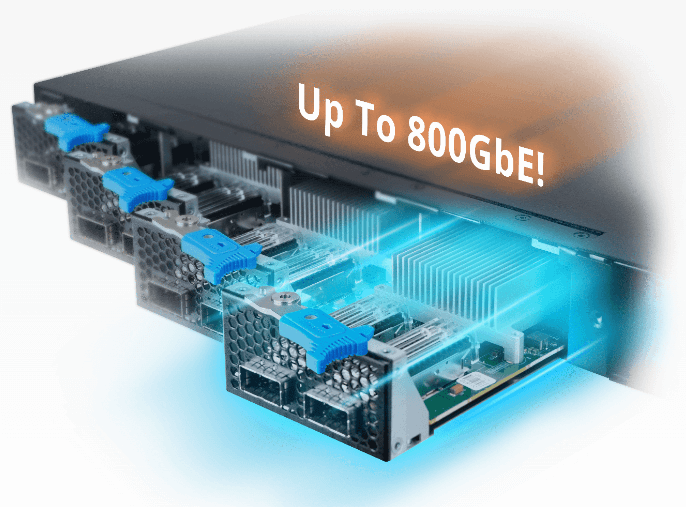 Pluggable and Hot-Swappable Fan Modules Minimize Troubleshooting Resources
The PUZZLE-9030 comes standard with six hot-swappable cooling fans in the rear of the 1U chassis. The fan modules are designed to push a high volume of air through the chassis to cool hot CPUs, storages and expansion cards such as AI accelerators, SmartNICs, or GPGPUs.

Dual PCIe Gen4 x16 Slots Accelerate AI-driven Edge Computing
IEI PUZZLE-9030 features a powerful AI accelerator architecture in a 1U system to enable easy scale-up in order to meet the demands of AI and high-performance computing (HPC), and to securely run workloads in virtualized environments. Moreover, various types of PCIe AI accelerator cards such as FPGA, TPU or VPU cards are available from IEI. These hardware-based acceleration cards offload the repetitive but high volume workloads from CPU and improve total application performance.
Key Features

3rd Gen AMD® EPYC™ 7003 Processor family (codenamed: Milan)
8-channel DDR4 3200MHz memory, supporting ECC RDIMM/LRDIMM up to 4TB
2 x 2.5" U.2 (PCIe Gen4 x4) NVMe SSD or 2 x 3.5" SATA 6Gb/s HDD
Support 4 NIC modules (PulM)
1x Riser card for PCIe x16 expansion slot on the rear
2 x M.2 2280
Support IPMI (optional)
For more information about this or other IEI products and services, please contact your local sales support team or visit our website at www.ieiworld.com