IEI Releases AFL4-EHL Series Panel PC to Provide Versatile, Cost-effective Solutions for Light Industrial Markets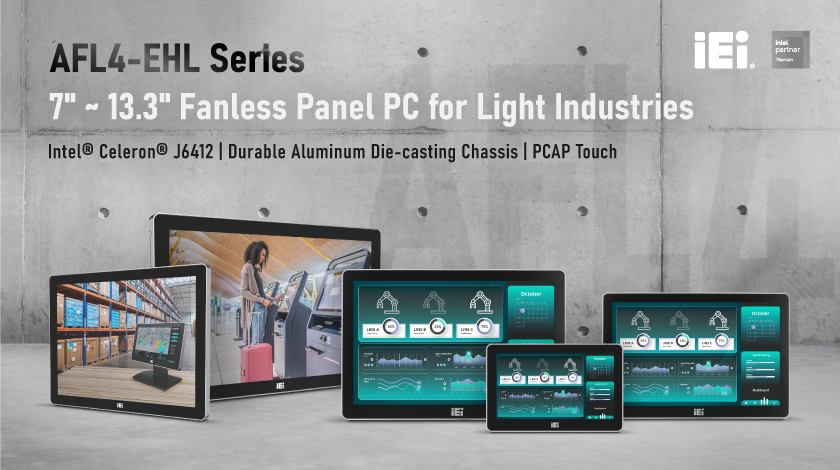 IEI Integration Corp., a leading provider of industrial computer, released the 4th generation of IEI AFOLUX Panel PC - the AFL4-EHL series. AFOLUX, standing for affordable luxury, is designed to provide versatile, cost-effective solutions for light industrial markets such as factory automation, retail, medical, digital signage and POS (point of sale). It is fanless with aluminum casing, looks stylish like a tablet, and is built with optimized PCAP touchscreen and the latest Wi-Fi 6E for IoT applications requiring high-speed connectivity, large embedded RAM, and low power consumption.
Quad-core CPU Drives Higher Performance at Low Power
The AFL4-EHL series is powered by Intel® Celeron® J6412 processor (burst up to 2.6 GHz) and on-board 8GB LPDDR4x memory to deliver high levels of CPU and graphics performance at low power. Compared to the previous generation, the AFL4-EHL offers 73% boost on CPU performance, making it perfect for multitasking. Furthermore, the long-term availability of the process can benefit integrators who are looking to maximize their return on investment.
Front IP64 & Outstanding PCAP Touchscreen Technology
The AFL4-EHL's front panel is compliant with IP64 to protect it against pressure water and dust.The panel PCs also adapts a glass-glass PCAP touch technology with the following outstanding features to fulfill your various industrial needs.
10-point multi-touch
Work with gloves and water
Anti-glare matte finish
Chemically strengthened glass substrate with UV protection
7H scratch-resistant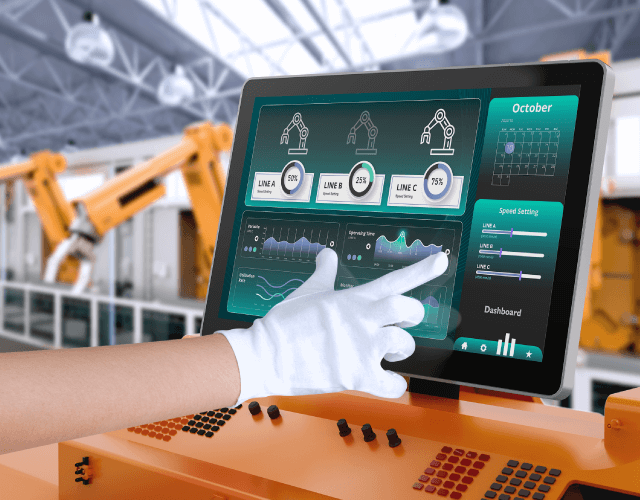 Durable Aluminum Die Casting Housing
The housing of this next-generation panel PC is constructed of aluminum die casting, which features durable hardness, high corrosion resistance, excellent thermal conductivity, and is fully recyclable/reusable. It is suited for the industrial application that requires high chassis strength and impact toughness.
Wireless Network Capability Simplifies IoT Deployment
The panel PC is designed with strong wireless network capability via a pre-installed Intel wireless network module. The latest Wi-Fi 6E and Bluetooth 5.2 technologies are provided to speed up data transmission through the internal 2T2R antennas, which eliminate cable interference while maintaining stable performance for high volume applications.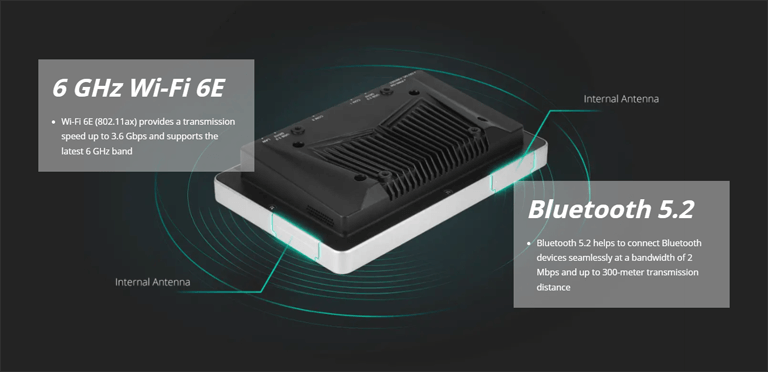 AFL4-EHL Series Panel PC
For more information or sales inquiries, please contact our local sales representative or use this form to submit your inquiry.