IEI Launches New Powerful AI Accelerator PCIe Cards with Coral Edge TPU™ - Mustang-T100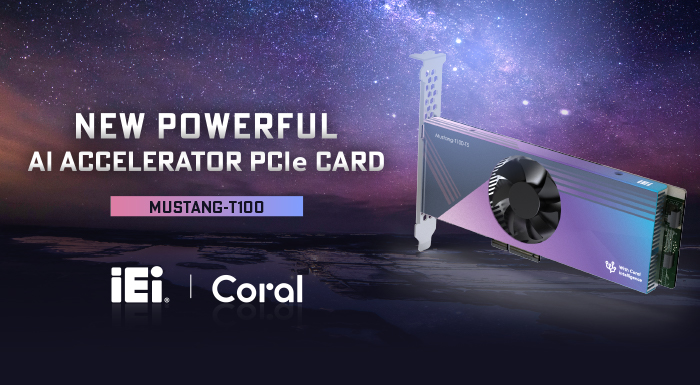 IEI Launches New Powerful AI Accelerator PCIe Cards with Coral Edge TPU™
Mustang-T100
---
【Taipei, Taiwan, August 18, 2021】IEI, one of the leading edge computing solution providers today announced that IEI and Coral are partnering to expand edge AI business by providing an easier platform for AI developers. Coral products provide high computing capability with low-power consumption with on-device ML acceleration technology that helps developers build fast, efficient, and affordable solutions for the edge. Combined with IEI's hardware integration capabilities, the new Mustang-T100 can deliver a new wave of computing performance for edge AI systems.
IEI's Mustang-T100, a new AI accelerator card, leverages five Coral Edge TPU™ co-processors in a half-height, half-length PCIe card, and offers computing capabilities of up to 20 TOPS at extremely low power consumption (only 15W). In order to run an AI task in a barrier-free environment, the Mustang-T100 can operate in a wide temperature range, from -20 ºC to 55 ºC.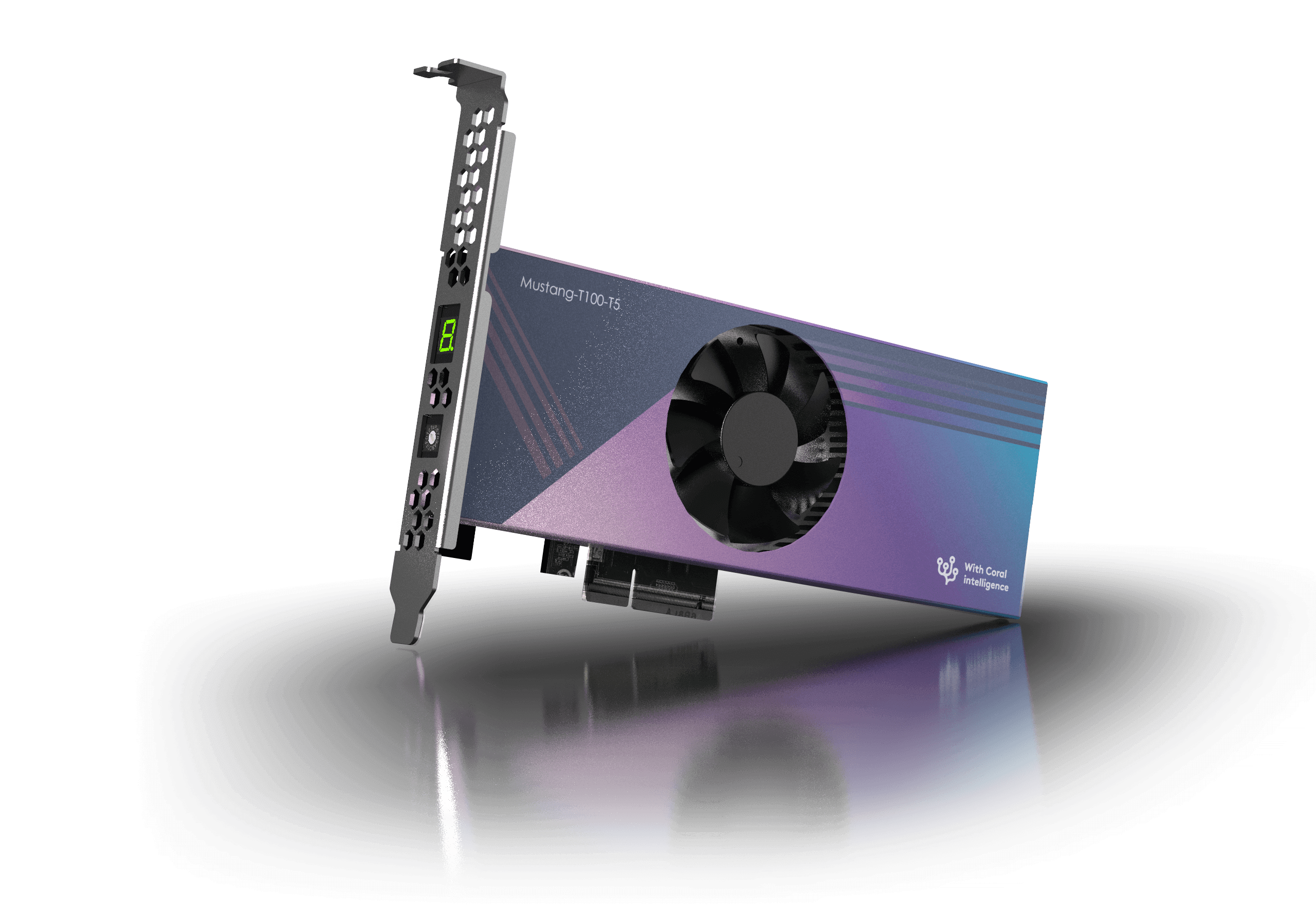 For numerous AI applications at the edge, the Mustang-T100 offers two modes: multitasking in parallel and model pipelining. This means a model can be assigned to each Edge TPU, running up to five models in parallel for extreme computing efficiency or, for scenarios that require larger models or faster throughput, model pipelining allows each Edge TPU to execute different segments of the same model, improving performance for high-speed applications while reducing overall latency. For these reasons, the Mustang T-100 is an ideal AI accelerator card for image classification, object detection and image segmentation.
"With the Mustang-T100's integration of multiple Coral Edge TPUs, engineers can now bring much larger and computationally-intensive neural networks to the edge. This system enables operations like model-pipelining and multi-model inferencing, allowing engineers to take advantage of the fast, efficient, offline, and privacy-preserving benefits of the Edge TPU while building solutions that require large models and long AI pipelines" says Brian Chen, product manager, IEI Edge Computing Division.
"We're excited to see IEI World launching the new Mustang T-100 to enable new product innovation with edge AI, and we look forward to seeing more hardware integrations with Coral intelligence."  Billy Rutledge, Director of Coral Platform at Google.
Additionally, IEI provides rich AI-ready platforms, such as the TANK series, the FLEX series and the DPRC series. All series are ideal for deep learning inference computing to help you get faster, deeper insights for your customers and your business. All IEI AI-ready systems are able to support up to four Mustang-T100 cards to deploy and run your AI projects in retail, transportation and surveillance efficiently.
* Learn more about the Mustang-T100 and Coral technology.
---
About IEI Integration Corp.
IEI Integration Corp. is a leading AIoT, network and medical solution provider. IEI's products are computer-based and bundled with partners' technologies to offer user friendly systems in the field of AIoT, networking appliance, smart healthcare, public security surveillance and so on. Based on more than 20 years hardware experience, IEI also provides well and complete ODM service to meet any market requirement.
About Coral
Coral is a platform from Google for edge AI, enabling a new generation of intelligent devices that make it easier to bring intelligent ideas from prototype to production. The Coral platform offers hardware components for on-device AI acceleration in a variety of industry-standard form factors that, along with our toolkit of software, APIs and pre-compiled models, bring the benefits of performance, efficiency, offline and privacy-preserving local inferencing to suit various environments—from embedded systems deployed in the field, to network systems operating on-premise.
The Coral Partnership Program aims to bring together an ecosystem of hardware, software, and model development partners; system integrators and other reputable players in the Edge AI space to enable intelligent edge ML solutions across the industry through Coral integration.
For more information about the Coral platform, please visit Coral.ai. For more information about the partnership program, please visit Coral.ai/partnerships.
IEI Integration Corp.

---

Tel:+886-2-8691-6798
+886-2-2690-2098
Fax:+886-2-6616-0028

sales@ieiworld.com
| | |
| --- | --- |
| Copyright©2020 IEI Integration Corp. All Rights Reserved. Design and specifications are subject to change without prior notice. | |