IEI Launches New DM-F IP65 Industrial Monitor - DM-FW15A & DM-FW19A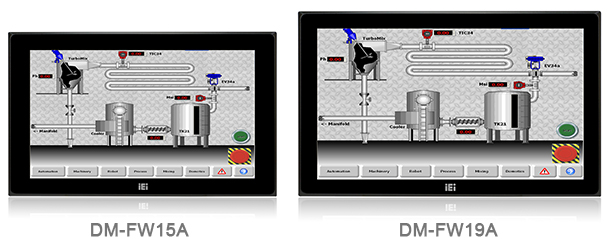 | | |
| --- | --- |
| ✔ | Robust IP65 aluminum front bezel |
| ✔ | Aesthetic ultra-thin bezel for seamless panel mount installation |
| ✔ | DC input |
| ✔ | DVI / VGA flexible video input solution |
| ✔ | 10-point PCAP multi-touch with surface anti-glare coating |
| ✔ | Wide temperature support |
IP 65 Waterproof Aluminum Front Panel

IP 65 is the highest dust, water and oil proof standard in ground usage, It absolutely prevents any micro-particles from getting into the system front panel and allows the system to function in harsh environments.
Etching anti-glare, never peel off!

The DM-F series is built with anti-glare touch screen, which has lower reflection compared to normal touch screen. The reflection will reduce from 8% to 1% and it will eliminate the interference of shine and lights on displays and improve the screen clarity.
UV-resistant ensures reliable continuous operation for mission critical applications

● Blocks UV wavelengths less than ≈340nm
● Meets ASTM G154 performance criteria Cycle 1 for 1000 hours
Gamma Correction - Pursuit of Perfection

Gamma correction enables each panel model to follow the specified look-up-table (LUT) in gamma curve doing color adjustment through software encode. In this way, various monitors can display in an unified color by following Gamma 2.2 standard for PC products, ensuring color consistency for multiple monitor applications.
9V~36V Wide Range DC Input

Power requirement varies from applications. DM-F series provides 9V~36V DC input which simplifies system integration through adapter or DC source.
OSD Keypad on Back

In order to keep the front panel simple and clean, the membrane keypad of the DM-F series is located on the rear panel to prevent the possibility to adjust the setting accidentally.
IEI SmartOSD Software OSD for IEI LCD Monitors

IEI SmartOSD is a proprietary On-Screen-Display (OSD) software solution that enables easy remote monitor setting adjustments in Windows environment. IEI SmartOSD delivers excellent performance and provides more flexibility than typical OSD hardware solutions when adjusting a monitor. SmartOSD also allows monitor settings such as brightness, contrast, screen position, size, and color gain to be read and changed over normal video cable (VGA/DVI by project base).
Wide Operating Temperature

Design for outdoor applications, DM-F series support wide operating temperature from -20°C ~ 60°C for 12" to 17" models. 22" and 24" are by project request.
Model Name
DM-FW15A
DM-FW19A
LCD
LCD Display
15.6" (16:9)
18.5" (16:9)
Max. Resolution
1366 (W) x768 (H)
1366 (W) x 768 (H)
Brightness (cd/m²)
400
400
Contrast Ratio
500:1
1000 : 1
LCD Color
16.2M
16.7M
Pixel Pitch (mm)
0.252 x 0.252
0.3 x 0.3
Viewing Angle
(H-V)
170° / 160°
170° / 160°
Backlight MTBF
(Hrs)
50000
50000
Touchscreen & Controller
5-wire resistive single touch window/ Penmount 6000
(Anti-glare Surface)
10-point Projected capacitive touch window, 6H/EETI EXC3188
(Anti-UV, Anti-glare Surface)
I/O Ports
1 x VGA (DB-15)
1 x HDMI™
1 x DisplayPort 1.1
1 x USB 2.0 (touch)
1 x RS-232 (reserved for resistive touch ATO)
1 x Lockable 9V-36V DC jack
1 x 9V-36V terminal block
1 x VGA (DB-15)
1 x DVI (F19A only)
1 x HDMI™ (F17A & FW19A only)
1 x DisplayPort 1.1
1 x USB 2.0 (touch)
1 x RS-232 (reserved for resistive touch ATO)
1 x Lockable 9V-36V DC jack
1 x 9V-36V terminal block
OSD
OSD Button
7-key membrane OSD keypad
Smart OSDSoftware
Smart OSD Software
Physical
Construction Material
Aluminum front frame and sheet metal rear cover
Mounting
Panel Mount/ Rack Mount
100 x 100 VESA Mount
Enclosure Color
Black C
Dimensions (mm)
400.1 x 253.3 x 52.9
468.8 x 288.2 x 48.9
Cutout Dimensions
(mm)
379.1 x 232.3
447.8 x 267.2
Weight (kg)
Net/Gross
4 / 6.5
5 / 8.1
Environment
Operating Temperature
(with air flow)
-20°C ~ 60°C (with air flow)
Storage Temperature
-20°C ~ 70°C
Humidity
10% to 95% (non-condensing)
IP Level
IP 65 compliant front panel
Safety and EMC
CE & FCC certified
Power Input
9V~36V DC
Power consumption
9V @ 1.3
36V @ 0.33
9V @ 1.33A
36V @ 0.35A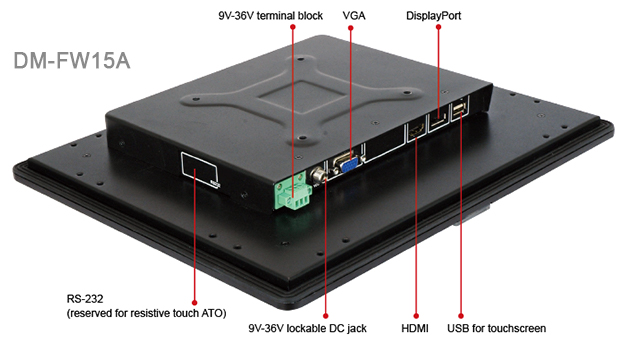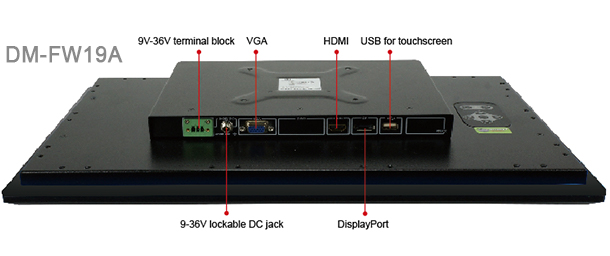 | Part No. | Description |
| --- | --- |
| DM-FW15A/PC-R10 | 15.6" 400 cd/m² 1366x768 LCD monitor, Aluminum front panel, Black color, W/ USB PCAP touch screen, 9 ~36V DC input, R10 |
| DM-FW19A/PC-R10 | 18.5" 400 cd/m² 1366x768 LCD monitor, Aluminum front panel, Black color, W/ USB PCAP touch screen, 9 ~36V DC input, R10 |
| Item | P/N | Q'ty | Q'ty |
| --- | --- | --- | --- |
| USB Cable | 32001-006100-100-RS | 1 | For touchscreen |
| VGA Cable | 32000-036200-RS | 1 |   |
Item
DM-FW15A
DM-FW19A
Arm
ARM-31-RS
Stand
STAND-A19-RS
STAND-C19-R10
STAND-A21-R10
Wall Mount Kit
WK-190MS-R10
 
Panel Mount Kit
FPK-01-R10
FPK-02-R10
Rack Mount Kit
FRK15-R10
FRKW19-R10
Cable Cover
DM-F-CC01-R10
DM-F-CC02-R10
RS-232 Touch Cable Kit
DM-F-COMKIT-R10
DM-F-COMKIT01-R10
HDMI™ Cable
32012-000800-101-RS
N/A
DisplayPort Cable
32004-000200-100-RS
DVI Cable
N/A
32000-086600-RS
Power Adapter
63040-010060-120-RS
Taiwan

---


IEI Integration Corp.

Tel:+886-2-8691-6798
+886-2-2690-2098
Fax:+886-2-6616-0028
Email: 

sales@ieiworld.com
| | |
| --- | --- |
| Copyright ©2019 IEI Integration Corp. All Rights Reserved. Design and specifications are subject to change without prior notice. | |