IEI Released New POC medical panel PCs - POCm series
IEI Released New POC medical panel PCs
POCm series
【Taipei, Taiwan, November 28th, 2018】Nowadays, medication carts for healthcare facilities do not have the capacity to complete each shift. In order to meet medical demands, IEI is pleased to release a new mobile POC series, the POCm, allows for easier movement of medical carts as well as providing longer run time for the non-powered medical cart use.
The POCm consist of 22" and 24" medical grade FHD fanless panel PC, three hot-swappable batteries, and the battery docking station for fast charging.
In the panel PC aspect, the POCm series integrated with Intel® Skylake-ULT i5-6300U processor offers dramatically higher CPU and graphics performance, and the screen using seamless 10-point PCAP touch glass that is not only in advanced water-handling which can prevents false touch phenomena caused by fluids and gels but also allows operation with multiple layers of surgical gloves. Besides, the cover contains antibacterial silver ion to effectively inhibit the propagation of bacteria.
2012
2013
2014
2015
Ivy Bridge Intel® HD 4000-2500
Haswell Intel® HD 5200-4200
Broadwell Intel® HD 6200-5500
Skylake Intel® HD 530
3rd Generation Intel® Core Processor
4th Generation Intel® Core Processor
5th Generation Intel® Core Processor
6th Generation Intel® Core Processor
22nm
14nm
14nm
DirectX 11.0
DirectX 11.1 DX Extensions
DirectX 11.2
DirectX 12.0
Up to 16EUs
Up to 40 Eus EDRAM Iris Pro, Iris
Up to 48 Eus EDRAM Iris Pro, Iris
Up to 72 Eus EDRAM Iris Pro, Iris
256 GFLOPS
640 GFLOPS
768 GFLOPS
1152 GFLOPS
In the battery aspect, traditional hospital nursing cart battery weighs around 6.5 kgs, but POCm battery(7800mAh/87Wh each battery pack) weighs only 460 grams and able to provide sufficient power for running 8~16 hours. The user can change the low power hot-swappable battery anytime without work interruption, and can be fully charged within 3.5 hours by IEI 6-slot battery charging station.
Speaking of the battery charging station, IEI is the first to develop a 6-slot battery charging station that is laid flat while in use and its sleek outlook with side slide-in design can avoid dust and water accumulation.

Last but not least, owing to the prevalence of IT device deployment, the workload of the IT departments in digital hospitals is increased, and the built-in IRM (IEI Real-time Monitoring) software not only helps the terminal users check the status of batteries but also allows the IT technicians to monitor the whole system at a remote site. This design greatly enhances the working efficiency of our users and reduces time wasting in daily system inspection job.
| Client Mode | Server Mode (Central Management) |
| --- | --- |
| ● Battery Capacity | ● Battery Remote Monitoring |
| ● Battery Temperature | ● IP/ Mac Address Management |
| ● Time to Fully Charged |   |
| ● Battery Remaining Time |   |
| ● Status: Charging/ In use/ Stand by |   |
| ● Low Power Alert (<10%) |   |
| ● Hibernate (<3%), to avoid shutting down data loss |   |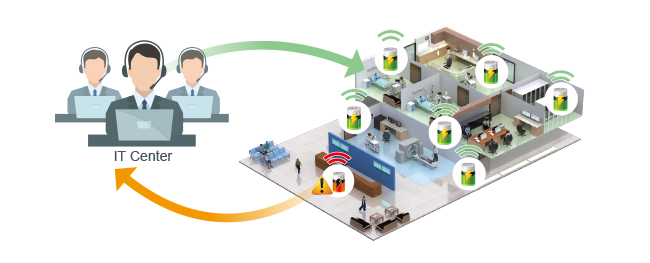 Taiwan

---


IEI Integration Corp.

Tel:+886-2-8691-6798
+886-2-2690-2098
Fax:+886-2-6616-0028
Email: 

sales@ieiworld.com
| | |
| --- | --- |
| Copyright ©2018 IEI Integration Corp. All Rights Reserved. Design and specifications are subject to change without prior notice. | |