Grab the Emerging Smart Robotics Market Opportunities with IEI WAFER-JL-N5105
Compact.
Power Efficiency.
IEI WAFER-JL takes all the essential elements of the latest Intel® N5105 processor and combines them with smart manufacturing features and proven durability in the compact size 3.5" form factor.
It is ideal for space-constraints installation, notably AGVs, AMR (Autonomous Mobile Robot) and small cabinets in factories. It features complete I/O interfaces such as three 2.5 GbE LAN ports for motion control / IPcameras, an M.2 B-key with SIM slot for LTE cellular communication, and USB 3.2 Gen 1, DIO, serial ports for connecting sensors and communicating with other devices.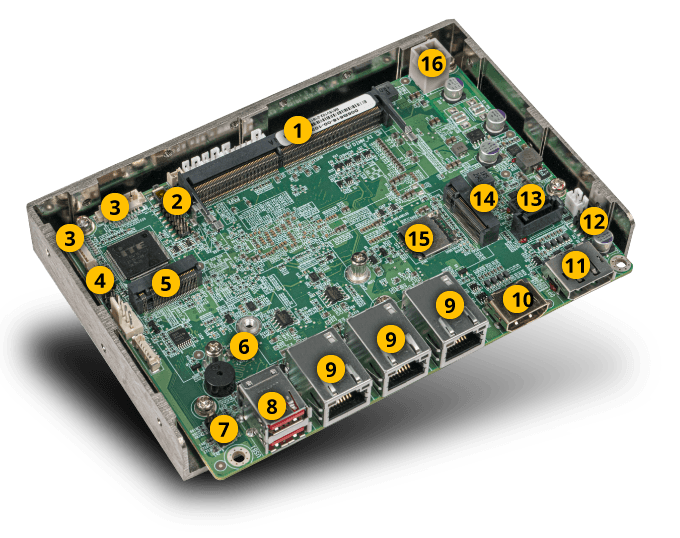 1

One 260-pin 2933 MHz dual-channel DDR4 SO-DIMM supporting up to 16 GB

2

DIO

3

2 x RS-232/422/485

4

I2C

5

1 x M.2 2230 A key slot(PCIe Gen3 x1 + USB 2.0)

6

AT/ATX switch

7

IAUDIO

8

2 x USB 3.2 Gen 2x1 (10Gbps)
9

3 x Intel® I225V 2.5 G Ethernet

10

1 x HDMI™ 1.4b (4096 x 2160 @30Hz)

11

1 x DP 1.4 (4096 x 2160 @60Hz)

12

2 x USB 2.0

13

1 x SATA 6Gb/s

14

1 x M.2 3042/2280 B key slot
(PCIe Gen3 x2 + USB 2.0)

15

SIM slot

16

12V DC input
Quad-Core Intel® Celeron®
Processor N5105
IEI WAFER-JL is a 3.5" embedded board equipped with an Intel® Celeron® N5105 quad-core Jasper Lake processor supporting 4 cores, 4 threads, turbo up-to 2.60 GHz with L3 cache, and offering significant IPC (Instruction Per Clock) gains plus 35% performance improvement over the predecessor Gemini Lake based on same base frequency.


Dual Independent Display
Delivers HDMI™+DP 4K Resolution for Real-time Monitoring
Running with Intel® UHD Graphics of 11th Gen processor at 800 MHz allows the system to display videos and images in stunning 4K resolution via HDMI™ 1.4b and DP 1.4 dual independent display. The enhanced visual quality responses the demand of high precision display.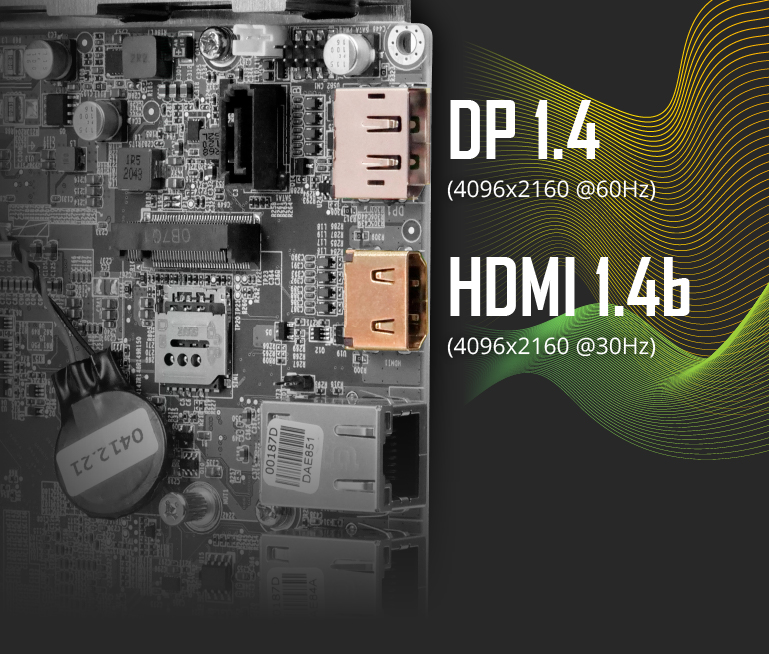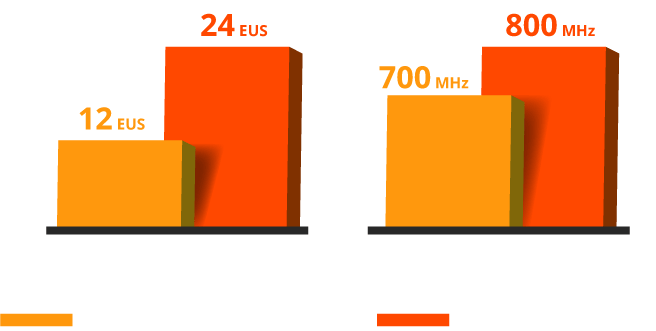 Intel® UHD Graphics with 24 graphics execution units is an improvement over the Intel® UHD Graphics 600 with 12 units from the Gemini Lake generation.
HEVC 10-bit Decoding/Encoding
Supports H.265/HEVC (High Efficiency Video Coding) 10-bit decoding/encoding to provide substantially improved video quality and higher bit depth video experience.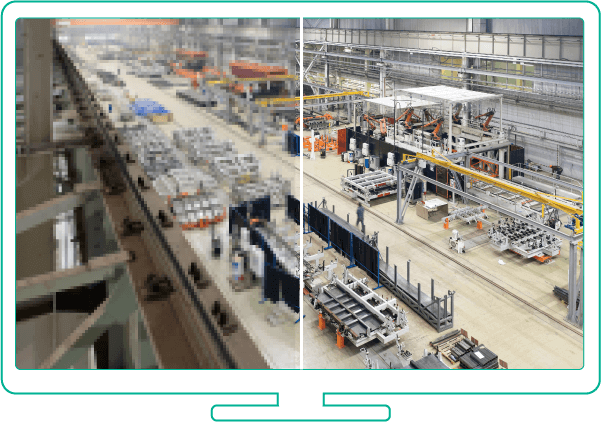 Well-design Thermal Solution
IEI has developed a highly efficient thermal solution for the 3.5" motherboard - IEI Heat Conduction Casing (IHCC). With its well-design structure, the IHCC can effectively improve heat transfer performance and cut time-to-market.
Completely joint with CPU for better heat transfer in 0ºC - 60ºC operating temperature.
Diverse mounting options
It can be installed on a control cabinet's rear panel, door, or onto a DIN rail. And it is easy to install additional thermal module for operating under high ambient temperatures.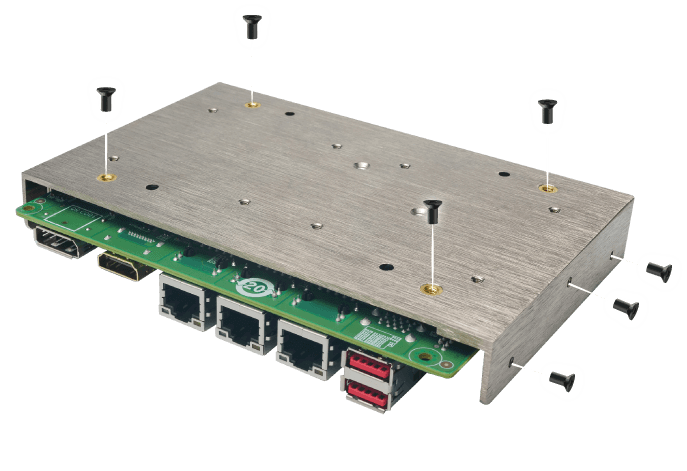 A. Easy Assembly
Embedded System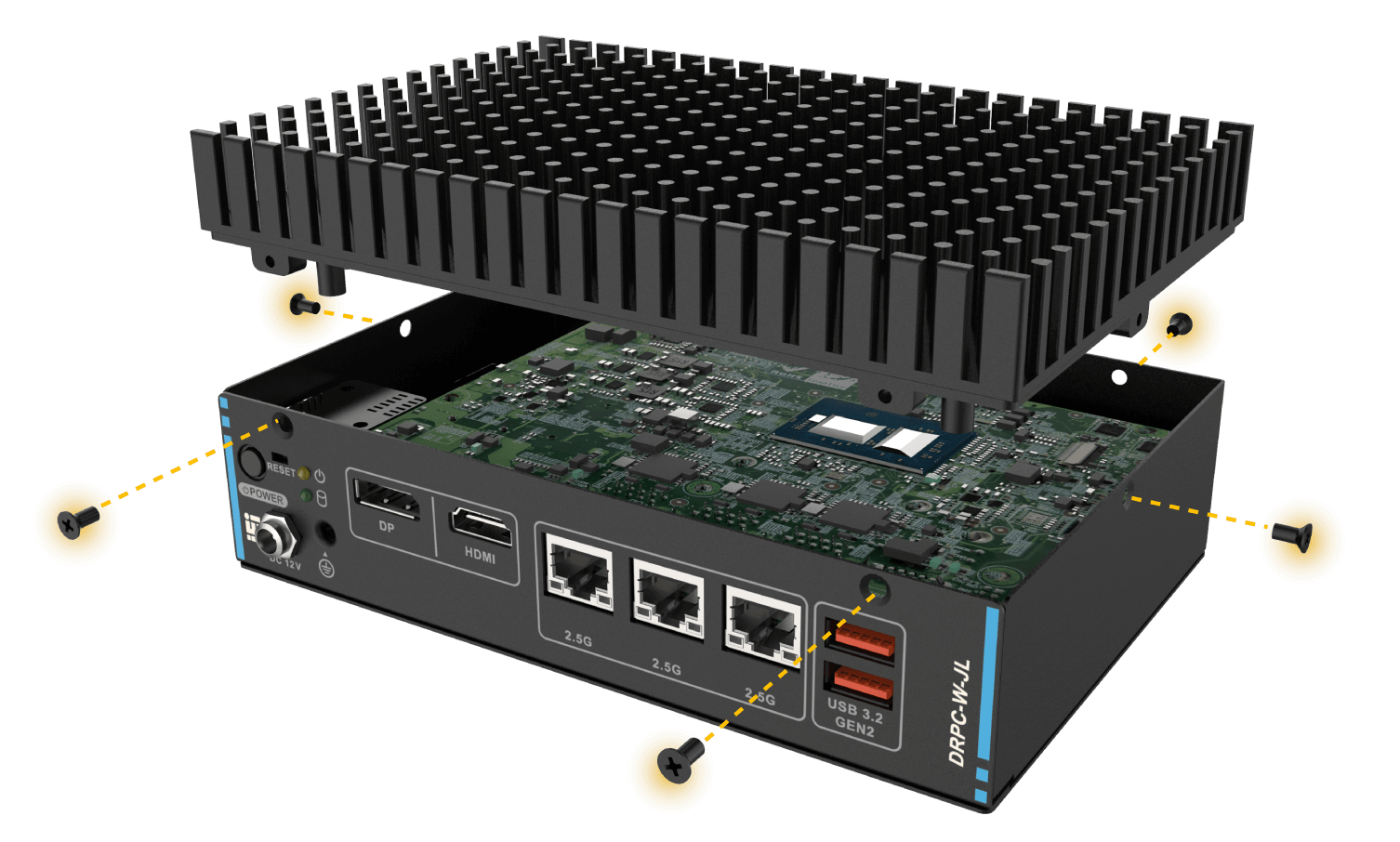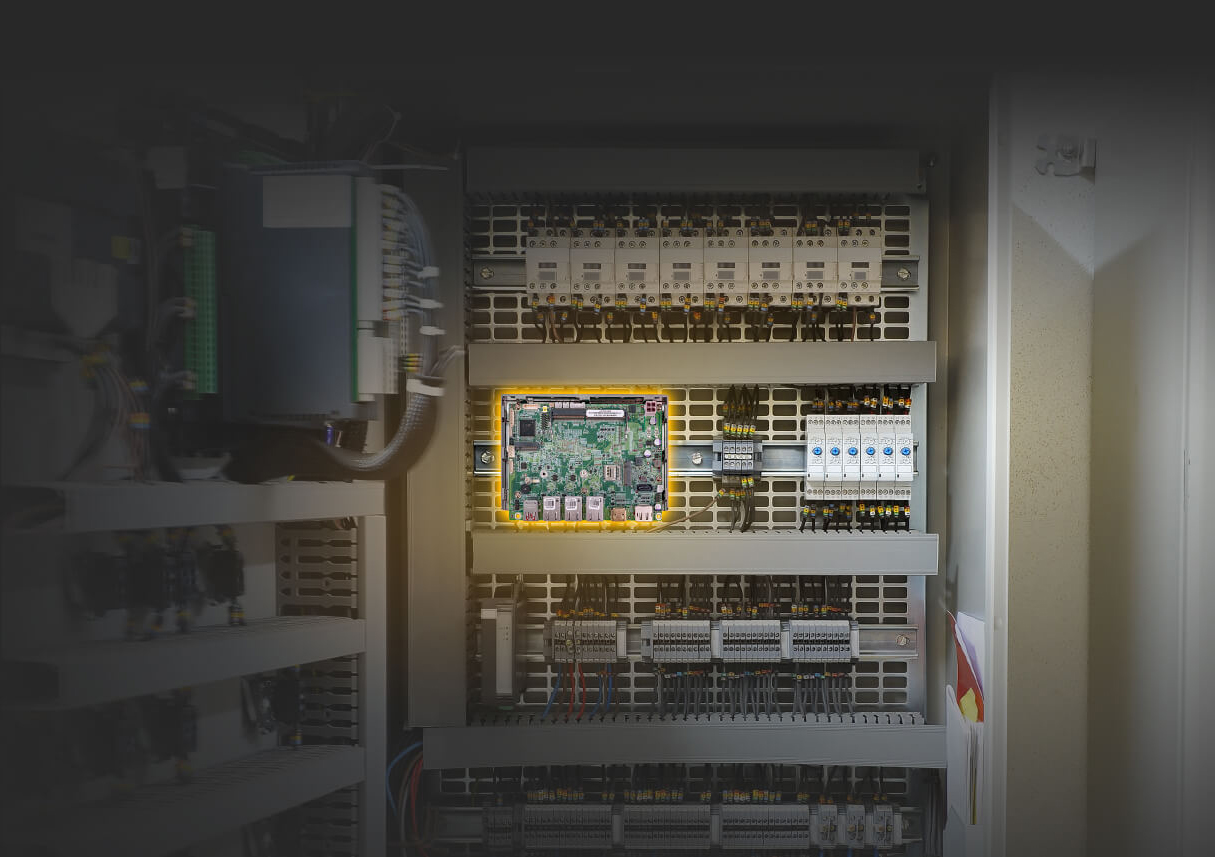 Electrical Cabinet
B. Flexible Thermal Module Stacking
Optioinal
Passive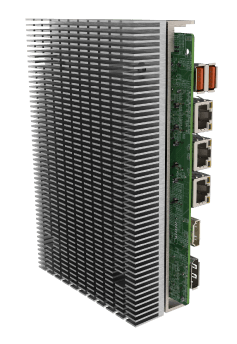 Cooling Module(P/N: CM-WAFER-WOF-R10)
Optioinal
Active
Cooling Module(P/N: CM-WAFER-WF-R10)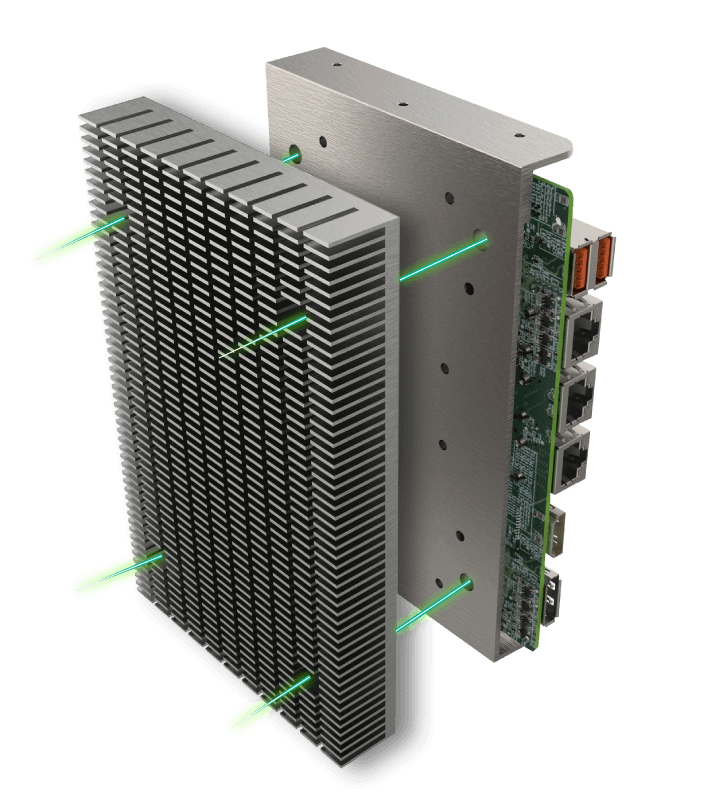 High Speed Transmission
Dual USB 3.2 Gen 2 (10Gb/s)

Two USB 3.2 Gen 2x1 (10 Gb/s) ports are integrated to support high density data transmission.
M.2 2280 B key for PCIe 3.0 x2 NVMe SSD
With the support of PCI Express 3.0 x2 M.2 SSDs, it is capable of delivering lightning fast data transfer experience for edge AI data process applications compared to the traditional SATA 6Gb/s.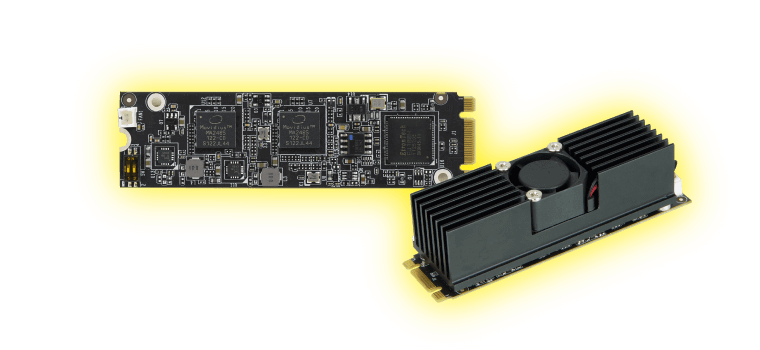 AI Accelerating
The Mustang-M2BM-MX2 card equipped with two Intel® Movidius™ Myriad™ X VPU, providing an flexible AI inference computing.
Networking
Delivers Triple Low-Latency 2.5G LAN Powered by Intel
The on-board triple Intel® I225V 2.5GbE controllers enable the WAFER-JL to meet the bandwidth-intensive requirements such as large file transfers and high-resolution video streaming.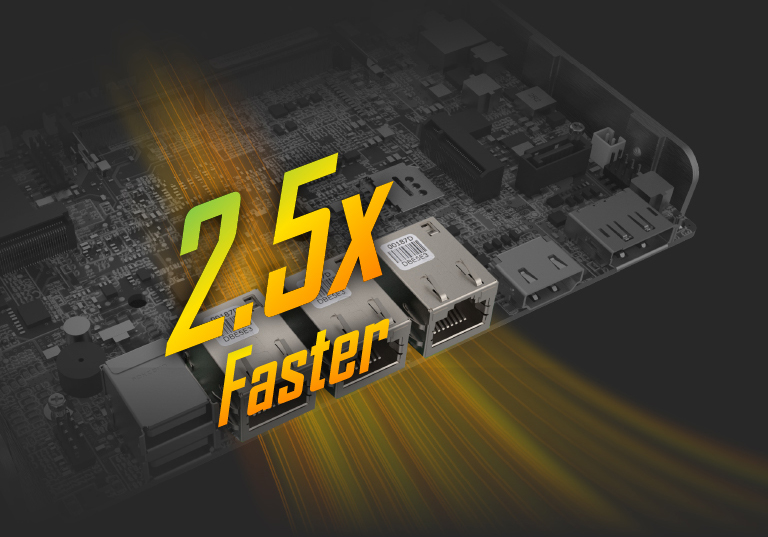 Multi-tasking
IEI WAFER-JL features unprecedented network connectivity with three rear 2.5 Gigabit LAN ports, and it is small enough to fit into any space confined situations.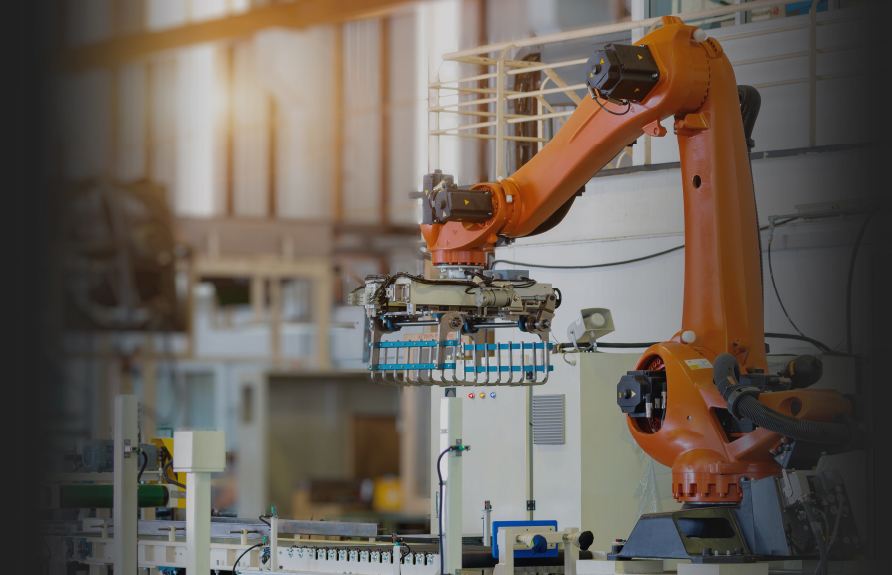 M.2 2230 A Key for Wi-Fi/Bluetooth
The M.2 2230 A key slot carrying with PCIe 3.0 x1 and USB 2.0 signals allows it to adopt the latest Wi-Fi 6E technology. Wi-Fi 6E enhances low latency and supports service levels that are equivalent to 5G networks.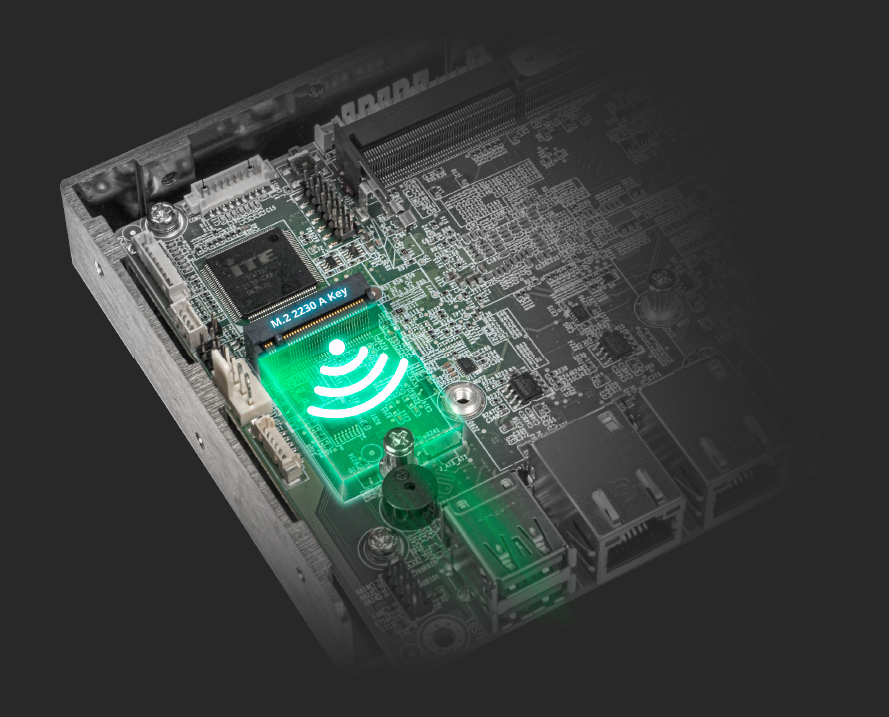 M.2 3042 B Key with SIM Slot for 4G LTE Cellular Communication
The M.2 3042 B key connector supporting PCI Express 3.0 x2 and USB 2.0 signals allows you to use a dedicated 4G LTE radio frequency to ensure secure and delay-free data transmission in smart manufacturing.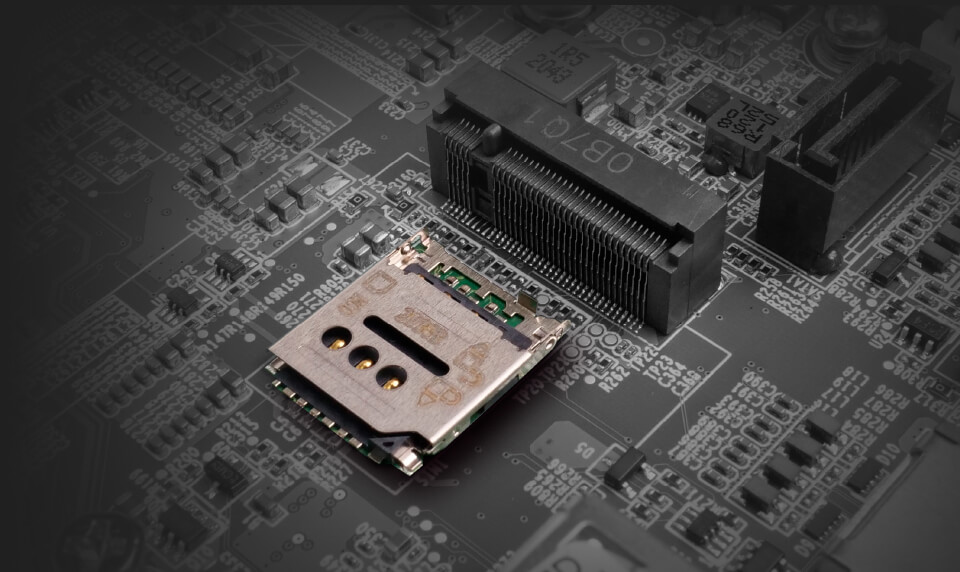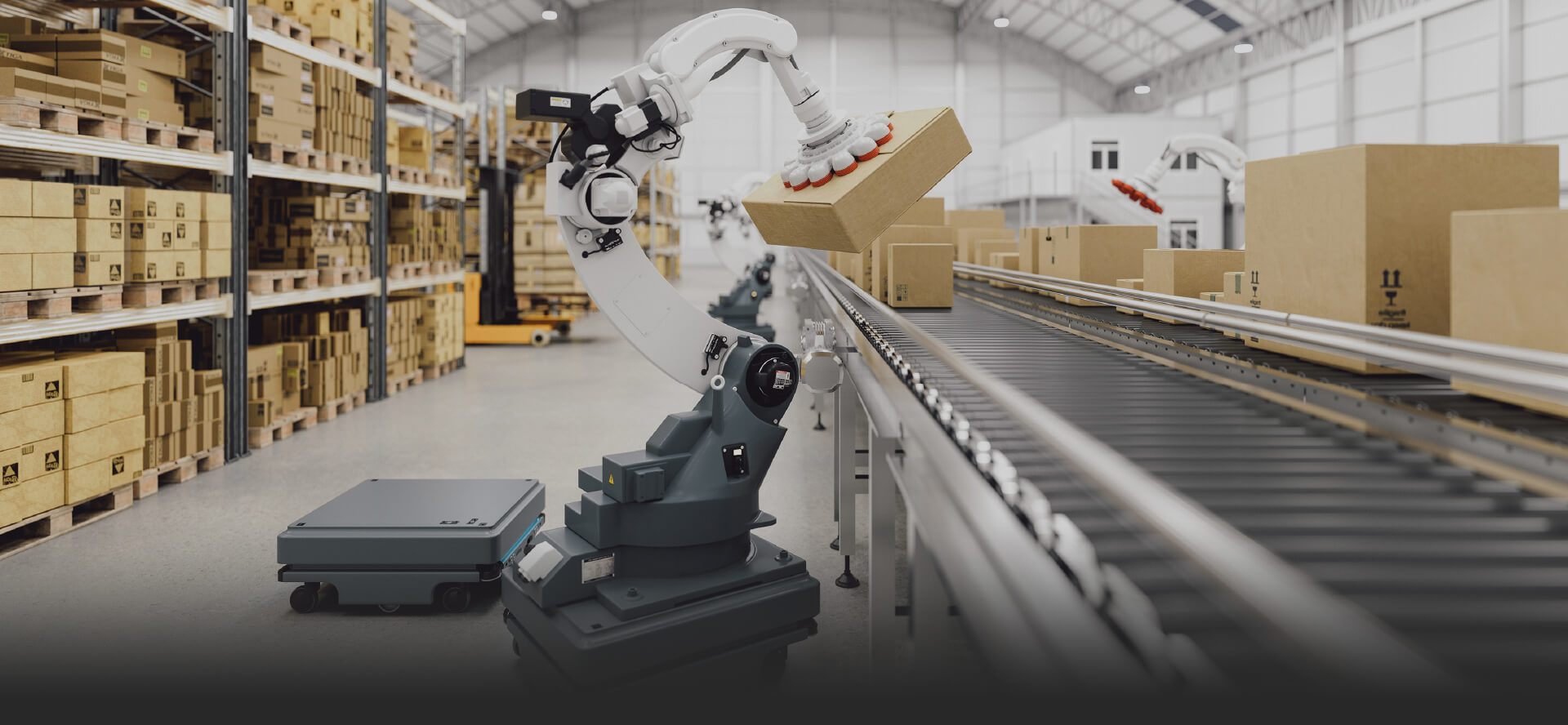 Intelligent Robots
Robots are increasingly common in our daily lives. ISO defines the classification into industrial robot and service robot according to its intended application. Industrial robots are robots "for use in industrial automation applications" , while a service robot "performs useful tasks for humans or equipment excluding industrial automation applications" like AGVs and AMRs. Research indicates that with 2.1 million mobile robots predicted to have been shipped by the end of 2025 including 860,000 in that year alone, generating annual revenues of $18 billion [1].
And the global market for components used in industrial and collaborative robots was estimated to be worth $7bn in 2020, and forecast to be worth in excess of $9.3bn by 2025 [2].
To meet this trend, IEI is releasing the WAFER-JL for customers seeking robotics market opportunities.
[1] Mobile Robots On The March -Oct. 2021,ASH SHARMA,
https://www.interactanalysis.com/mobile-robots-on-the-march-53000-warehouses-factories-will-have-deployed-amrs-agvs-by-end-of-2025/
[2] CAGR of 6% Projected For Market For Components Used In Industrial Robots To 2025, TIM DAWSON,
https://www.interactanalysis.com/cagr-of-6-projected-for-market-for-components-used-in-industrial-robots/
AMR
(Autonomous Mobile Robot)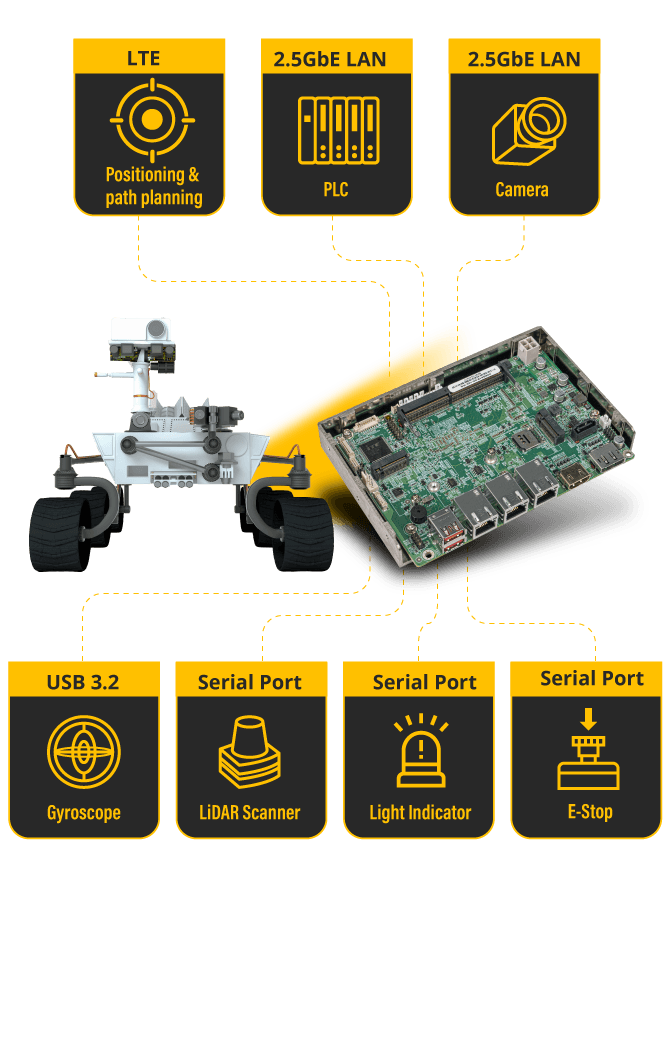 Why IEI?

Low-powered graphics performance
Powered by Intel® Celeron® N5105 quad-core processor, the WAFER-JL helps to deploy a power-saving and fanless graphics solution for object detection and machine vision.

Low power consumption
The WAFER-JL consumes only 24W; its low power consumption allows it to maximize battery life and keep the AMR productive.

Wireless communication
With integrated M.2 & SIM card slots, the WAFER-JL can add wireless communication functions such as WiFi and LTE. It allows AMR to communicate with the close-by devices and command center.
Robotic Arm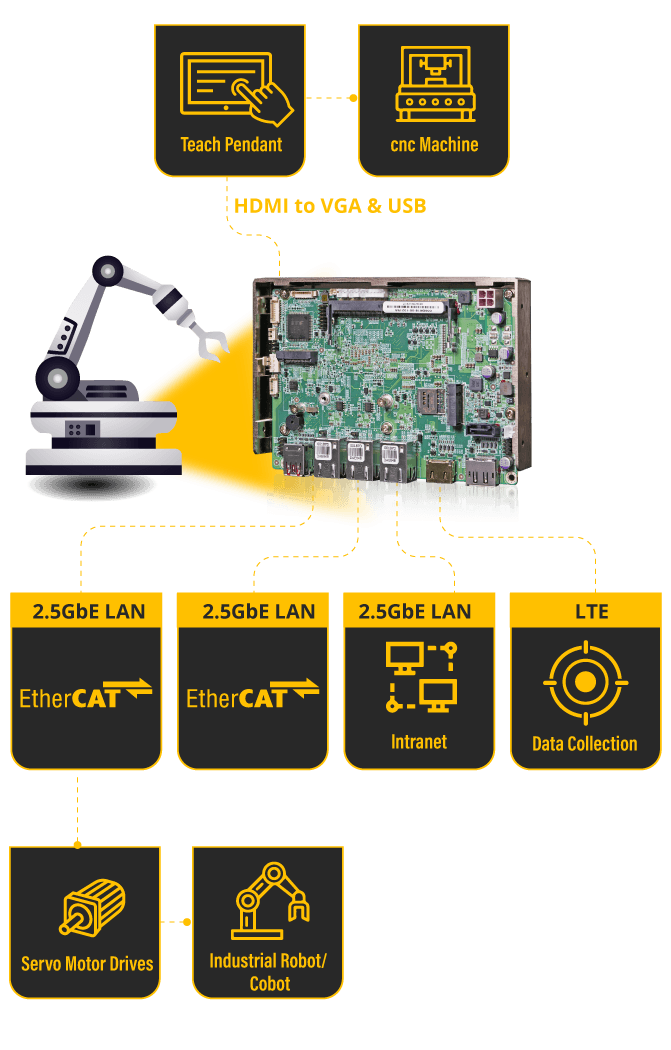 Why IEI?

Triple 2.5GbE LAN ports
Packing three 2.5 Gigabit LAN ports into its small form factor allows extensive industrial connectivity. They can act as management ports, interconnecting to internet or intranet, enabling IP cameras connections, and neighboring robot arms synchronizing.

Well-designed thermal solution, ready for deployments
The 3.5" WAFER-JL is easy to be integrated into a tiny space, and its well-designed aluminum thermal case could help to reduce development cycle and speed up time to market.