Media contact
IEI Integration Corp.
TEL: +886-2-8691-6798
+886-2-2690-2098
FAX: +886-2-6616-0028
IEI Technology USA
TEL: +1-909-595-2819
FAX: +1-909-595-2816
IEI Integration China
TEL: +86-21-3462-7799
FAX: +86-021-3462-7797
IEI Integration Corp. 東京支店
TEL: +81-3-5901-9735
FAX: +81-3-5901-9736
Current Applications of AI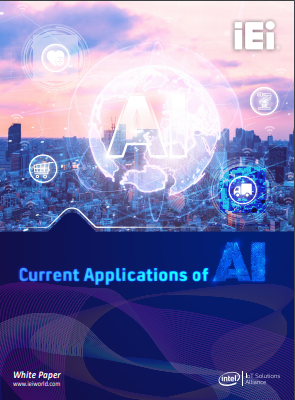 The first AI program, The Logic Theorist, was developed in 1955. The "father of AI," John McCarthy coined the phrase Artificial Intelligence in 1956. Since then, AI has moved from its early days in realms of science fiction to the realization of some of those fantasies in real life. The challenges at places like Carnegie Mellon University and the Massachusetts Institute of Technology (MIT) were creating systems that could solve limited problems and creating systems that can learn by themselves. This white paper gives a broad overview of how AI works and some of the applications that can be seen today.