The Stable and Optimized AI Network Edge Computing Solution with Intel® CERA Platform - PUZZLE Dev. Kit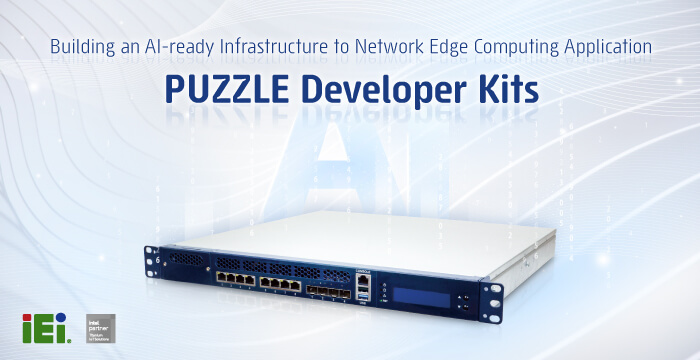 Building an AI-ready Infrastructure to Network Edge Computing Applications PUZZLE Developer Kits
---
In order to accelerate the computing capability and performance in the network of AI, IEI Integration Corp. cooperated with Intel® to offer a more stable and optimized network edge computing solution. IEI's PUZZLE-IN004, the powerful 1U network appliance with high bandwidth, is equipped with Intel® CERA platform providing complete AI-ready solution with pre-installed software and hardware. IEI and Intel® strive to streamline the get-to-market process from development to deployment, enabling solution providers to consume, deploy, and scale their services to offer new value to customers.
Intel®-powered edge solution, the Converged Edge Reference Architecture (CERA) platform, unifies and converges IoT with wireless infrastructure network technology to simplify workload convergence at the edge while densifying wireless networks. CERA combines Intel®-powered, commercially-hardened hardware, software and support to rapidly deploy wireless networks through an all-in-one solution.
To grow computing efficiency at the edge of network, IEI rolled out PUZZLE-IN004 which can implement with Intel® CERA smoothly, deliver high bandwidth and powerful performance. The PUZZLE-IN004 is equipped with Intel® Xeon® Processor D-2100 series which is optimized for computing and network. Integrated with up to 512GB quad-channel DDR4, it enables lightning-fast multi-tasking with low power consumption. The PUZZLE-IN004 is designed with four 10GbE SFP+ ports and eight ports of 1GbE (Intel I211) configuration for non-stop network transmission. With a hardware secure multi-tenancy, it also supports Intel® QAT (QuickAssist Technology), PTT (Platform Trusted Technology), Boot Guard, and Intel® AVX-512.



Moreover, the PUZZEL Dev. Kit can provide a platform to move applications from cloud by harnessing the Intel® Open Network Edge Services Software (OpenNESS), a software toolkit that enables highly optimized and performant edge platforms to manage applications and network functions with cloud-like agility. Thus, it is easily compliant with open source for the management of new edge services on-premise and at network edge.
What's the Benefit?
---
Accelerate Network Performance

Accelerate network security, routing, and real-time data compression using an Intel® Xeon® D processor in a low-power SoC.

Pre-installed software

Use preinstalled, configured, and validated software, such as OpenNESS and Intel® OpenVINO™ toolkit.

AI Training and Inference Model

Set up quickly using preloaded samples.

Easy-to-use Software Platform for Edge

Manage networking applications and services with the optimized and cohesive Open Network Edge Services Software (OpenNESS) framework.

Save TCO

Converge IoT edge and network service capabilities to merge network workloads with inference, analytics, media, and IoT applications on a common infrastructure, thereby delivering ultimate time-to-business outcomes while reducing the total cost.
IEI Integration Corp.

---

Tel:+886-2-8691-6798
+886-2-2690-2098
Fax:+886-2-6616-0028

sales@ieiworld.com
| | |
| --- | --- |
| Copyright©2020 IEI Integration Corp. All Rights Reserved. Design and specifications are subject to change without prior notice. | |