IEI Launches High Performance Fanless Modular DIN-Rail PC DRPC-240 with 11th Gen Intel® Core Processors
IEI Integration Crop., a leading provider in edge computing, introduced a new addition to its embedded systems - the DRPC-240 for factory automation, warehouse management, transportation, and other robust operational environments. The DRPC-240 is a modular embedded computer for flexible configuration according to specific usage requirements and designed for performance-intensive and space-critical applications. Moreover, the fanless DIN-rail PC mounted 11th Gen Intel® Core mobile processor with 8GB of pre-installed memory and Intel iRIS® Xe graphics delivers great performance.
Stackable, Modular PCIe x4 Design for Added Functionality
Adding an optional second stack expansion kit, TXC-DRPC-240-1S-R10, enables the DRPC-240 to have flexible functionality for installing a variety of PCIe x4 add-on cards, such as high density I/O cards, vision cards, motion cards and AI accelerators. Through the simple and reliable board-to-board connection, it can meet your various application requirements.
Industrial-grade Hardened Hardware Design with 12V~28V DC Wide-range Power Input
Ruggedized hardware architecture safeguards the small factor computer in harsh, remote and dynamic environments.
» Fanless cooling eliminates failure points
» -20°C to 60°C wide operating temperature
» 15G non-operation shock and 5G operation shock
» Wide 12V to 28V DC input
» Intel® Platform Trust Technology (Intel® PTT) to enable password protection, device authentication and future-ready cybersecurity
-20°C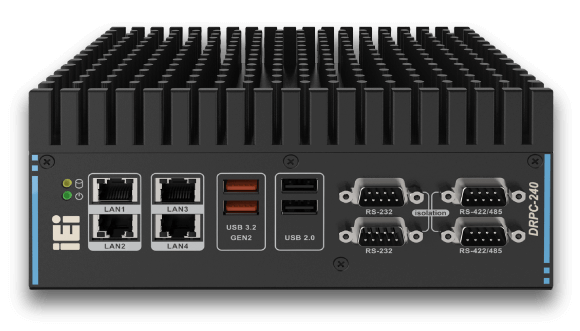 60°C
Advanced High-efficiency Fan Kit Releases Extreme Computing Power
The DRPC-240's thermal design is optimized for better heat conduction using a pin-fin heatsink concept. This enhances two dimensional heat conduction and reduces flow impedance for better heat dissipation in this fan-less system. The overall weight is thus reduced by 35%, significantly enhancing system reliability in vibration-sensitive applications, such as AGV. Moreover, this innovative thermal design allows the DRPC-240 to maximize superior performance compared to those with traditional plate heatsink consisting of parallel fins.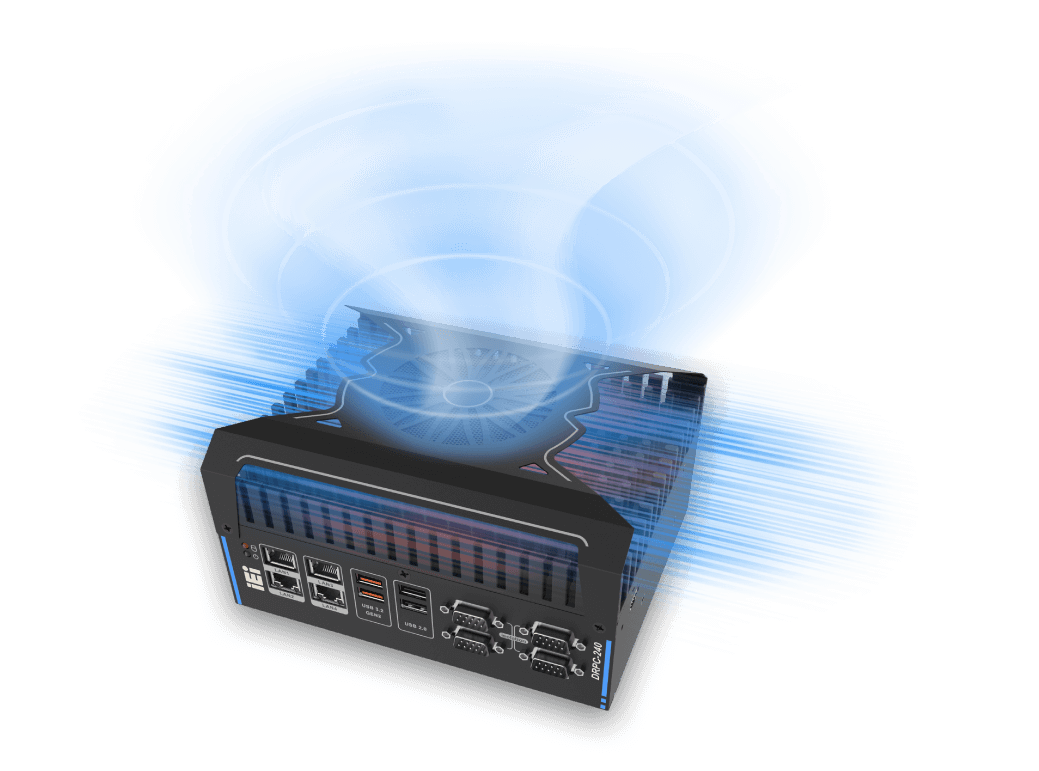 Quad Port 2.5 Gigabit Ethernet with PoE Power
The DRPC-240 equips four 2.5GbE RJ-45 ports to meet requirements of bandwidth-demanding applications. In addition, the DRPC-240 compliant with the IEEE 802.3af PoE standard offers 4-port 15.4-watt PoE capabilities by the optional PoE power module (GPOE-DRPC-240), which helps to transform all of the four 2.5GbE ports to PoE capable. The DRPC-240 can supply a total power budget of 60 watts to meet the demands of many power devices (PDs).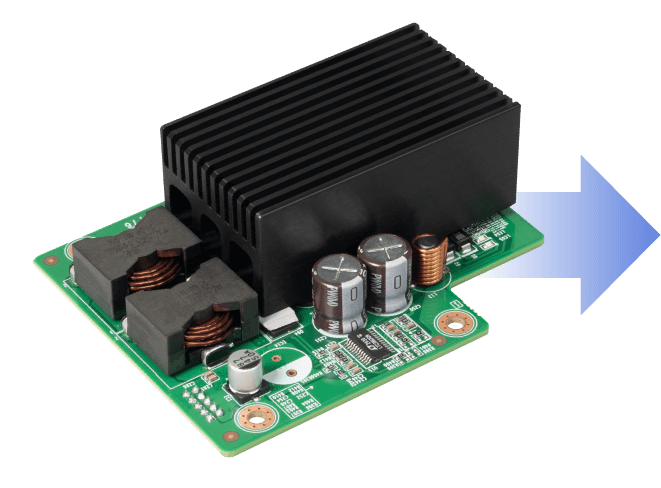 P/N: GPOE-DRPC-240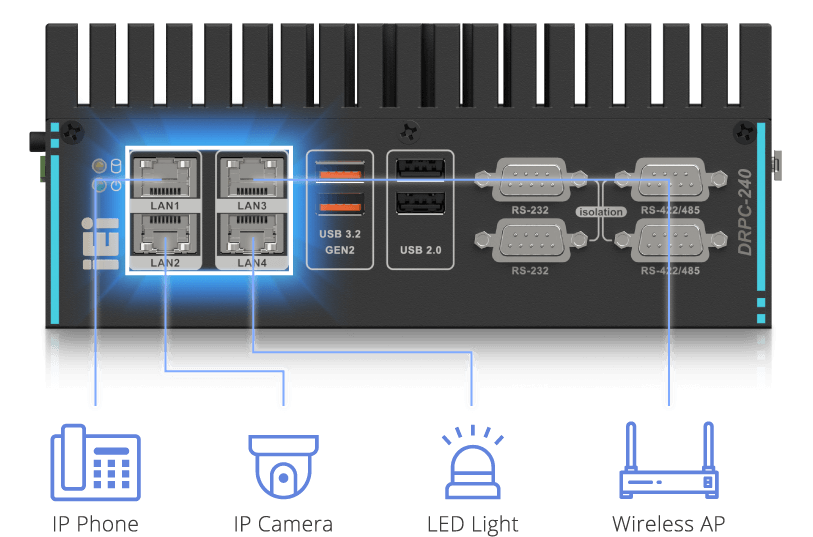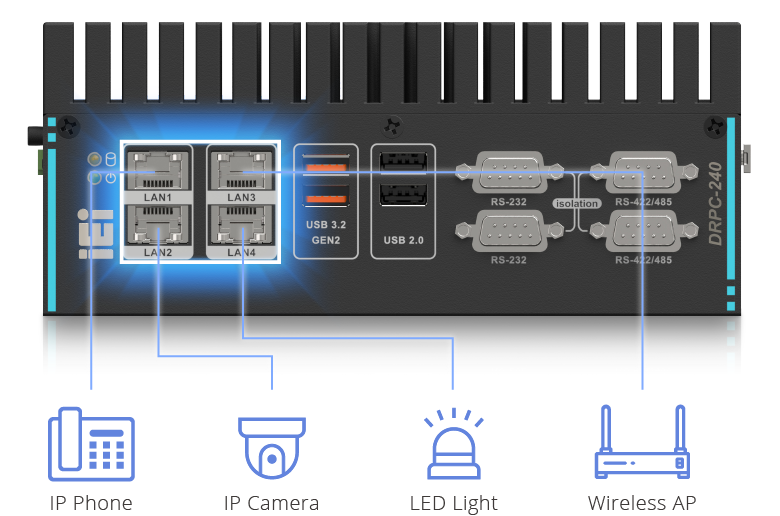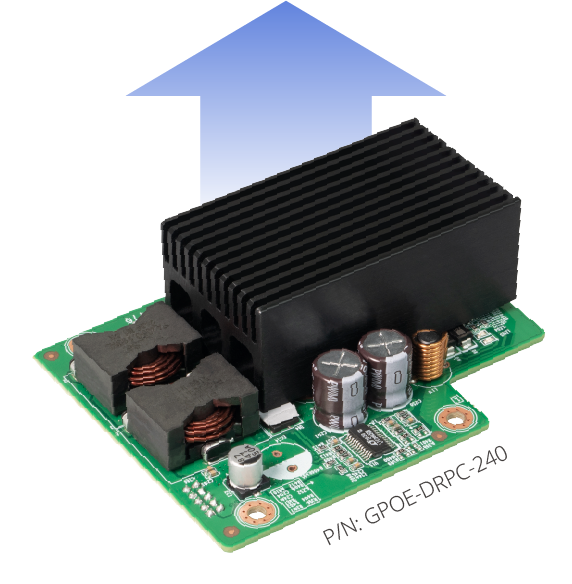 Key Feature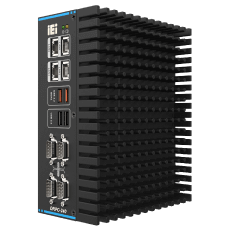 Intel® Core™ i7-1185G7E/i5-1145G7E/Celeron® 6305 quad-core processor and pre-installed with 8 GB DDR4 memory
Compact, DIN-rail mountable and fanless with high stability
Modular design with optional second stack for increased functionality
Optional Wi-Fi/Bluetooth connectivity
4 x 2.5GbE ports, supporting PoE (optional)
2 x RS-232 & 2 x RS-422/485 (with 2.5kV isolation)
CE/FCC compliant
For more information about this or other IEI products and services, please contact your local sales support team or visit our website at www.ieiworld.com