Sistema embedded

>

Din-rail Embedded System
...
DRPC-242-ADL-P
Fanless DIN-Rail Embedded System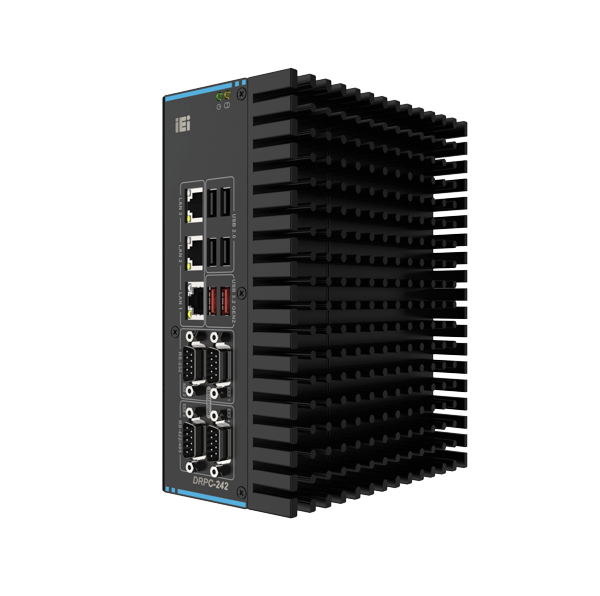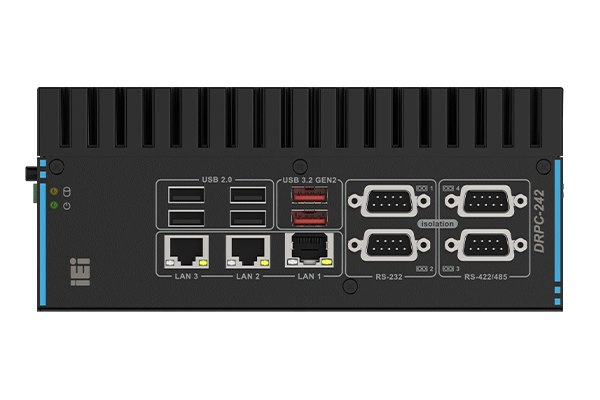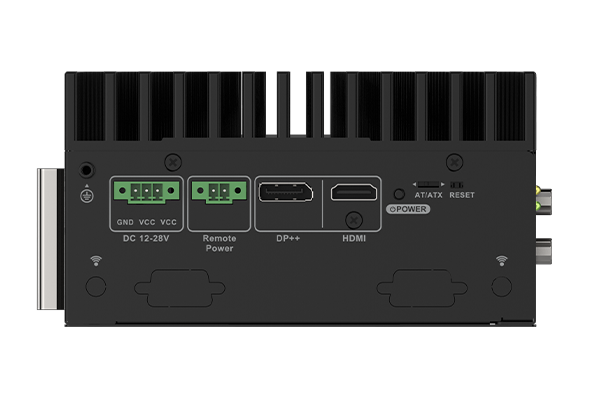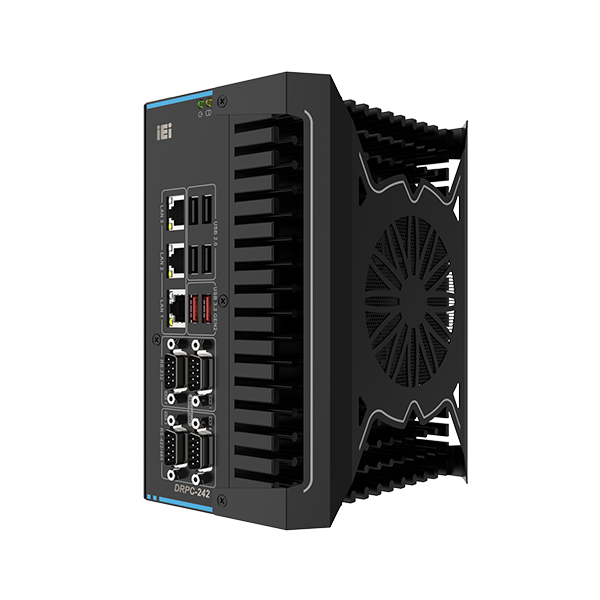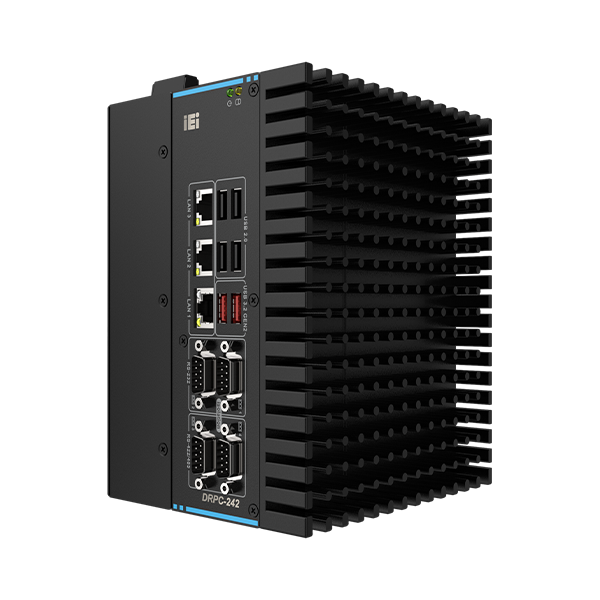 » Supported CPUs:
Intel® Core™ i7-1260P (up to 4.7GHz, 12-core, 28W TDP)
Intel® Core™ i5-1240P (up to 4.4GHz, 12-core, 28W TDP)
Intel® Core™ i3-1220P (up to 4.4GHz, 10-core, 28W TDP)
Intel® Celeron® 7305 (5-core, 15W TDP)
» 2 x USB 3.2 Gen2 & 4 x USB 2.0
» 2 x RS-232 & 2 x RS-422/485 (with 2.5KV isolation)
» CE/FCC compliant
The DRPC-242-ADL-P is an integrated DIN rail box PC. It boasts a modular design with PCIe expansion, giving users the flexibility to customize the configuration according to their specific needs. With its impressive computing power, powered by the 12th generation Intel® Core™ Processors, and versatile I/O connectivity, the DIN Rail Box PC efficiently handles advanced Industrial Internet of Things (IIoT) applications, including AMR controllers, EV charging station controls, AI inf erence computing, robotics control, and cabinet control.
Optimizing AI Inference with 12th Gen Intel® Core™ Mobile Processors
IEI DRPC-242-ADL-P is ideal for multitasking industrial workloa ds, with its up to 12 cores and 16 threads, as well as up to 96 graphics execution units in the SoC design. This powerful combination allows it to handle high-performing AI for inferencing and mach ine vision tasks effectively.
Moreover, the DRPC-242-ADL-P supports built-in AI acceleration from Intel® Deep Learning Boost (Intel® DL Boost) and the Intel ® Distribution of OpenVINO™ toolkit, further enhancing its capabilities for AI-related tasks.
Stackable, Modular PCIe x4 Design for Added Functionality
By adding an optional second stack expansion kit, TXC-DRPC-242-1S, the DRPC-242-ADL-P becomes highly flexible, allowing the installation of various PCIe x4 add-on cards. These cards include high-density I/O cards, vision cards, motion cards, and AI accelerators, catering to specific application requirements. The connections are made through simple and reliable board-to-board connections, ensuring ease of use and reliability.
Wireless Connectivity for Edge Telemetry
The DRPC-242-ADL-P enables seamless wireless connectivity and A I accelerating for remote and mobile edge deployments.
» 5G/4G cellular communication by M.2 3042/3052 B key slot with SIM socket on board (PCIe Gen3 x1/UsB 3.2 Gen2/USB 2.0 mode)
» Wi-Fi & Bluetooth by M.2 2230 A key slot (PCIe Gen3 x1/USB 2.0 mode)
Industrial-grade Hardened Hardware Design with 12V~28V DC Wide-range Power Input
Ruggedized hardware architecture safeguards the small factor co mputer in harsh, remote and dynamic environments.
» Fanless cooling eliminates failure points
» -20°C to 60°C wide operating temperature
» 15G non-operation and 5G operation shock
» Wide 12V to 28V DC voltage input
» Intel® Platform Trust Technology (Intel® PTT) to enable password pro-tection, device authentication and future-ready cybersecurity
Fanless System with Reliable Thermal Design
DRPC-242-ADL-P boasts an optimized thermal design featuring a c utting-edge pin-fin heatsink concept. This innovative design sig nificantly improves two-dimensional heat conduction while reducing flow imp edance, resulting in superior heat dissipation within this fan- less system.
As a result of this enhanced thermal efficiency, the overall weig ht of the DRPC-242-ADL-P has been reduced by an impressive 35%. This weight reduction not only makes the system more compact but also enhances its reliability, especially in applications sensitive to vibrations, such as AGV (Automated Guided Vehicle) setups.
The implementation of the pin-fin heatsink concept allows the DR PC-242-ADL-P to outperform systems that use traditional plate h eatsinks with parallel fins. This results in maximized performance and superio r heat management for the DRPC-242-ADL-P, making it an ideal ch oice for demanding industrial applications.
Advanced High-efficiency Fan Kit Releases Extreme Computing Power
For computing-intensive applications, users could opt to add an external fan for an active cooling solution maintaining high system performance in high temperature environment. This design also brings high reliability by preventing dust or particles from getting into the hardware, and it is easy to disassemble and clean.
» TDP 15W -20°C ~ 60°C w/o external fan
» TDP 28W -20°C ~ 60°C with external fan
Flexible Dual-Storage Design
The DRPC-242-ADL-P offers a dual-storage design, allowing you to customize it with up to a 2.5-inch solid-state drive (SSD), an M.2 (2280) NVMe PCIe SSD, or a combination of both, providing added flexibility to suit your needs. By including an M.2 NVMe drive with PCIe GEN4 x4 performance, the DRPC-242-ADL-P ensures a consistent and high-speed flow of data to the integrated CPU and GPU. This capability is particularly valuable for demanding data cache applications, as it optimizes performance and responsiveness.
Dual 4K Displays with Immersive Graphics and Media Performance
The DRPC-242-ADL-P is equipped with one HDMI 1.4 port and one D P++ port, both support pixel-accurate 4K resolutions and empowe r manufacturers to access clearer analysis and management via pan el displays or interactive displays. The DP++ connector allows the use of a simple, inexpensive passive adapter to convert to HDMI. It is completely plug and play, handles both video and audio, and does not need any driver to work.
2.5kV Isolated COM Ports Ensure Reliable Connectivity
The four serial portsare protected against 2.5kV isolation to prevent accidental high voltage shorts, lightning surges and ground loops, so that the DRPC-242-ADL-P will not be damaged while connected.
Industrial I/O Connectivity
1

12-28V DC Input Remote Power

2

Remote Power

3

1 x Lockable HDMI 1.4b (up to 4096 x 2160@30Hz)

1 x DP 1.4b (up to 4096 x 2160 @60Hz)

4

Power Button

5

AT/ATX Mode

6

Reset

7

3 x 2.5 GbE LAN

8

4 x USB 2.0
2 x USB 3.2 Gen2

9

2 x RS-422/485
(with isolation)

10

2 x RS-232
(with isolation)

11

External Fan Connector
Form factor
SBC Form Factor

Supported CPU:
Intel® Core™ i7-1260P (up to 4.7GHz, 12-core, 28W TDP)
Intel® Core™ i5-1240P (up to 4.4GHz, 12-core, 28W TDP)
Intel® Core™ i3-1220P (up to 4.4GHz, 10-core, 28W TDP)
Intel® Celeron® 7305 (5-core, 15W TDP)

Chipset:
SoC

System Memory:
2 x SO-DIMM slot DDR4 3200 MHz (8 GB pre-installed) (up to 64GB)

Power:
3-pin terminal block: 12 ~ 28 VDC
Consumption: 12V@4.46A (Intel® Core™ i7-1260P with DDR4 8G Memory)

I/O Interface
I/O Ports

USB:
2 x USB 3.2 Gen2
4 x USB 2.0

Ethernet:
1 x 2.5GbE by Intel® I225LM support iAMT
2 x 2.5GbE by Intel® I225V (colay I225LM)

Display:
1 x lockable HDMI™ 1.4b (up to 4096 x 2160@30Hz)
1 x DP 1.4b (up to 4096 x 2160 @60Hz)

COM Port:
2 x RS-232 (DB9 with 2.5KV isolation)
2 x RS-232 (optional)
2 x RS-422/485 with AFC (DB9 with 2.5KV isolation)

GPIO:
1 x 12-bit(6-in, 6-out)(optional)

TPM:
Support Intel PTT

Watchdog Timer:
Programmable 1 ~ 255 sec/min

Expansion Slots
Expansion Slots

M.2:
1 x 2230 A-key (PCIe Gen3 x1/USB 2.0) Support Vpro
1 x 3042/52 B-key (PCIe Gen3 x1/USB 3.2 Gen2/USB 2.0)
1 x On-board SIM card socket (hinge type) for M.2 B key
1 x 2280 M-key (PCIe Gen4 x4)

Backplane:
1 x PCIe Gen3 x4 (optional)

System
Cooling method / System Fan
Fanless
4-pin external system fan connector
Drive Bays
1 x 2.5" SATA 6Gb/s SSD bay
Indicator&Buttons
Buttons
1 x Power button
1 x 2-pin terminal block for Remote Power Button,
1 x Reset button
1 x AT/ATX switch,
Indicators
1 x Power LED
1 x HDD LED
Physical Characteristics
Construction
Extruded aluminum alloy
Color
Color
Black
Dimensions
Dimensions
81 x 150 x190 mm
Weight
Weight
1.88 / 2.66KG
Environment
Operating Temperature
-20°C ~ 60°C with 0.7M/S air flow (SSD)
Humidity
10% ~ 95% non-condensing
Operating Vibration
10-500 Hz, 1.04 Grms, random, 1 hr/axis (SSD)
Operating Shock
Half-sine wave shock 5G, 11ms, 3 shocks per axis (SSD)
Safety & EMC
CE, FCC, UKCA
OS Support
OS Support
Microsoft® Windows® 10/11, Linux
| | |
| --- | --- |
| DRPC-242-ADL-P-W10IoT21-V-R10 | OS Image with Windows® 10 Enterprise Value 64-bit 2021 LTSC for DRPC-242-ADL-P Celeron,i3 & i5 Series, with DVD-ROM, RoHS |
| DRPC-242-ADL-P-W10IoT21-H-R10 | OS Image with Windows® 10 Enterprise High End 64-bit 2021 LTSC for DRPC-242-ADL-P i7 Series, with DVD-ROM, RoHS |
| DRPC-242-ADL-P-i7CS-R10 | Embedded system with 12th Gen Intel® Core™ i7-1260P, TDP 28W, 8GB DDR4 pre-installed memory, HDMI™/DP, 3 x 2.5GbE LAN, 4 x COM, 6 x USB, 12~24V DC, RoHS |
| DRPC-242-ADL-P-i5CS-R10 | Embedded system with 12th Gen Intel® Core™ i5-1240P, TDP 28W, 8GB DDR4 pre-installed memory, HDMI™/DP, 3 x 2.5GbE LAN, 4 x COM, 6 x USB, 12~24V DC, RoHS |
| DRPC-242-ADL-P-i3CS-R10 | Embedded system with 12th Gen Intel® Core™ i3-1220P, TDP 28W, 8GB DDR4 pre-installed memory, HDMI™/DP, 3 x 2.5GbE LAN, 4 x COM, 6 x USB, 12~24V DC, RoHS |
| DRPC-242-ADL-P-CCS-R10 | Embedded system with 12th Gen Intel® Celeron® 7305, TDP 15W, 8GB DDR4 pre-installed memory, HDMI™/DP, 3 x 2.5GbE LAN, 4 x COM, 6 x USB, 12~24V DC, RoHS |
Package Content

1 x DIN-rail mounting kit

1 x Screw pack

1 x Terminal block
---