ePaper

>

ePaper Display
...
Peach-E73
7.3 " BWRY ePaper Display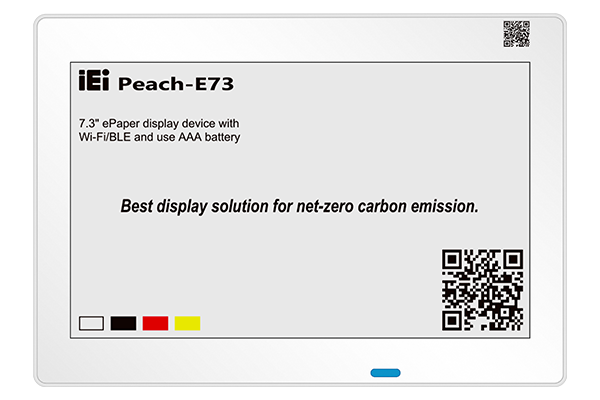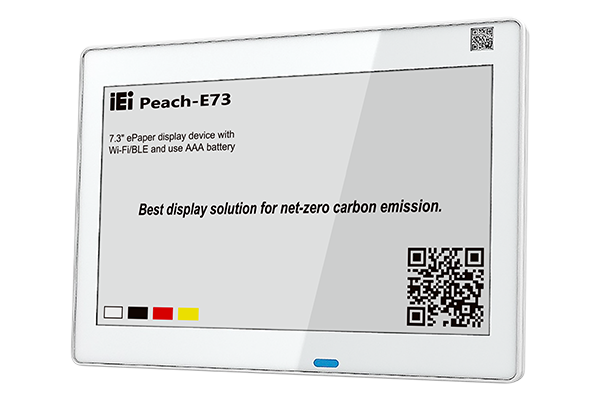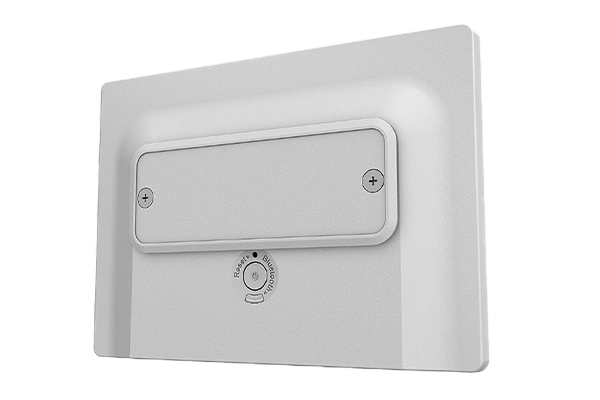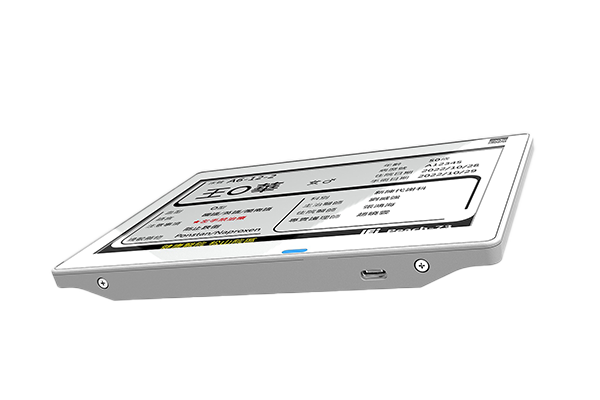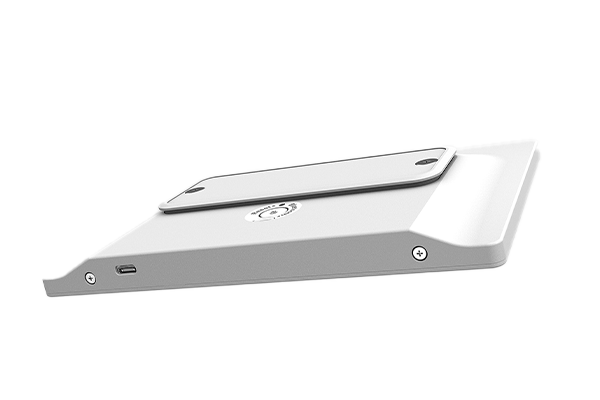 » 7.3" 800 x 480 ePaper display
» Red / yellow / white / black 4 image colors
» Red / blue 2 colors LED
» IEEE 802.11b/g/n (2.4 GHz WiFi) / Bluetooth® 5 (LE)
» AAA x 6 batteries design to reduce waste batteries
» USB-C connector for power supply and image transfer
» Circular key block with clear markings to reduce the complexity of an operation
» Smooth curved body design is more convenient for cleaning and disinfection needs
» PMMA + PC cover lens with AG surface treatment for scratch resistance and impact resistance cover lens also reduce the influence of ambient light reflection
Peach-E73: IEI's Green Choice for Clear Communications
The IEI Low Carbon Emission Display Peach-E73 presents an eco-conscious and cost-effective approach to curbing carbon emissions. It employs an energy-efficient display and seamlessly integrates with advanced management tools, IEI Remote Management Solution and ideaRoomX content management platform, simplifying content customization and distribution. This innovative solution is tailored for environmentally conscious businesses seeking to diminish their carbon footprint while enhancing their visual communication efforts.
Our panels have been meticulously crafted to minimize glare, ensuring that the displayed content remains crystal clear even under the brightest of lights. Its good readability make it easier to adapt to challenging lighting conditions, ensuring that information remains visible and useful regardless of the environment.
Seamless Remote Content Management with iRM and ideaRoomX Platforms
The Peach-E73 comes equipped with IEI's proprietary cutting-edge Remote Management Platforms, taking customers' display experience to the next level. The intuitive iRM and ideaRoomX platforms empower users with control over and seamless updates via WiFi for multiple e-paper displays from any location. The powerful iRM solution enables content updates to all connected e-paper displays in an instant. Utilizing a user-friendly interface, iRM software allows users to upload various content and distribute it to designated displays, all through a single dashboard. Whether you're refreshing product information, adjusting pricing, or delivering vital announcements, it's as easy as a few clicks. Furthermore, the ideaRoomX platform generates dynamic image content from specified information, making it even easier the content distribution across various displays using iRM.
The ability to remotely update content and configure connected displays through our remote management platforms reduce the need for manual intervention. This not only lowers maintenance costs but also eliminates downtime, fostering an environment of highly efficient resource optimization.
A Sustainable Technology Driving Towards Net Zero Carbon Emission by 2050
Aiming for the ambitious goal of Net Zero Carbon Emission by 2050, it's crucial to find innovative ways to reduce environment impact. In the race to achieve this ambitious target, IEI's e-paper displays stand out as a sustainable game-changing solution that contribute to this global mission. Our displays are a key part of a broader strategy to cut carbon emissions across various sectors.
Our solution is energy-efficient, only using power when the content changes, which leads to the reduction of overall energy demand associated with powering electronic devices. These displays also minimize paper usage, curbing deforestation and carbon emissions. While adopting eco-friendly e-paper displays may not bring immediate profits, it's a long-term investment in sustainability, setting your business apart in the market and building a positive reputation that customers respect and trust.
Optimal Power Efficiency with AAA Batteries for E-paper Displays
Our e-paper displays are designed with your convenience in mind. One of the key advantages of our displays is their compatibility with readily available AAA batteries.
AAA batteries are widely available, which makes it convenient to replace them whenever needed. Many AAA batteries are available in rechargeable versions, reducing waste and environmental impact. There is also a well-established infrastructure for collecting and recycling these types of batteries in many regions. Incorporating AAA batteries into our e-paper displays is definitely a testament to our commitment to user-friendly and efficient technology!
Versatile Power Options for Eco-Friendly Display Performance
We've equipped our displays with not one, but two power options: AAA batteries and, a more environmentally conscious power solution, USB Type-C port, for better suiting customers' preferences and requirements.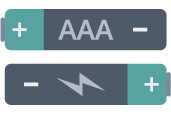 AAA Batteries: Power-on-Demand
E-paper displays consume energy only when content changes, meaning your AAA batteries last longer. Unlock true mobility by simply inserting AAA batteries, and your display comes to life.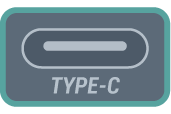 USB Type-C Port: Plug & Sustain
Users simply plug the display into any compatible power source, including computers and power banks. This option is particularly well-suited for environments with a stable power supply, such as office settings and factory automation systems.
Your Versatile Display for Any Scenario
IEI's Peach-E73 can seamlessly adapt to diverse environments and applications, enhancing efficiency, communication and aesthetics. These cutting-edge displays are engineered to excel in a multitude of scenarios, making them the perfect choice for forward-thinking businesses and institutions. With the added versatility of din-rail mount support, our displays can easily integrate into industrial setups, further expanding their utility across various sectors.
Display
EPD Size (active area)
7.3"
EPD resolution
800 (H) x 480 (V)
EPD Pixel Pitch (mm)
0.2 x 0.2
EPD Contrast Ratio (B/W typ)
15
EPD ink material
E Ink Spectra 3100
EPD colors
Black/White/Red/Yellow
EPD timing controller
SoC
Cover lens
PMMA + PC
Cover lens surface treatment
AG
Physical Characteristics
Color
White
Dimensions (LxWxH) (mm)
186.1(L) x 133.1(W) x 19.5(H)
Net Weight
205g
I/O Interface
Display Input
USB-C
Wireless
Wi-Fi
IEEE 802.11b/g/n (2.4 GHz WiFi)
Bluetooth
Bluetooth® 5 (LE)
Power
Battery
AAA x 6 (Not included in the product)
Environment
Operating Temperature
15°C ~ 35°C
Storage Temperature
-20°C ~ 60°C
| | |
| --- | --- |
| Peach-E73-R10 | 7.3" BWRY ePaper display |
Package Content

1 x Peach-E73 ePaper display

1 x USB Type A to Type C cable

2 x Hook and loop tape

Quick start guide
---