Networking and Servers

>

Network Appliance
...
PUZZLE-9030
1U Rackmount Network Appliance with 3rd Gen AMD® EPYC™ 7003 series processor
(request by order)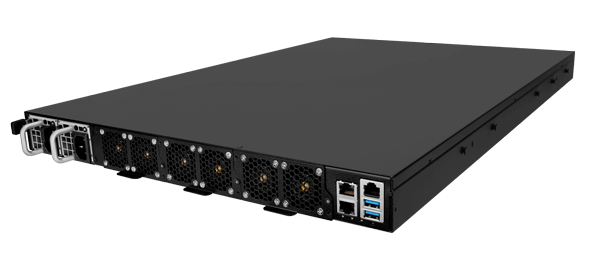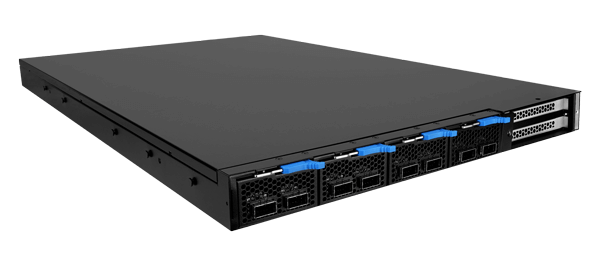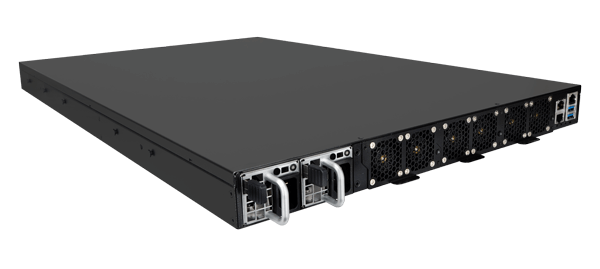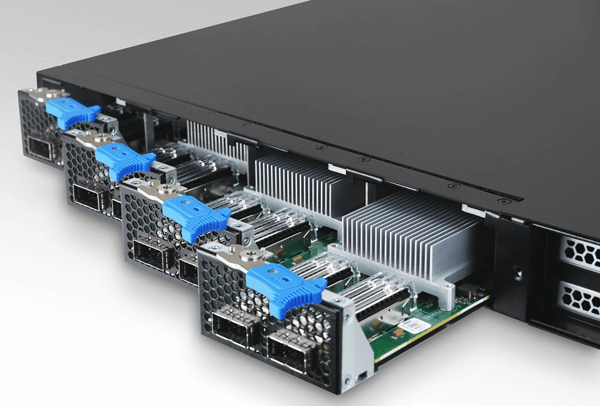 » AMD® 3rd Gen EPYC™ 7003 Processor Family (Codename: Milan)
» 16 x DDR4 3200 MHz ECC RDIMM/LRDIMM slot
» 2 x U.2 (PCIe 4.0 x4) 2.5" NVMe SSD or 2 x SATA 3.0 3.5" HDD
» Support up to 4 x PulM-100G2SF-CX6
» 2 x PCIe x 16 FHHL expansion slot
» 2 x M.2 M key 2280 (PCIe 4.0 x4)
» Support IPMI (optional)

Optimal Performance

/
Wide Scalability

/
High Availability

/
Field-proven Reliability

PUZZLE-9030 Takes Network Appliance to New Heights
High Core Density 1U Network Appliance Powered
by Dual 3rd Gen AMD® EPYC™ 7543 Processors
The PUZZLE-9030 is a 1U 19" rack-mount network appliance with up to 4TB system memory. It features dual high throughput AMD® EPYC™ 7543 processors with 64 cores in the dual socket system, delivering up to 36% improvement compared to the 2nd Gen AMD® EPYC CPUs, which is made for cybersecurity vendors that require faster CPU performance to accelerate SD-WAN architecture, and secure access service edge (SASE) solutions.
In addition, with flexible expandability through IEI 4 Network Mezzanine Cards (NMC) with OCP 3.0 connectors and PCIe Gen4 connectivity, the PUZZLE-9030 is able to improve HPC, cloud and enterprise workload performance and deliver better time to results with high I/O connection throughput.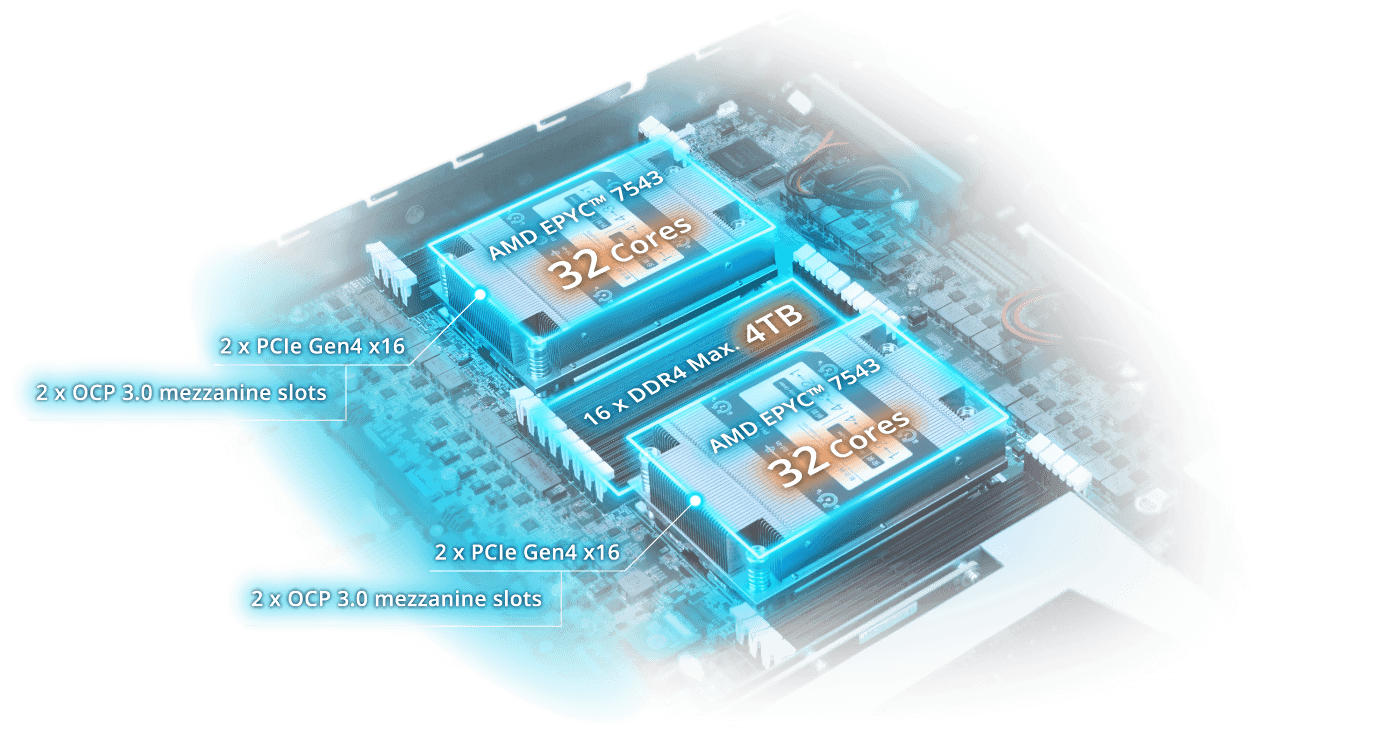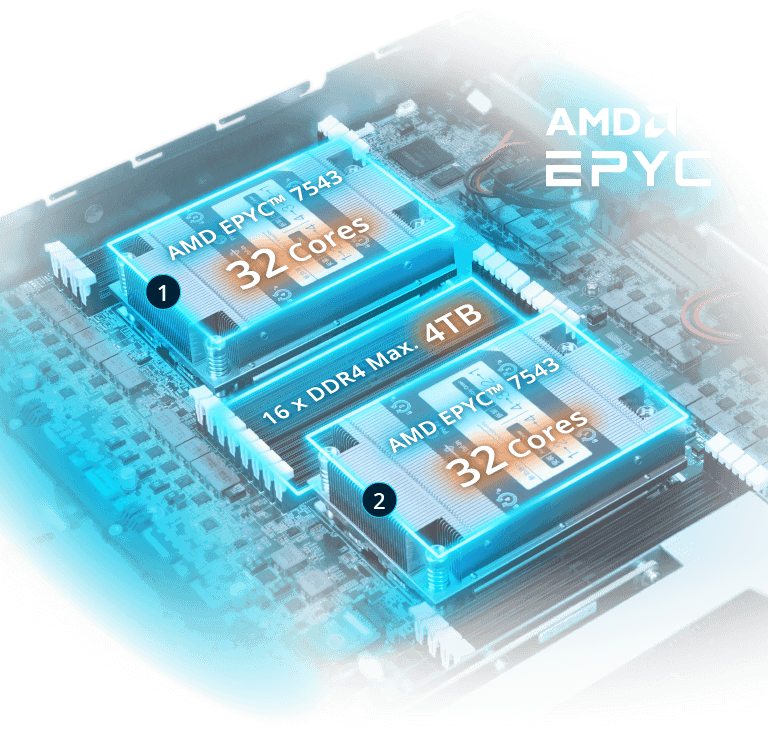 1

2 x PCIe Gen4 x16

2 x OCP 3.0 mezzanine slots

2

2 x PCIe Gen4 x16

2 x OCP 3.0 mezzanine slots
High Bandwidth by PCIe Gen4
PCI Express® 4.0 delivers 16 GT/s bandwidth, which is double the speed of PCIe 3.0, offering lower power consumption, better lane scalability and backwards compatibility. To achieve the bandwid th requirements of big data and AIoT applications, IEI PUZZLE-9 030 is PCIe Gen4 ready to support a diverse array of graphics, storage and networking – enabling flexible scalability for demanding or increasing workloads.


1

4 x OCP 3.0 slots (x16 link)

2

2 x PCIe 4.0 x16 slots (x16 link)

3
Wide Scalability
Expandable Network Bandwidth Compliant with OCP 3.0
Design and customize your appliance for today's dynamic network environment. The PUZZLE-9030 is built-in with four onboard OCP NIC 3.0 slots, aiming to deliver flexibility and scalability. Choose IEI's PulM module, PulM-100G2SF-CX6, featuring dual 100GbE network ICs, for the PUZZLE-9030 to support the highest-bandwidth of NIC expansions up to 800GbE. Advantages of IEI PulM network mezzanine cards include:
Highly serviceability
Simply slot in or pull out the NIC module, without opening cover or using tools.
Tool-less design
The clipping mechanism secures the NIC module in place. Install or replace a new module in seconds.
PCIe Gen4 bandwidth
Each slot supports 16 lanes of PCIe Gen4 signal from CPU and eliminates throughput bottlenecks. It can deliver the speeds up to 200 Gbps for high bandwidth and low latency for data intensive applications.
Smart NIC lowers CPU utilization and increase responsiveness
Implementation of a smart NIC to offload tasks from the CPU allow s for significantly better system scaling while greatly improving efficiencies.
IEI Dual 100GbE NIC Module
PulM-100G2SF-CX6 (optional)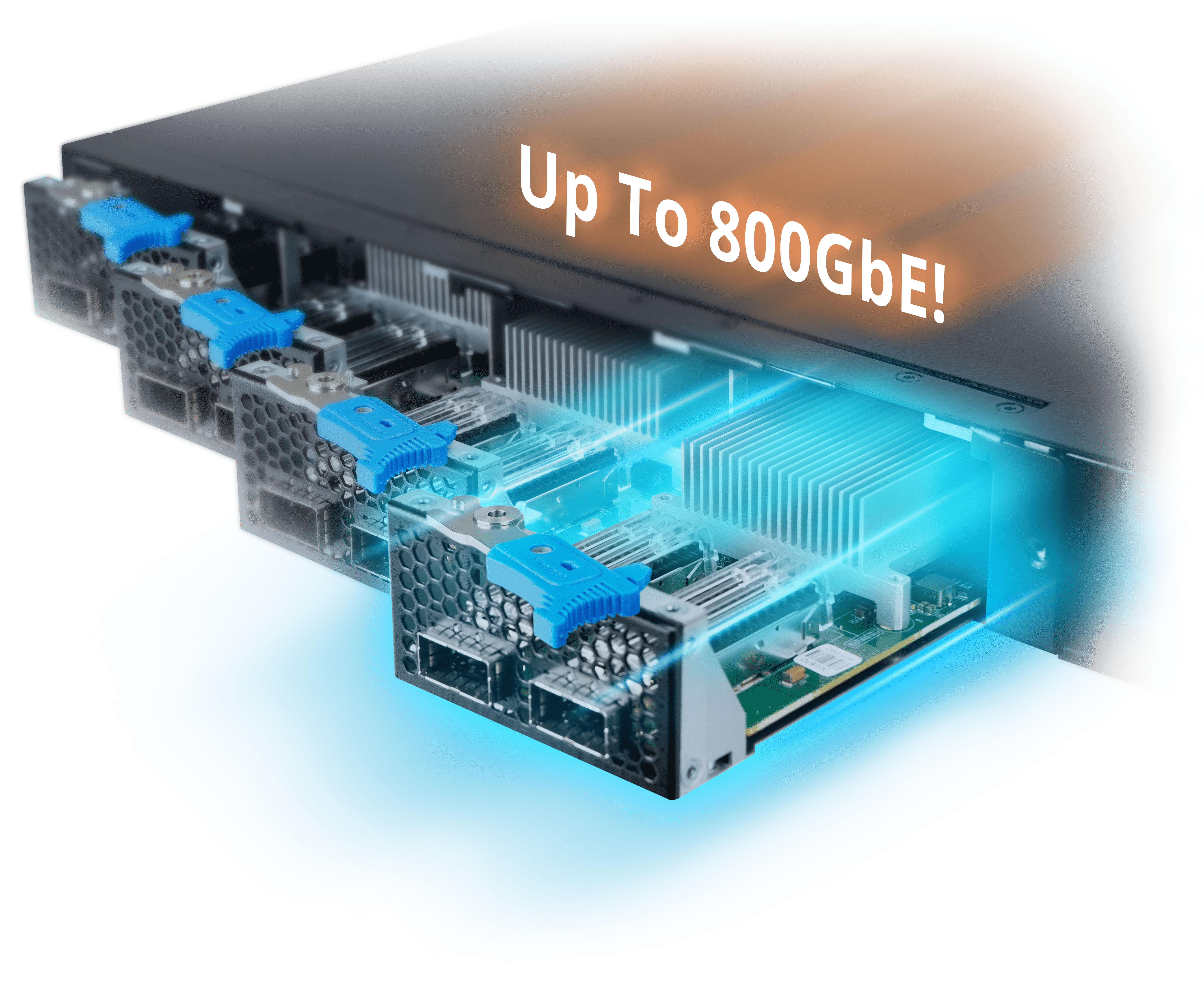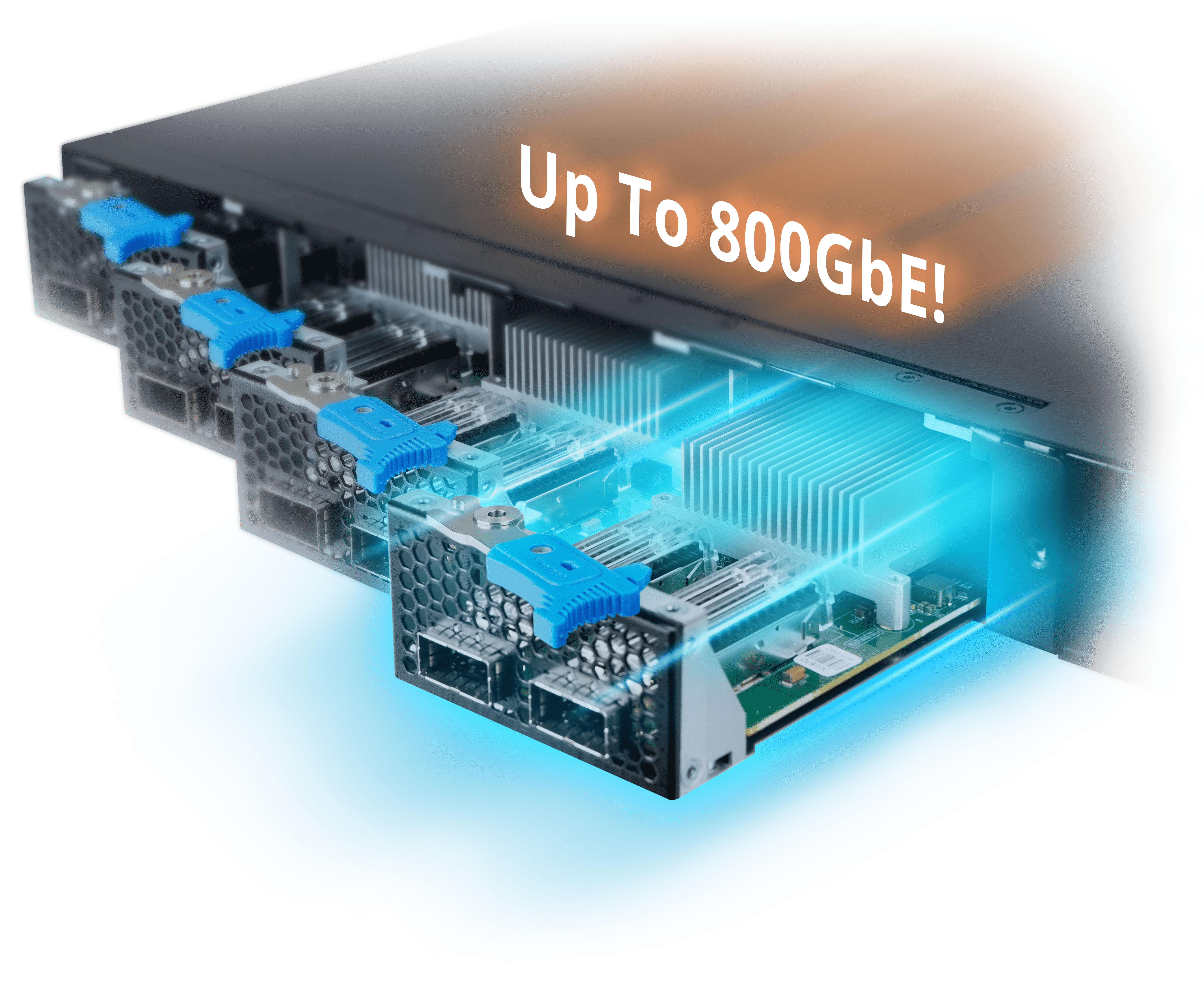 Scalable Storage Devices
IEI PUZZLE-9030 features scalable storage solutions to support maximum performance for data center flexibility, and enable U.2, SATA 6Gb/s or NVMe interfaces for increased connectivity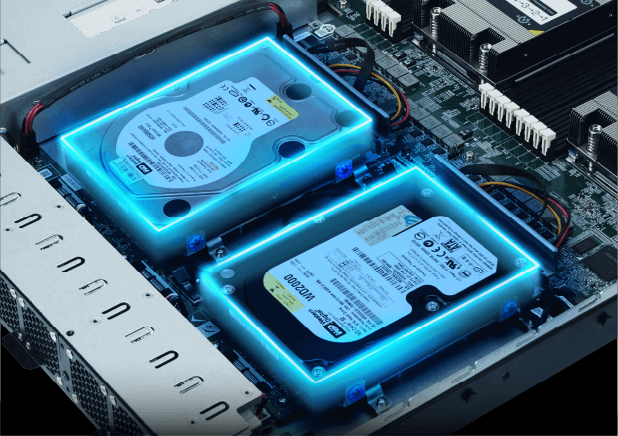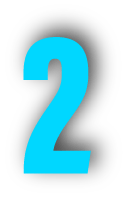 2 x 2.5" U.2 NVMe SSD or
2 x 3.5" SATA 6Gb/s HDD/SSD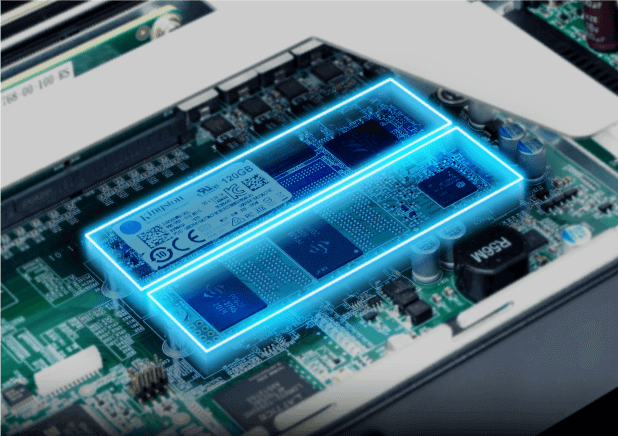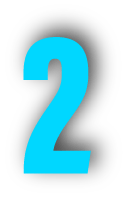 2 x M.2 M-key 2280 NVMe SSD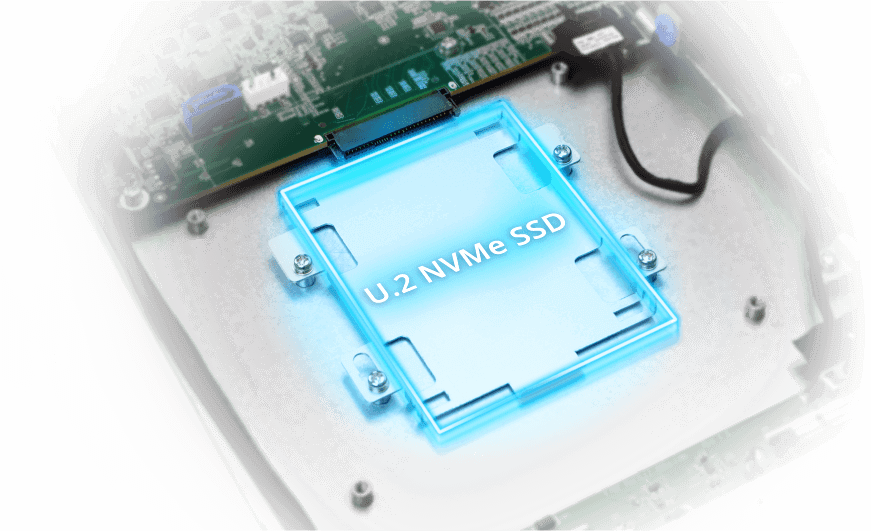 U.2 NVMe Features Low Latency and Low Power Consumption
The U.2 SSD interface features high-speed, low-latency and low-power NVMe standard protocol. The dual 2.5" U.2 NVMe drive bays of PUZZLE-9030 support PCIe Gen4 x4 channel which provides up to 7000MB/s data transmission speed. It is 2 times faster than PCIe 3.0 U.2 (3200MB/s) and 10 times faster than SATA (500MB/s).
10 Times Faster
PCIe Gen.4 U.2 SSD Performance
Support up to 7000MB/s
Extremely High Data Transmission Speed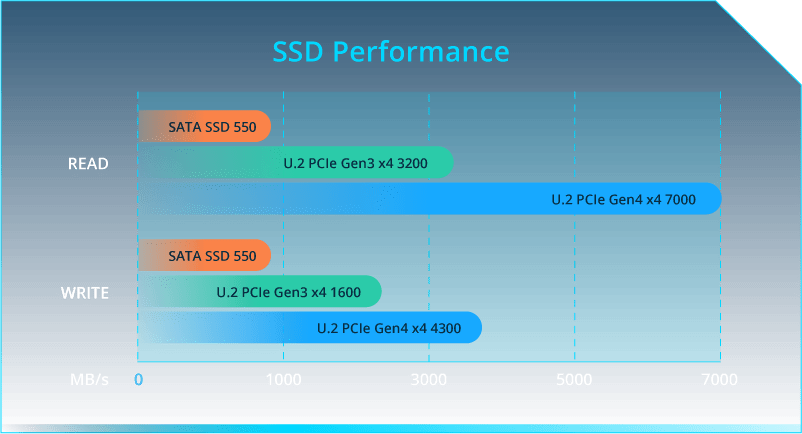 Dual PCIe Gen4 x16 slots Accelerate AI-driven Edge Computing
IEI PUZZLE-9030 features a powerful AI accelerator architecture in one 1U system to enable easy scale-up in order to meet the demands of AI and high-performance computing (HPC), and to securely run workloads in virtualized environments. Moreover, various PCIe AI accelerator cards in FPGA, TPU or VPU type are available from IEI. These hardware-based acceleration cards offload the repetitive but high volume workloads from CPU and improve total application performance.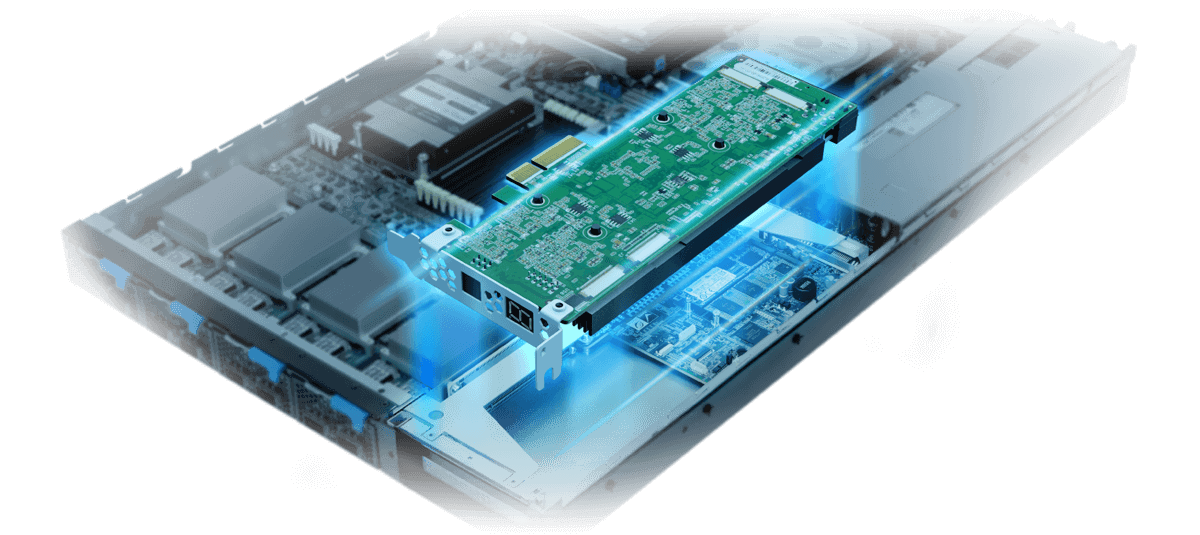 High Availability
A big chanllenge for network operators is to ensure 24/7/365 non-stop network operation. The PUZZLE-9030 supports enhanced availability and serviceability design, including tool-less, hot-swappable cooling fans and redundant power supplies, which ensure excellent heat dissipation and continuous power delivery.

1

2
Pluggable and Hot-Swap Fan Modules Minimize Trouble-Shooting Resources
The PUZZLE-9030 comes standard with six hot-swap cooling fans in the rear of the 1U chassis. The fan modules are designed to push a high volume of air through the chassis to cool hot CPUs, storages and expansion cards such as AI accelerators, SmartNICs, or GPGPUs.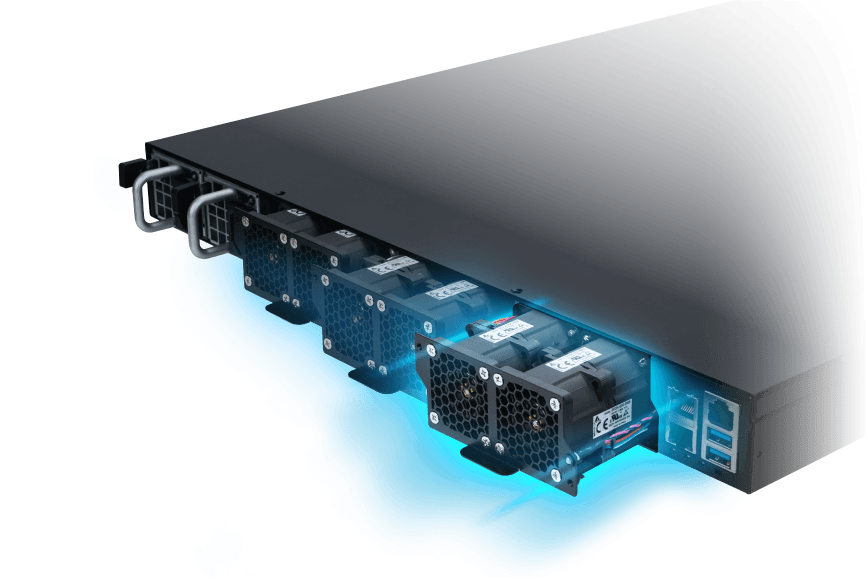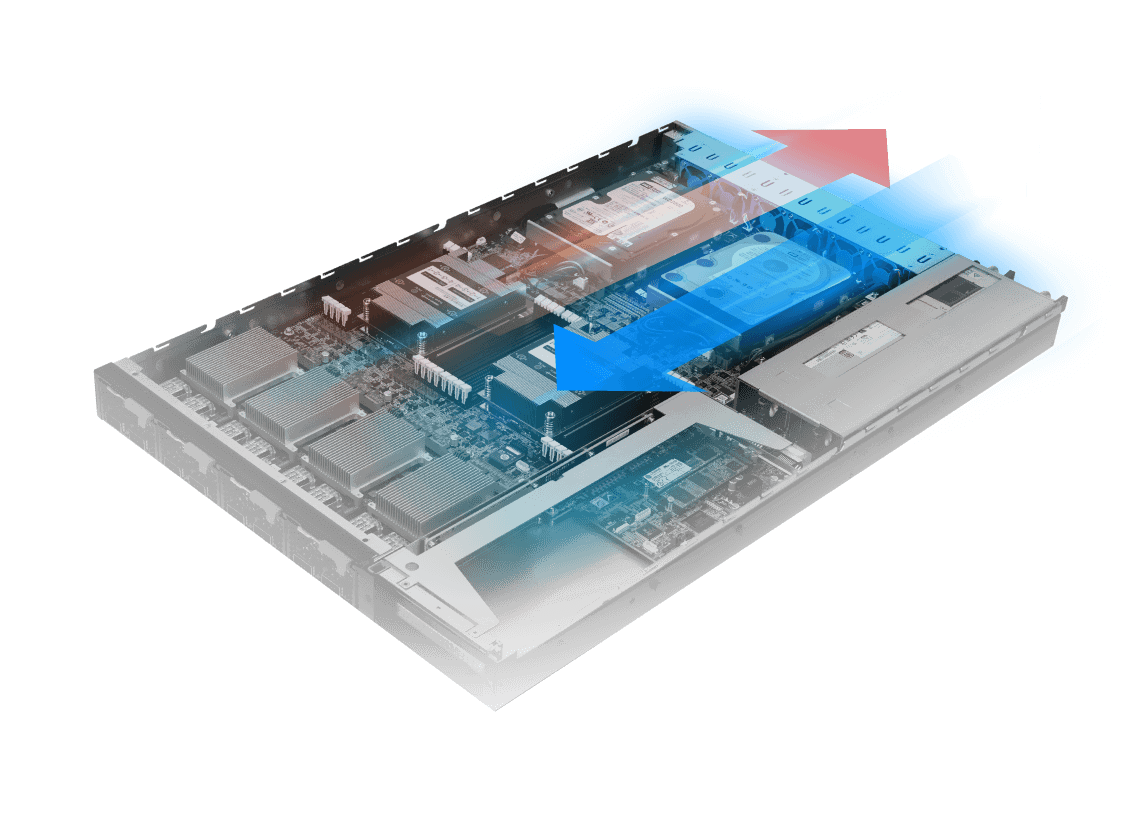 Automatic Fan Speed Control Achieves the Best Cooling and Power Efficiency
Users can define system fan speed and temperature profile in the BIOS menu. When the system is in idle or running less demanding tasks, smart fan is able to bring down the level of noise produced by rotating fans. The adjustable settings allow the PUZZLE-9030 to run with less noise while extending the fan's lifespan, enhancing system stability and durability.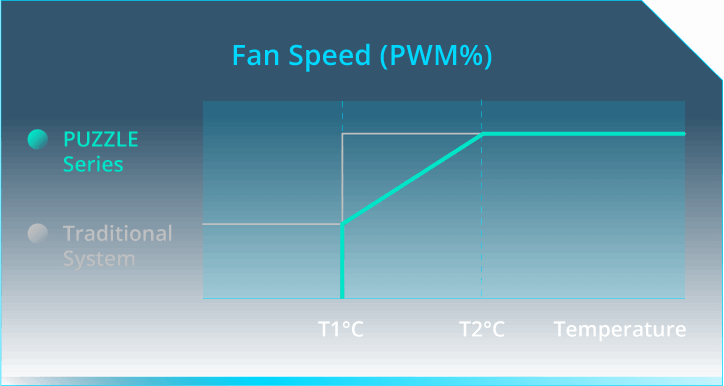 Dual Redundant 1300W 80+ Platinum Power Supply
IEI PUZZEL-9030 is designed to guarantee high conversion efficiency regardless of load. Dual redundant 1300W 80 Plus platinum power supplies combined with IEI's system integration capabilities enable super efficient power usage which maximizes the system power. Each power supply unit is capable of powering the entire system so the PUZZLE-9030 can run with only one power unit. If one PSU fails, the other one starts running to keep continuous operation.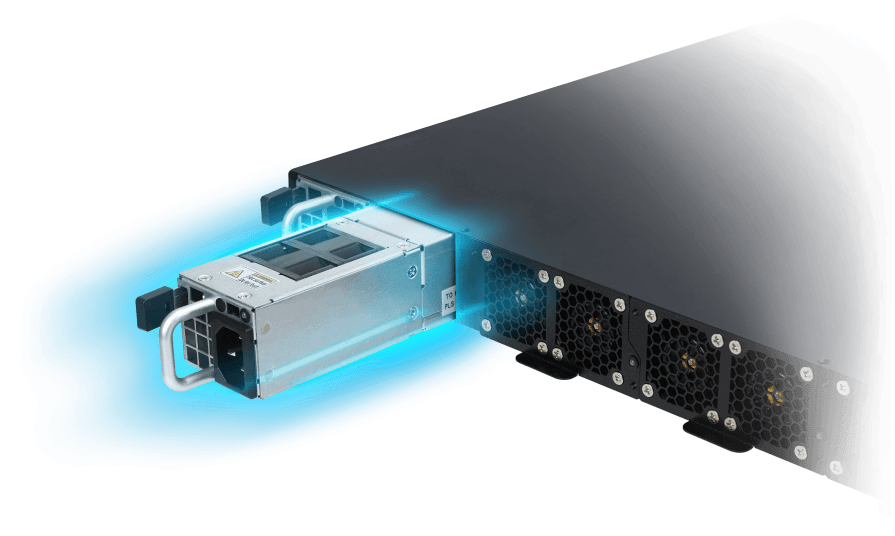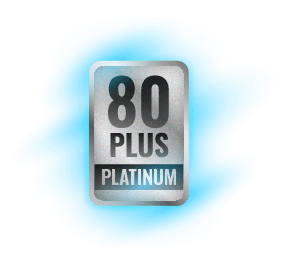 Field-proven Reliability
Out-of-Band Management and Diagnostics
IEI offers free-of-charge management application featuring intuitive and informative user interface. Starting from IRIS dashboard, the user can clearly understand the status of each node and perform various management functions in the IT environment, including: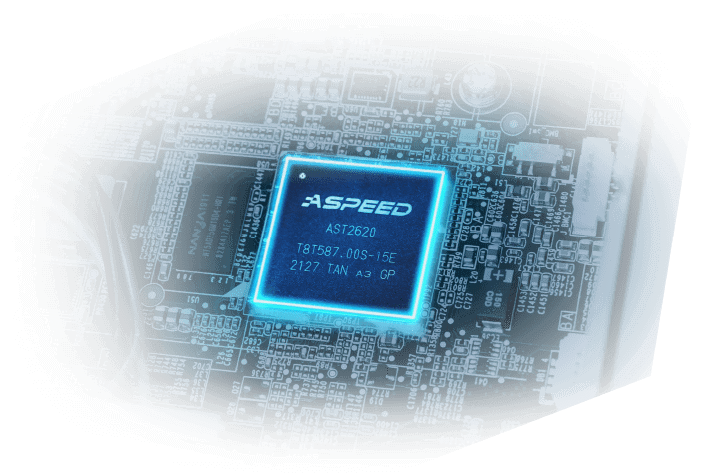 » Fan control
» Remote KVM
» Remote BIOS setting
Remote Control
» Softwre update
» OS installation & recovery
» KVM over IP
» POST code display
Remote Software
Update
System Health Monitoring & Diagnostics
» Hardware monitor
» Health log record & diagnosis
» Event log record & diagnosis
Power Control
» Reset system
» Power off system (immediate/orderly)
» Power on system
» Power cycle system
» Group power control
Remote Troubleshooting
» Software update
» OS installation & recovery
» KVM over IP
» POST code display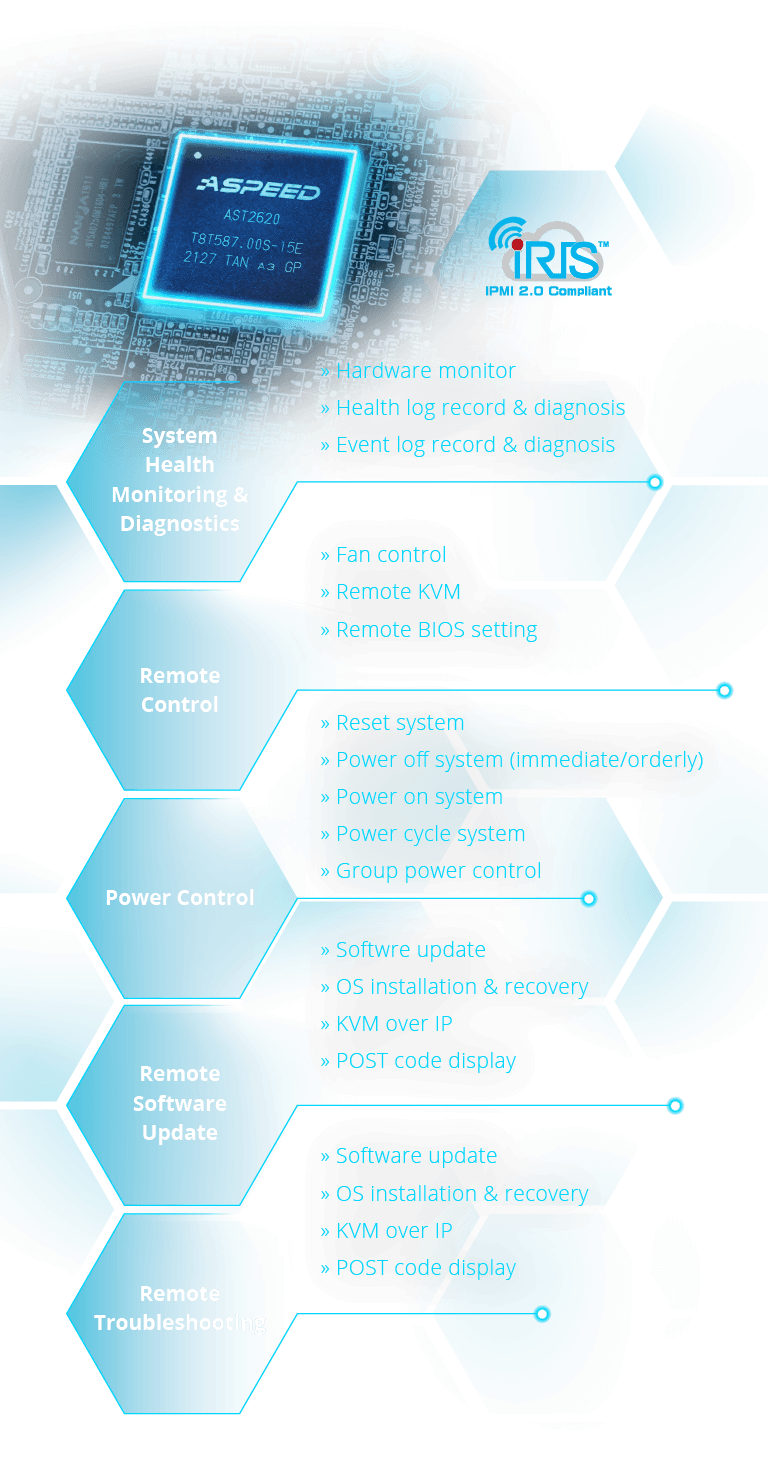 Enhanced Security with TPM2.0 (Optional)
TPM can be leveraged to encrypt your storage drive. This protects your data, including your identity and operating system files. Encryption also protects your data in the case of physical theft.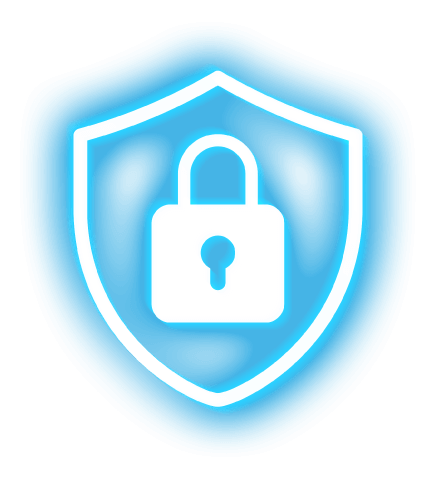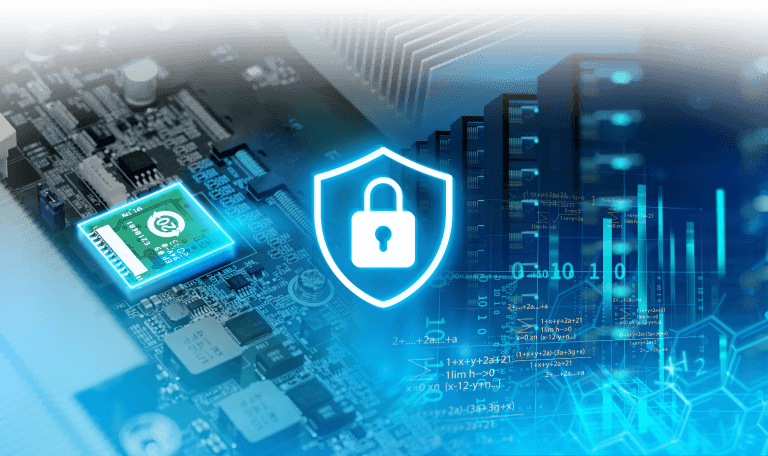 PUZZLE-9030 Product Overview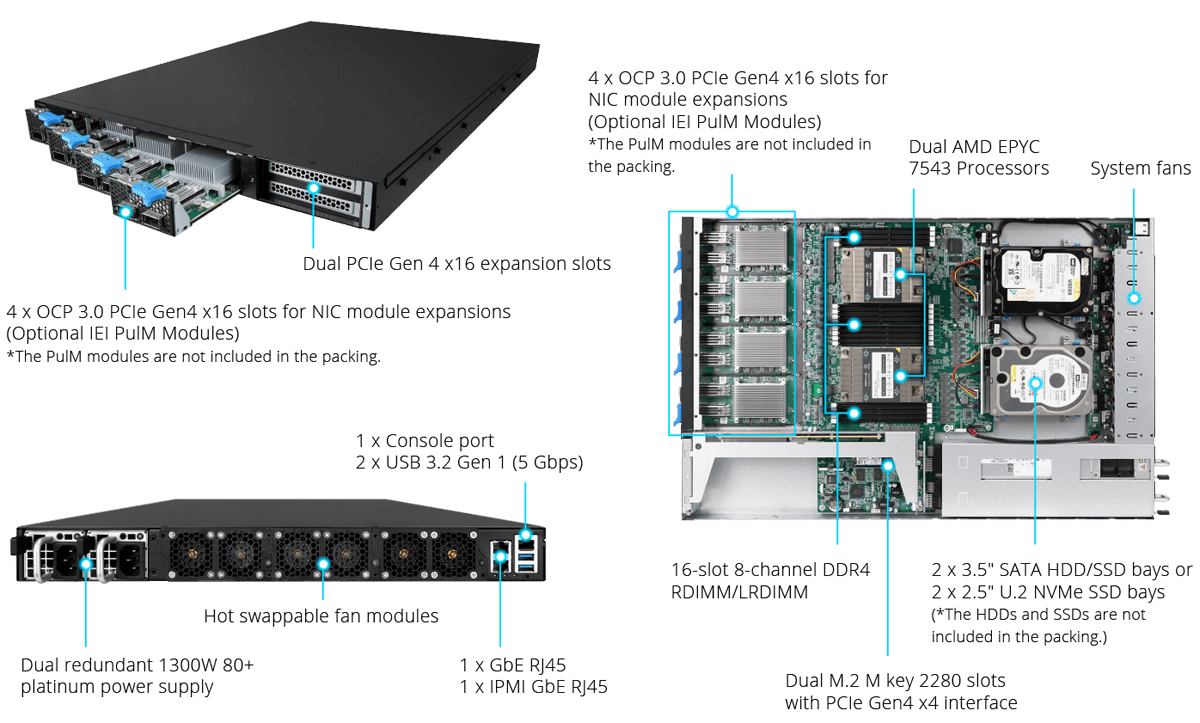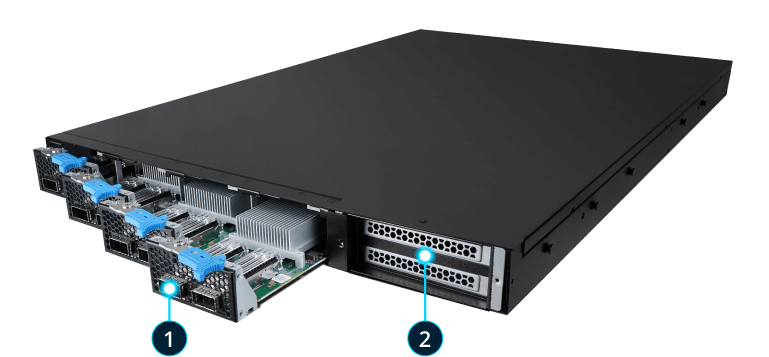 1

4 x OCP 3.0 PCIe Gen4 x16 slots for NIC module expansions (Optional IEI PulM Modules)
*The PulM modules are not included in the packing.

2

Dual PCIe Gen 4 x16 expansion slots
1

4 x OCP 3.0 PCIe Gen4 x16 slots for NIC module expansions (Optional IEI PulM Modules)
*The PulM modules are not included in the packing.

2

Dual AMD EPYC 7543 Processors

3

4

16-slot 8-channel DDR4
RDIMM/LRDIMM

5

Dual M.2 M key 2280 slots
with PCIe Gen4 x4 interface

6

2 x 3.5" SATA HDD/SSD bays or
2 x 2.5" U.2 NVMe SSD bays
(*The HDDs and SSDs are not included in the packing.)

1

1 x Console port
2 x USB 3.2 Gen 1 (5 Gbps)

2

Dual redundant 1300W 80+ platinum power supply

3

Hot swappable fan modules

4

1 x GbE RJ45
1 x IPMI GbE RJ45
Optimal Performance
»
2 x AMD® EPYC™ 7543 processors, 64 cores / 128 threads
»
16 x DDR4 3200MHz ECC RDIMM/LRDIMM, up to 4TB system capacity
Wide Scalability
»
4 x OCP3. 0 network mezzanine slots with 32GB/s throughput per slot
»
2 x PCIe x16 slots for multiple accelerator cards
»
2 x M.2 2280 NVME slots
»
2 x 3.5" SATA 6Gb/s SSD/HDD or 2 x 2.5" U.2 NVMe SSD storage devices
High Availability
»
24/7 non-stop network operation
»
Hot-swappable cooling fans
»
1300W 80+ platinum redundant power supplies
Field-proven Reliability
»
High-level security protection by IEI
»
IPMI for out-of-band management and diagnostics
»
Enhanced security with TPM2.0 (optional)
PUZZLE-9030 Dimensions (Unit: mm) Form Factor
Form Factor
1U
System
CPU
2 x AMD® EPYC™ Milan 7543
Chipset
Integrated in CPU
Memory
DDR4 3200 MHz ECC RDIMM/LRDIMM
Memory Max.
Up to 4TB (Based on DIMM capacity)
Cooling method / System Fan
6 x Individual Hot-swappable Cooling Fans
Physical Characteristics
Dimensions (LxWxH) (mm)
670 x 438 x 44.2
Storage
Storage
2 x M.2(NGFF) : M key 2280 (PCIe 4.0 x4)
2 x U.2 : (PCIe 4.0 x4) or 2 x SATA 3.0 - (colay design)
I/O Interface
Ethernet
1 x LAN : GbE RJ-45 (Intel I210)
I/O Interface
1 x Console port(s) : RJ45
2 x USB 3.0
Expansion
6 x PCIe x16 : 4 x PulM-100G2SF-CX6, 2 x PCIe expansion (FHHL)
Other Features
IPMI
1 x AST2620 (RTL8211E)
Power
Power Supply
1300W CRPS redundant power
Environment
Operating Temperature
0°C ~ 40°C (32°F ~ 104°F)
Storage Temperature
-10°C ~ 50°C
Humidity
5% ~ 90% non-condensing
Certifications
Safety & EMC
By customer request
OS Support
OS Support
Ubuntu, Linux based OS
| | |
| --- | --- |
| PUZZLE-9030-R10 | 1U Rackmount Network Appliance with 3rd Gen AMD EPYC™ 7003 series processor |
Package Content

• 2 x Power cord

• 2 x Rack mounting ears

• 6 x Screw for rack mounting ears
---