IEI Works Together with Intel to Accelerate the Evolution of Smart Factory
IEI Works Together with Intel to Accelerate the Evolution of Smart Factory and Get Ahead of the Game
---
IEI's TANK AIoT Dev. Kit and FLEX-BX200-Q370 equipped with the Mustang accelerator card and Intel EIS 2.0 (Edge Insights Software) offer a complete service in data collection, storage and computing to effectively reduce the time needed for data processing and development within a solution.
EIS is a software stack providing a secure environment for data access, analysis, arrangement and management. It can achieve nearly real-time event-driven control across different operating systems and several communication protocols. In addition, EIS is able to accomplish multiple tasks at the same time, including image processing, data storage and data analysis, for offering the modular data that could be used in machines, videos and audios. To support EIS to realize the best effect, IEI's TANK AIoT Dev. Kit and FLEX embedded systems that are designed for compute-intensive workloads will be the best platform options.
The TANK AIoT Dev. Kit has rich I/O and PCIe x8 dual slot expansion while the FLEX-BX200 has PCIe 3.0 x8 and PCIe 3.0 x4 dual slot expansion, both of which enable flexible expansions based on users' diverse requirements. The Mustang accelerator card, for instance, can be installed to effectually improve the computational efficiency by leveraging its high performance and low power consumption features.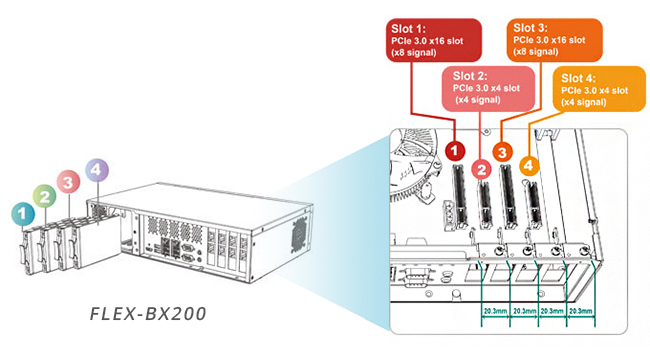 Both TANK AIoT Dev. Kit and FLEX-BX200 can be applied to deep-learning inference computing and are equipped with Intel® Distribution of OpenVINO™ toolkit for optimizing the pre-trained deep learning model and expanding the mission to various types of Intel® platform to maximize the performance. The supported GPU card, Intel® FPGA accelerator card and Intel® VPU accelerator card provide extra computing capacity and point-to-point solutions. As a result, while equipped with EIS 2.0, they can rapidly collect, store and process a huge amount of data, assisting smart factories in performing more efficient work order scheduling to elevate product accuracy, in turn, helping lower down overall costs.
---

---

2U AI Modular PC with 9th Generation LGA 1151 Intel® Core™/Xeon® processor with Intel® Q370/C246 chipset and DDR4 memory
Four hot-swappable and accessible HDD drive bays support RAID 0/1/5/10
Support PCIe 3.0 by 4 and PCIe 3.0 by 8 slots

6th/7th Gen Intel® Core™/Xeon® processor platform with Intel® Q170/C236 chipset and DDR4 memory
Dual independent display with high resolution support
Rich high-speed I/O interfaces on one side for easy installation
The Advantage of Combining IEI AI Embedded System with Intel® EIS 2.0 - Speed
| | |
| --- | --- |
| | |
| Multi-point deployment - Lower costs and unveil more flexibilities in a one-to-many relationship. | Effectively optimize inference results and modules. |
| | |
| Promptly and extensively collect data, and support the streaming tasks related to machines, videos and audios. | Predict the results on the basis of historical data. |
Smart Factory Solutions
Defect inspection of printed circuit boards :
Promptly collect relevant data in production lines with the help of EIS 2.0. Inspect the defect on parts, surface or package by using the built-in AI and visual technology. The inference results will be transmitted to the data analysis platform, Splunk Enterprise, applicable to enterprises. The big amount of information collected is clearly presented with numerous graphics while a unique and perfect interface is provided for reading and understanding.
IEI Integration Corp.

---

Tel:+886-2-8691-6798
+886-2-2690-2098
Fax:+886-2-6616-0028

sales@ieiworld.com
| | |
| --- | --- |
| Copyright©2020 IEI Integration Corp. All Rights Reserved. Design and specifications are subject to change without prior notice. | |