Media contact
IEI Integration Corp.
TEL: +886-2-8691-6798
+886-2-2690-2098
FAX: +886-2-6616-0028
IEI Technology USA
TEL: +1-909-595-2819
FAX: +1-909-595-2816
IEI Integration China
TEL: +86-21-3462-7799
FAX: +86-021-3462-7797
IEI Integration Corp. 東京支店
TEL: +81-3-5901-9735
FAX: +81-3-5901-9736
IEI Releases Latest Cost-Saving Network Appliance Based on Marvell® Platform


| | |
| --- | --- |
| ✔ | Marvell® ARMADA® 88F8040 high-performance quad-core system-on-chip (SoC) |
| ✔ | Support two10GbE SFP+ via Marvell® ARMADA® 88F8040 |
| ✔ | Support four GbE RJ-45 via Marvell 88E1512P |
| ✔ | 1 x 288-pin 2400 MHz 16 GB ECC DDR4 DIMM |
| ✔ | 2 x USB 3.1 Gen 1 (5Gb/s) |
| ✔ | 1 x RJ-45 console |
| ✔ | 1 x M.2 B-key (SATA & USB 3.1 Gen 1) with SIM holder |
| ✔ | 1 x PCIe x16 slot (PCIe x2 signal) |
Empowered by Marvell® ARMADA® Chipset

Marvell® ARMADA® 8040 is based on a quad-core ARM Cortex®–A72 processor and supports full CPU and I/O virtualization. Meanwhile, it includes an advanced packet processor with rich state-of-the-art connectivity including two 10GbE SFP ports, four 1GbE RJ-45 ports and one expansion slot (PCIe x2). It makes the PUZZLE-M801 ideal for a wild range of IP appliances and data plane applications as well as virtual CPE and enterprise applications.
Ideally Designed for NGFW, SDN and NFV Applications
Based on ARM v8 architecture, ARMADA® 8040 SoC is capable of realizing various SDN deployment. Advanced Exception Layer (EL) provides support for virtual functions such as Linux KVM and Container with secured or non-secured protection.  GIC and SMMU have also been updated to adapt to address translation and interrupt mechanism required in virtual application such as VM, vNIC, vSwitch and SR-IOV.
It is also equipped with DPDK compatible packet processor hardware, which processes packet parsing, classifying and buffer & descriptor management. Its security engine provides crypto hardware acceleration for some parts of SDN functions such as  L2,L3 checksum offload, CRC offload and IPsec handling.
Model Name
PUZZLE-M801
Platform
Form Factor
1U
CPU
Marvell® ARMADA® 88F8040 High-Performance CPU System on Chip, 4C, 1.6GHz
Chipset
Integrated in CPU
Memory
Memory Technology
DDR4 2400MHz ECC/Non-ECC/RDIMM
Memory Capacity
Up to 16GB
Memory Socket
1 x 288-pin DIMM
Network and Security
Network acceleration and Security Function
• Configurable packet processor
• HW offload for networking
• Acceleration engines for storage, networking and security
• Public Key Processor (RSA/DH/ECC)
• Secure Storage
• Secure boot
TPM
N/A
Networking
Ethernat IC
1 GbE PHY: Marvell 88E1512P
Ethernat Port
2 x 10 GbE SFP+, 4 x 1GbE RJ45 LAN ports
Network Module Slot
N/A
Expension Slot
PCIe Slot
1 x PCIe x16 slot (PCIe x2 signal)
PCIe Mini Card Slot
N/A
M.2
1 x M.2 B key (SATA & USB 3.1 Gen 1 (5Gb/s))
Storage
Storage
2 x 2.5" SATA HDD/SSD bay
eMMC
32GB
SD card
N/A
External I/O
USB 3.1
2 x USB 3.1 Gen 1 (5Gb/s)
Console
1 x RJ45
Internal I/O
M.2
1 x M.2 B key (SATA & USB 3.1 Gen 1 (5Gb/s))
HDMI
N/A
USB 3.1
N/A
USB 2.0
2 x USB 2.0
Power and Mechanical
Power Switch
1 x Power Switch
Reset Button
1 x Reset Button
Power Input
100 V ~ 240 V
Type/Watt
ATX Power 250W
90V~264V AC
Processor Cooling
1 x Active CPU Heatsink with fan
System Cooling
2 x Cooling Fans with Smart Fan
Antenna Port
1 x Antenna port
Physical and Environmental
Storage Temperature
-10°C ~ 50°C
Operating Temperature
0 ~ 40°C (32 ~ 104°F)
Operating Humidity
5% ~ 90% non-condensing
Dimensions (W x H x D) (mm)
430 x 320 x 44.2
Weight
5kg
OS and Certifications
Certification
CE / FCC
Operating System
Linux Ubuntu 16.04.04
Indicators
LCM
LCM, 2 buttons
LED
1 x Power LED, 1 x Storage LED, 1 x Alert LED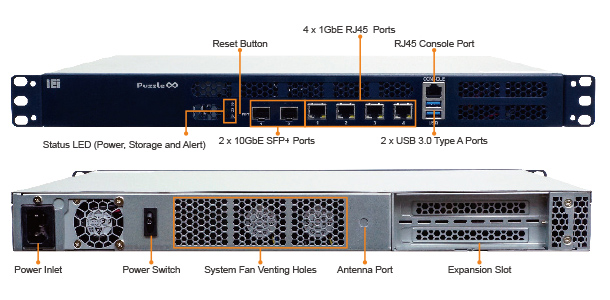 | Part No. | Description |
| --- | --- |
| PUZZLE-M801-A1-R10 | 1U Rackmount Network Appliance with Marvell Armada 8040 processor, one DDR4 slot, four 1GbE, two 10GbE via SFP+, one PCIe expansion, RoHS |
| PUZZLE-M801-A1/8G-R10 | 1U Rackmount Network Appliance with Marvell Armada 8040 processor, 8GB DDR4, one 256GB SSD, four 1GbE, two 10GbE via SFP+, one PCIe expansion, RoHS |
|   | PUZZLE-M801-A1 | PUZZLE-M801-A1/8G |
| --- | --- | --- |
| Power cord | 1 | 1 |
| Heatsink | 1 | 1 |
| Rack mounting ears | 2 | 2 |
| SCREW for Rack mounting ears | 6 | 6 |
| USB to console cable | Option | 1 |
| RS232 to console cable | 1 | Option |
| Slide rail | Option | Option |
| Item | Part No. | Description |
| --- | --- | --- |
| Slide rail | RAIL-B02 | New rail kit for new 1U & 2U NAS: TVS-471U, 1253U, etc |
| USB to console cable | 32013-004000-100-RS | ROUND CABLE; LAN CABLE; FTDI Console Cable; 2; 1800MM; (A)USB A TYPE 4P MALE+PCB:FTDI_FT232RL; (B)RJ45 8P8C; RoHS |
| RS232 to console cable | 32005-005100-100-RS | ROUND CABLE; RS-232/422/485; PUZZLE RS-232 Cable; 2; 500MM; 24AWG; (A)D-SUB 9P MALE+#4-40 Screw; (B)RJ45 PLUG 8P8C; ONE PCS PKG; TC&C; RoHS |
Taiwan

---


IEI Integration Corp.

Tel:+886-2-8691-6798
+886-2-2690-2098
Fax:+886-2-6616-0028
Email: 

sales@ieiworld.com
| | |
| --- | --- |
| Copyright ©2019 IEI Integration Corp. All Rights Reserved. Design and specifications are subject to change without prior notice. | |