2022 IEI Global Partner Week – Enabling 5G & Intelligence at the EDGE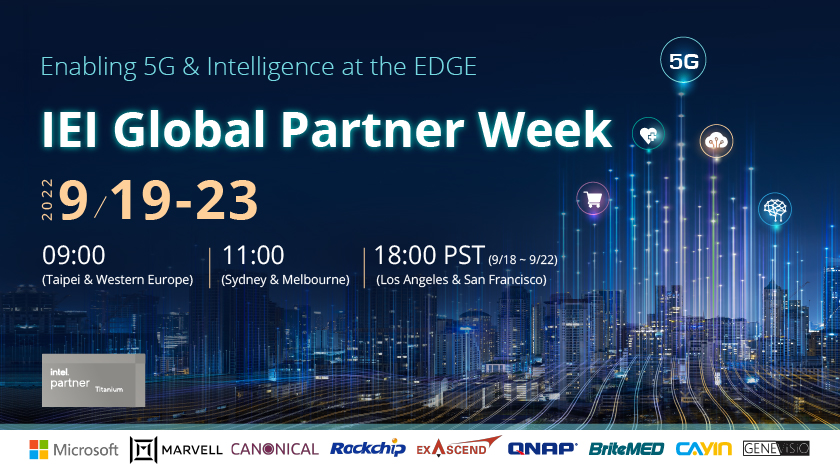 Over past few years, the humanity has witnessed the significant growth in edge computing market and accelerated drive towards digital transformation thanks to the rapid development of 5G network.
With 25-year experience as a provider of computer-based solutions across diverse applications, in this 5-day, 15-session conference, IEI will dive into 5 core tracks:
•

Monday, Sep. 19 – Edge AI

Explore latest IIoT trends and find out sophisticated edge computing solutions to accelerate AI deployment across different vertical markets with guaranteed security, quality and performance.

•

Tuesday, Sep. 20 – 5G Networking

Streamline 5G rollout and facilitate high-speed 5G network infrastructure with comprehensive and next-generation network solutions.

•

Wednesday, Sep. 21 – AI in Healthcare

Introduce comprehensive medical solutions and how AI empowers the data collection and telemedicine for enhanced efficiency and accuracy of diagnosis in current healthcare systems.

•

Thursday, Sep. 22 – Smart Retail & Industrial NAS

Create personalized shopping experience for customers and optimize retail management to increase revenue with remarkable smart retail solutions.

•

Friday, Sep. 23 – Edge to Cloud

Easily manage big data to speed up decision making at the edge by leveraging flexible cloud NAS in cloud environment for edge-cloud collaborative applications.
Industry experts will share insights, market trends and practical use cases in this virtual event, with the aim of helping our customers to identify new opportunities and boost business growth by providing wide range of solutions, including lineups of 5G-ready networking products, Edge AI & cloud solutions in the digital era.
To learn more about 2022 IEI Partner Week or register for the event, please contact your local sales representative or email to adrianalee@ieiworld.com.