IEI Launches 4K HDR SDVoE Transceiver to Drive the Evolution of AV-over-IP
4K HDR AV over IP Transceiver
SFP+ and RJ45 Combo Port, Zero Latency
IEI's new 4K video solution, iSDV-200CTR, is a high−performance, zero latency, and 4K@60Hz (4:4:4) AV over IP video streaming transceiver, and is compliant with SDVoE technology. With its transceiver function, the iSDV-200CTR can act as a transmitter (Tx) and also a receiver (Rx) to deliver excellent flexibility of deployment by software utility for different video scenarios. This transceiver built with the 10GbE combo port design is able to stream over copper cable or fiber cable in one device. Moreover, to offer a complete 4K video solution, IEI develops a value-added software utility, iSDV Network Video Orchestrator featuring intuitive user interface for centralization management, and enabling easy configuration of all iSDV-200CTR devices. As a leading 4K video streaming transceiver, the iSDV-200CTR delivers advanced capabilities for live event, video wall or situation room.
iSDV Application Block Diagram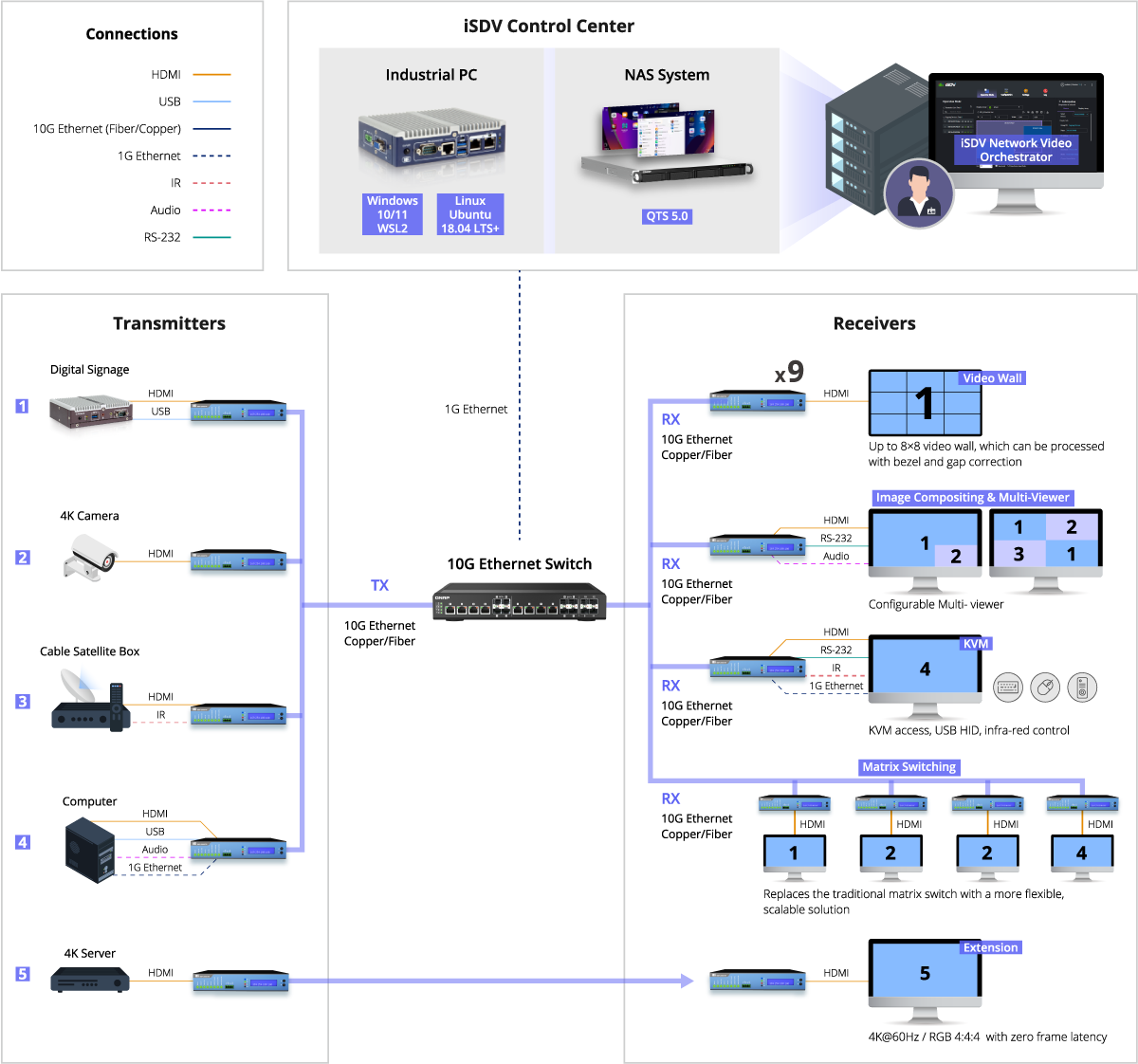 Seamless Switching, Video Wall, Multi-view and KVM Functions
IEI iSDV-200CTR transceiver can be configured and reconfigured via iSDV software to suit users' evolving needs in a cost-effective way without the need for any further third party, outboard processing equipments. The total savings over time can be massive due to its flexibility that reduces the cost of hardware upgrade. Moreover, the iSDV-200CTR equips a powerful AV processing unit, SDVoE (Software Defined Video-over-Ethernet), enabling real-time audio-visual functions.
iSDV Control Center
iSDV Network Video Orchestrator
Simply log into the iSDV Network Video Orchestrator, a web-based application, to manage all your iSDV devices from a central console. It can run in different platforms, such as Windows 10/11, Ubuntu 18.04 LTS+, QNAP NAS QTS 5. Its intuitive user interface allows you to setup Tx and Rx modes, quickly configure display array or other settings, and check the status of all devices in real-time.
Intuitive web-based GUI
Control over matrix, video wall, and multi-viewer modes
Simple installation procedure and intuitive user interface
Display real-time status and setting of all connected transmitters and receivers
Hardware Key Strengths

Transceiver
The iSDV-200CTR is a next generation transceiver which is unique in that it can be both an encoder and a decoder simultaneously, delivering ultimate performance, flexibility and cost savings. Furthermore, the TRX can transmit and receive up to 4K60 video simultaneously.

10GbE SFP+ and RJ45 Combo Port
To meet diverse network switch requirements, the iSDV-200CTR supports both SFP+ (fiber) and RJ45 (copper) ports for servicing a range of network needs.
* The SFP+ transceiver module is not included in the package.
* The SFP+ and RJ45 ports can't be used simultaneously.


Up to 100m over Cat-6a UTP copper cable
Extends the transmission over Cat-6a cable up to 100m from the HDMI™ source at Ultra-HD 4K2K@60 4:4:4 and extends flawless signal quality across a room or an entire facility.

Up to 40km over single mode fiber
Extends the transmission over optic cable up to 40km, and go beyond the limits of normal AV signal extensions to support massive building to building installations.
* The SFP+ transceiver module is not included in the package.

Management Visualization
For easier management, the iSDV-200CTR is designed with a LCM to show the IP address of the device, and various LED indicators are provided on the front panel for you to check the device status on site directly.

Feature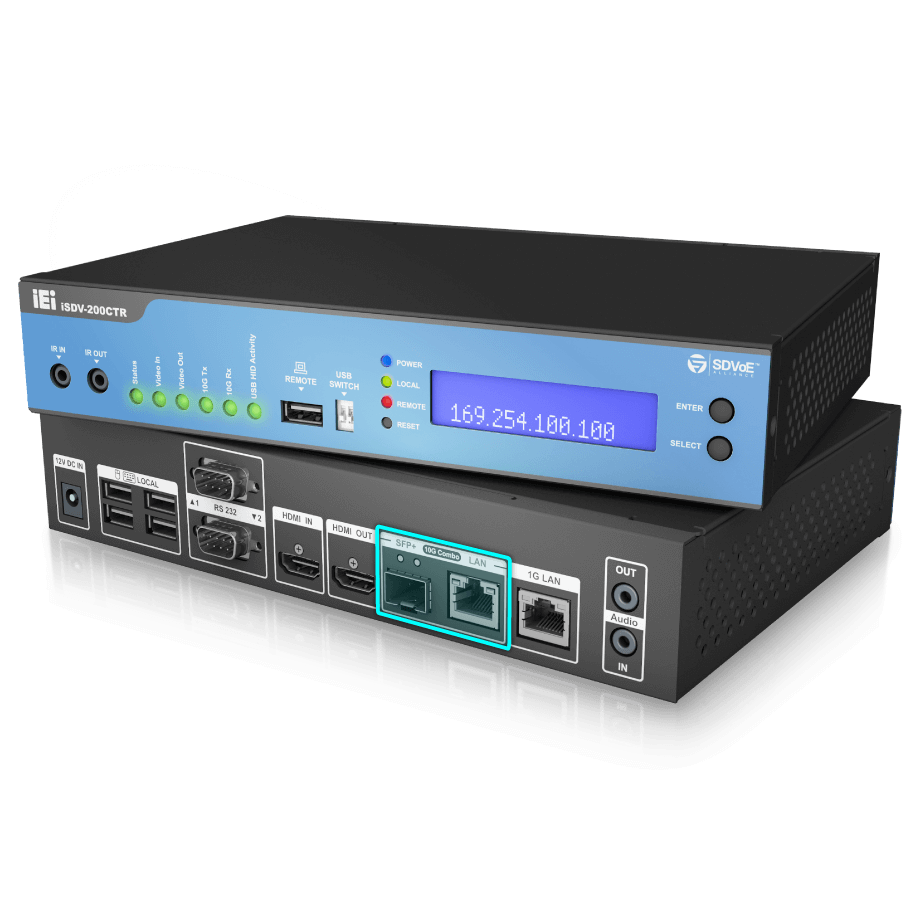 Supporting 10GbE copper & fiber ports
High-performance, zero-latency extension and switching for 4K video
Easy deployment by switching TX and RX function in one device
With LCM for device IP address display, enabling visualization and easy on-site setup
Value-added software for flexible management of TX/RX configurations from a central console
For more information about this or other IEI products and services, please contact your local sales support team or visit our website at www.ieiworld.com