IEI Launches New Smarter NICs - PulM-10G4T-AQC107 & PulM-10G4SF-MLX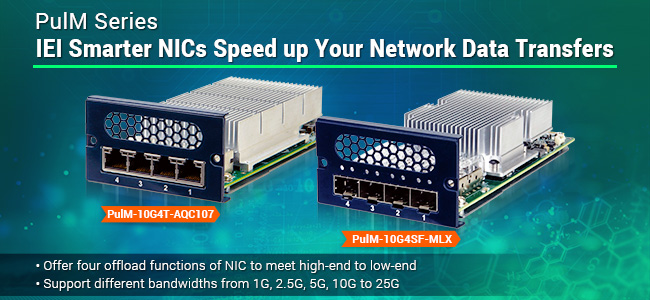 Smart NIC is getting more and more important. Faster networking and data center impose too much networking overhead on the CPU cores, not a doubt, the compute virtualization, software-defined storage (SDS), and hyperconverged infrastructure (HCI) and other network applications, make this problem worse, as they create more east-west traffic.
Smarter NICs – IEI PulM series can resolve all this virtualization and packet processing faster, more efficiently, and at lower cost than standard CPUs. It is ideal for users want to, for instance, build up a network server with virtual machine and provide storage function.
IEI provides four brands of NIC from Aquantia, Intel, Broadcom, Mella-nox, and with 1G, 2.5G, 5G, 10G or 25G different kinds of speed.
Offload Function
Mellanox
Intel
BROADCOM
AQUANTIA
CPU Offload
LSO
V
V
V
V
TSO
V
V
V
 
RSS
V
V
V
V
HDS
V
 
V
V
MSI-X
V
V
V
V
Storage Offload
iWARP
 
V
 
 
iSER
V
V
V
 
VEPA
 
V
V
 
NFS RDMA
V
V
V
 
uDAPL
V
 
V
 
Virtualization Support
VxLAN
V
 
V
 
NetQueue
V
V
V
 
GENEVE
V
 
V
 
IEEE 802.1Qbg
V
V
V
 
SR-IOV
V
V
V
 
| | |
| --- | --- |
| » | IEI PulM Network Module slots support 8 lanes of PCle Gen3 signal which is form CPU and PCH |
| » | Support smart NIC via PulM Network Module |
Slot/PCIe Signals
A
(One PCIe x8 or Two PCIe x4)
B
(Two PCIe x4 or Four PCIe x2)
Supported Networking Module
PulM-10G4SF-XL710
PulM-10G4SF-MLX
PulM-25G2SF-MLX
PulM-1G4T-I211
PulM-1G4T-I211-BP
PulM-1G8T-BCM5720
PulM-10G4SF-MLX
PulM-10G4T-AQC107
Compatible Model
PUZZLE-IN001
PUZZLE-IN004
PUZZLE-A001
PUZZLE-IN001
Model
PulM-10G4T-AQC107
PulM-10G4SF-MLX
Form Factor
IEI Networking Module - PulM
NIC
Aquantia AQC107
Mellanox ConnectX-4
LAN Interface
10G BASE-T
10 GbE SFP+
Ports
4
4
Host Interface
4 x PCIe 2.0 x2
2 x PCIe 3.0 x4
Operating Temp
0 ~ 40ºC
Humidity
5% ~ 90% RH, Non-condensing
Dimensions (mm)
165.50 (L) x 77.8 (W) x 44.2 (H)
IEI Integration Corp.

Tel:+886-2-8691-6798
+886-2-2690-2098
Fax:+886-2-6616-0028
Email: 

sales@ieiworld.com
| | |
| --- | --- |
| Copyright ©2019 IEI Integration Corp. All Rights Reserved. Design and specifications are subject to change without prior notice. | |