IEI Launches Ideal Solution For Edge Applicatiton - New 3.5'' SBC WAFER-EHL
The WAFER-EHL 3.5'' SBC supports Intel® Celeron® J6412 on-board SoC. It features reliable performance, advanced network connectivity, rich I/O, low power consumption with well-design thermal solution, and fanless design that fits small chassis size for space-critical installation like AMR (Autonomous Mobile Robot) and small cabinets in factories. The WAFER-EHL is equipped with a PCI Express Gen3 x2 expansion slot, allowing users to take advantage of PCIe cards to expand AIoT application potential. It is an ideal choice for IoT edge applications, such as system control, kiosk, digital signage, electric vehicle charging station and medical imaging.
IMPROVED EFFICIENCY AND PERFORMANCE WITH
INTEL® CELERON® J6412 ON-BOARD SOC
IEI WAFER-EHL is a motherboard powered by Intel® Celeron® J6412 on-board SoC, supporting up to 2.6GHz, quad-core, 1.5M cache and TDP 10W. It has a 75% performance gain over the previous generation, up to a 1.7x improvement in single-thread performance and up to a 1.5x improvement in multi-thread performance. The processor of IEI WAFER-EHL builds on new levels of CPU, and graphics performances with integrated IoT features, real-time performance, manageability, security, and functional safety.
8GB LPDDR4X MEMORY ON-BOARD
The WAFER-EHL equips with rugged 8GB LPDDR4x on-board memory, which is widely used for application in high vibration and shock environment. With memory on board, it will provide flexible space usage, high reliability, and it will reduce the problems of poor contact with the memory, especially suitable for industrial applications.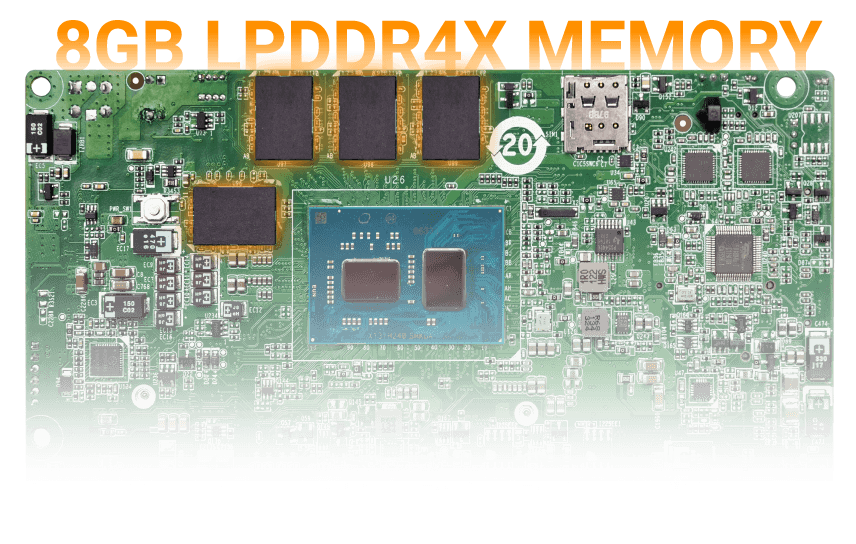 PCIE X4 EXPANSION FOR ADDED FUNCTIONALITY
AND FAST APPLICATION DEPLOYMENT
The WAFER-EHL features a PCIe x4 (x2 signal) slot, which is a new design of the WAFER motherboard to expand functionality providing easy integration of PoE, video capture or I/O cards with a compatible riser card. By installing an IEI-developed riser card into the PCIe slot, the x2 signal is divided into two x1 slots, offering great configuration flexibility and expandability.
Two types of riser cards with different orientation are available, one with slots facing outwards and the other with slots facing inwards to meet customers diverse applications.
Outwards-facing Riser Card
The outwards-facing riser card, although lower in height, is able to provide better spacing to ensure expansion cards run at a low temperature. It is ideal for the chassis that is wide enough for the expansion card to be placed. (P/N: NWR-L2S-R10)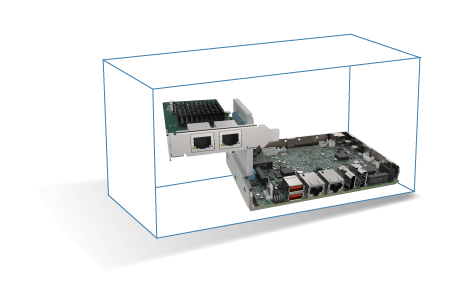 Inwards-facing Riser Card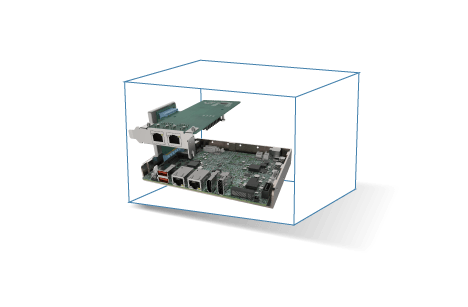 The inwards-facing riser card is designed with higher height to keep a decent space between the expansion cards and the motherboard. This can help improve the airflow and heat transfer within the system. It is suitable for installation where space is limited. (P/N: NWR-R2S-R10)
TRIPLE INDEPENDENT DISPLAYS WITH UP TO 4K RESOLUTION
Intel® Celeron® J6412 processor is integrated with Intel® UHD Graphics, featuring max. 16 EUs and up to 2x performance improvement in graphics over the previous generation. Therefore, the WAFER-EHL has the ability to drive a maximum resolution of 4kp60 on up to three simultaneous displays through HDMI™ 1.4 (up to 4096 x 2160@30Hz), DP 1.4 (up to 4096 x 2160 @60Hz) and the optional iDPM module.