IEI Launches Modular Edge AI Inference System with 10 th / 11 th Generation Intel® Core™ Processor
IEI has engineered the TANK-XM810 with the latest technologies to deliver optimized and reliable processing performance at the rugged edge. This product features 11th/10th generation Intel® Core™ processors and comes with multiple I/O combinations and a modular expansion solution. Expansion is supported by IEI's unique eChassis boxes and eBP backplanes. The TANK-XM810 can support up to 65W processors and can operate in temperatures ranging from -20°C to 60°C. It is designed for use in harsh environments like digital surveillance, transportation system, machine vision and advanced manufacturing.
10th Gen Intel® Core™ Outstanding Computing Power 8 Cores, 16 Threads, Up to 65W CPU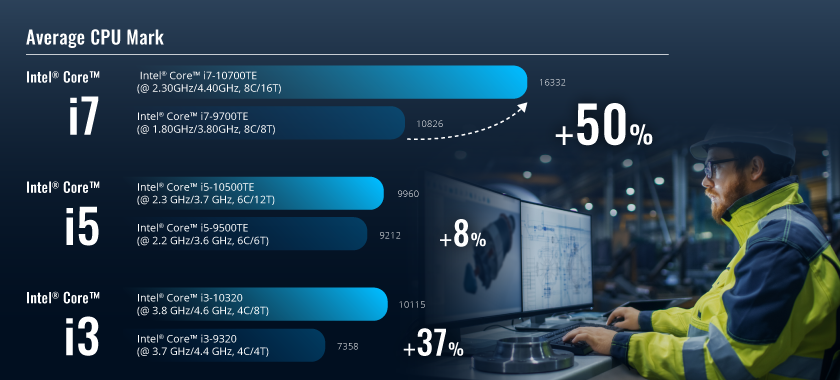 The TANK-XM810 series is powered by the 10th generation Intel® Core™ i7/i5/i3 processors. With up to 8-core architecture and high-speed DDR4-2933 memory support, it provides low-latency edge responsiveness for data-driven industrial AI and machine vision applications.
Moreover, the 10th Gen Core™ i7 CPU brings 50% better multi-tasking performance for compute-intensive application than 9th Gen CPU. DDR4 2933 MHz memory further increases speed by 10%. With increased I/O capacity and the outstanding computing power, the TANK-XM810 delivers the performance required to consolidate industrial multiple workloads.
Flexible Expansion with eChassis
The TANK-XM810 supports the unique eChassis modules that enable performance acceleration through GPUs, accelerators and other add-on cards. Furthermore, comprehensive modularized options and the ease of configuration effectively reduce lead time for customers' diverse requirements.
Industrial-grade Hardened Hardware Design
with 12V~28V DC Wide-range Power Input
Ruggedized hardware architecture safeguards the small factor computer in harsh, remote and dynamic environments.
» Fanless cooling eliminates failure points
» -20°C to 60°C wide operating temperature
» 50 G shock and 3 Grms vibration
» Wide 12V to 28V DC voltage input
» Intel® Platform Trust Technology (Intel® PTT) to enable password protection, device authentication and future-ready cybersecurity

Eight 2.5GbE PoE+ for Added Device Connectivity
Oftentimes embedded computers are deployed in environments where it is difficult or costly to add power outlets for connected devices. IEI's TANK-XM810 features eight PoE+ (IEEE 802.3at) ports. Each port is capable of providing up to 30 watts over a single Ethernet cable to transmit both data and power. IEI provides an Ethernet daughterboard module that can be easily integrated into the TANK-XM810 through standard PCIe protocols. The PoE+ connectivity allows organizations to power devices such as sensors and cameras through Ethernet ports. It also provides additional Ethernet I/O ports and scalable connectivity for IoT deployments.
Moreover, the 2.5GbE PoE module allows the TANK-XM810 to connect to devices that need intensive bandwidth, like high-resolution cameras. This lets the camera transfer high-resolution video feeds to an embedded system.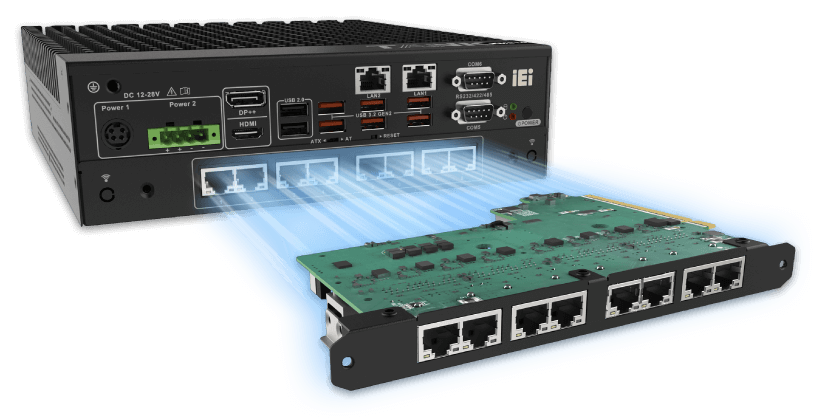 IEI PoE/LAN Module
P/N: GPOE-XM81-8P
» Interface: 8 x PCI Express® x1
» Ethernet: 8 x 2.5GbE Intel® i225-V controller
» PoE Capability: IEEE 802.3at with 30W / 52V per port (Total power 60W)
Key Feature
10/11 th Gen Intel® Core™ CPU 35/65W
Intel® Core™ i3-10320 3.8 GHz (up to 4.6 GHz, quad-core, 65W TDP)
Intel® Core™ i5-10500TE 2.3 GHz (up to 3.7 GHz, 6-core, 35W TDP)
Intel® Core™ i7-10700TE 2.0 GHz (up to 4.4 GHz, 8-core, 35W TDP)
Intel® Chipset Q470/Q470E
Modular Edge AI Inference System
Flexible Expansion with eChassis
Industrial-grade Hardened Hardware Design with 12V~28V DC Wide-range Power Input
Eight 2.5GbE PoE+ for Added Device Connectivity
Stunning 4K Resolution and Dual Independent Display Support
For more information about this or other IEI products and services, please contact your local sales support team or visit our website at www.ieiworld.com