The 3rd Asian Cup Brain Tumor Segmentation Challenge Ended Successfully on 26th September!
The 3rd Asian Cup Brain Tumor Segmentation Challenge Ended Successfully on 26th September!
---
The Brain Tumor Segmentation Challenge hosted by the National Taiwan University (NTU) Medical Genie Project team, one of the AI innovation research projects of the Ministry of Science and Technology, held a results presentation on September 26. This year, it attracted over 300 participants from industries and universities, and the teams from National Chiao Tung University, Qisda/National Sun Yat-sen University, National Taiwan University, and National Taiwan Normal University won the top four awards. The Brain Tumor Segmentation Challenge has been running for 3 years, and has been expanded from NTU, Taiwan to Asia.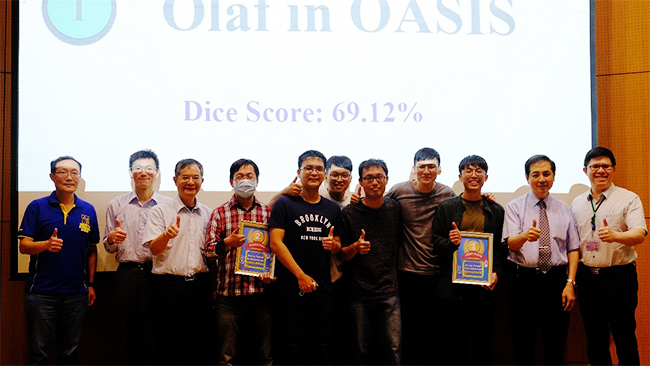 The initial purpose of this competition established by NTU Medical Genie Project, a data platform for precision medicine, was to introduce AI training modules for identifying the brain tumor location and contouring the tumor volume, and to further reduce time in preparation of CyberKnife radiosurgery while maintaining its accuracy. Therefore, the first Brain Tumor Segmentation Challenge was held for the first time in 2018. In the process of the competition, brain tumor scan images (containing no personal information) were provided to participants as the basis for optimizing the AI module. Through continuous trial and training, the winner effectively improved the accuracy rate, and got the victory.
"Thank you very much for providing such a good platform to learn from each other and to improve our skills. The provided images that have been contoured by the NTU Medical Genie team and Dr. Xiao Furen are well-presented and comprehensive, allowing us to train a good model and optimize it with ensemble. The model includes regularization of the original U-Net through the Variational AutoEncoder branch and the concatenated U-Net architecture. And finally we achieve a good result", said the "Oasis Olaf Team", the first place team from Chiao Tung University.
In the future, if AI module could be successfully introduced to assistant in decision-making of accurately identifying brain tumors and subsequent surgical treatments, it would be a major milestone in the treatment of brain tumors and related cancers in human medicine. It is also one of the core values of the competition.
IEI Integration Corp.

---

Tel:+886-2-8691-6798
+886-2-2690-2098
Fax:+886-2-6616-0028

sales@ieiworld.com
| | |
| --- | --- |
| Copyright©2020 IEI Integration Corp. All Rights Reserved. Design and specifications are subject to change without prior notice. | |