IEI FLEX AIoT Dev. Kit Supports Mustang Computing Accelerator Cards to Create Intelligent Future
IEI FLEX AIoT Dev. Kit Supports Mustang Computing
Accelerator Cards to Create Intelligent Future
---
【Taipei, Taiwan, 29th, July, 2020】Artificial intelligence (AI), also known as machine intelligence, is the term used to describe a machine's ability to simulate human intelligence. Actions like learning, logic, reasoning, that were once considered unique to humans, are now being replicated by technology and widely used in industries. AI aims to imbue software with the ability to analyze its environment using pattern recognizing machine learning models, and then make decisions based on those analyses.
IEI AI-ready embedded systems are ideal for deep learning inference computing to support graphics cards, Intel® FPGA acceleration cards, and Intel® VPU acceleration cards to enhance performance and function for various applications. With the Intel® OpenVINO toolkit, it can help deploy the solutions faster than ever. Intel® Distribution of OpenVINO™ toolkit is based on convolutional neural networks (CNN). The toolkit extends workloads across multiple types of Intel® platforms and maximizes performance. It can optimize pre-trained deep learning models such as Caffe, MXNET, and ONNX Tensorflow.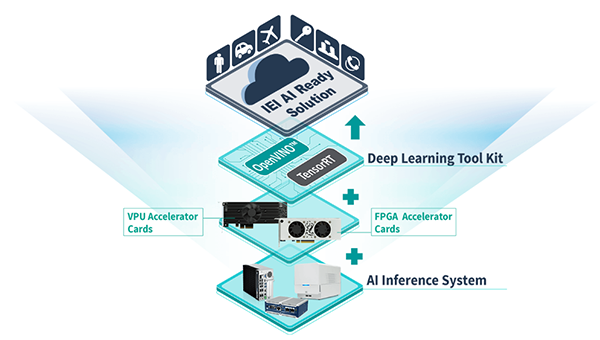 IEI is proud to introduce the FLEX AIoT Dev. Kit equipped with 9th Generation LGA 1151 Intel® Core™/Xeon® processor, Intel® Q370/C246 chipset and DDR4 memory. The FLEX AIoT Dev. Kit is specifically designed for edge learning inference computation and features modularized, rich interconnectivity, and powerful computing capability. By applying modularized design, the FLEX AIoT Dev. Kit can help to accelerate development schedules to reduce total cost of operation. In addition, various input/output interfaces are provided for customers to integrate cameras, sensors and motion control equipment to fast respond to accidental event.
The FLEX AIoT Dev. Kit features rich I/O and two PCIe slots (x8) to support add-ons like accelerator cards (Mustang-F100-A10 & Mustang-V100-MX8) or PoE cards (IPCIE-4POE) to enhance performance. The Mustang-F100-A10 is a PCIe-based accelerator card using the programmable Intel® Arria® 10 FPGA that provides the performance and versatility of FPGA acceleration. The Mustang-V100-MX8 is a PCIe-based accelerator card using an Intel® Movidius™ VPU that drives the demanding workloads of modern computer vision and AI applications. It is a perfect choice for AI deep learning inference workloads.
IEI supports whole series of Intel AI accelerators, from high-end to low-end, to meet customer requests. The Mustang-M2AE-MX1 M.2 AE-key card includes one Intel® Movidius™ Myriad™ X VPU. The Mustang-MPCIE-MX2 card and the Mustang-M2BM-MX2 card both include two Intel® Movidius™ Myriad™ X VPU. The Mustang-V100-MX4 is a PCIe 2.0 x2 card with 4 Intel® Movidius™ Myriad™ X VPU, providing a flexible AI inference solution for compact-size embedded systems. With the advantage of power efficiency and high performance, the Mustang series is perfect to be implemented in AI edge computing device to reduce total power usage, providing longer duty time for the rechargeable edge computing equipment. It can run AI faster, and is well suited for low power consumption applications such as surveillance, retail and transportation.
| | |
| --- | --- |
| | |
The FLEX AIoT Dev. Kit is equipped with AI computing accelerator card for analyzing multiple streams of video data and handling real-time tasks such as age, gender and face identification. The data collected can be used in precision marketing, VIP customer service and customer flow analysis to further provide relevant product information through digital signage display to improve product sales and inventory control. In addition to face identification, the solution speeds up the characteristic recognitions of vehicles such as license plates, vehicle models and colors. It can be applied in services like traffic steering analysis, illegal parking / helmet detection and trajectory tracking. Furthermore, vehicle license plate analysis can be deployed on highways for electronic toll collection, and can provide enhanced security by establishing a database of suspicious vehicles.
Video
FLEX AIoT Dev. Kit
Mustang Series Accelerator Cards
Mustang Mini Accelerator Cards
---
About IEI Integration Corp.
IEI Integration Corp. is a leading industrial computer provider. IEI's products are applied in computer-based applications such as factory automation, computer telephony integration, networking appliances, security, systems, and in fields like AI, IoT (Internet of Things), national defense, police administration, transportation, communication base stations and medical instruments. IEI continues to promote its own-brand products as well as serving ODM vertical markets to offer complete and professional services.
IEI Integration Corp.

---

Tel:+886-2-8691-6798
+886-2-2690-2098
Fax:+886-2-6616-0028

sales@ieiworld.com
| | |
| --- | --- |
| Copyright©2020 IEI Integration Corp. All Rights Reserved. Design and specifications are subject to change without prior notice. | |