IEI's New Server-Powered Network Appliance based on 2nd Generation Intel® Xeon® Scalable Processors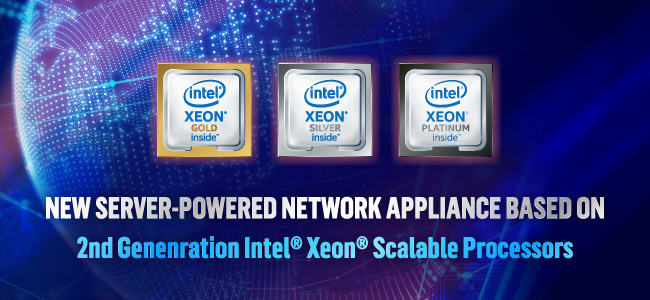 IEI's New Server-Powered Network Appliance based on
2nd Generation Intel® Xeon® Scalable Processors
 
 
 
 
 

【Taipei, Taiwan, April 3, 2019】 IEI Integration Corp. is developing its latest network appliance –PUZZLE-IN005, which is compatible with the 2nd generation Intel® Xeon® Scalable Processors, code-named Cascade Lake. The new processors are built on a 14nm process and support up to 22 cores with Intel® HT Technology. Offering up to four 10GbE ports and 16 GB DDR4 memory, the new Intel® Xeon Scalable processors can greatly reduce latency, offer high throughput, and enhance security features. The processors support not only Intel® Optane DC persistent memory, but also Intel® DL Boost (VNNI), which is powered by Intel® Advanced Vector Extension, to deliver significant AI inference accelerating capability without extra hardware changes. Intel® Cascade Lake can process deep learning by up to 17 times faster than before, giving users robust next-generation computing power in the IoT fields of video analysis, medical imaging system, surveillance, retail and automation.

Powered by 2nd Generation Intel® Xeon® Scalable processors with C621/C627 Chipset, the PUZZLE-IN005 will be your best choice for advanced network applications to achieve server grade computing performance. The PUZZLE-IN005 will support high speed network connection via two GbE RJ-45* or two 10GbE SFP+*, and provide up to 640 GB DDR4* memory capacity. Furthermore, it will offer two smart NIC options to bolster the performance of system and to provide special functions such as virtualization technology and packet processing.

Designed with the demands of heavy and non-stop computing scenarios in mind, the PUZZLE-IN005 will feature redundant power supply and individual hot-swappable cooling fans* to minimize losses from a complete shutdown or failure and to ensure highly reliable performance for all customers. It will be very suitable to handle proprietary network and uCPE (Universal Customer Premise Equipment) to offer real-time software-defined wide-area network (SD-WAN) services with any additional virtual network functions (VNF) services.

The PUZZLE series is an AI hardware ready system ideal for deep learning inference and edge computing. Integrated with Mustang-F100 and Mustang-V100 AI vision accelerator cards, which is powered by Intel® Distribution of OpenVINO toolkit, it can provide additional computational power and end-to-end solution to help run your inference tasks more faster and maximize performance.

------------------------------------------------------------------------------------------------------------------------------------------------------------------

About IEI Integration Corp.

IEI Integration Corp. is a leading industrial computer provider. IEI's products are applied in computer-based applications such as factory automation, computer telephony integration, networking appliances, security, systems, and in fields like AI, IoT (Internet of Things), national defense, police administration, transportation, communication base stations and medical instruments. IEI continues to promote its own-brand products as well as serving ODM vertical markets to offer complete and professional services.

*Specifications are subject to change without prior notice.

 
 
 
 
Taiwan

---


IEI Integration Corp.

Tel:+886-2-8691-6798
+886-2-2690-2098
Fax:+886-2-6616-0028
Email: 

sales@ieiworld.com
| | |
| --- | --- |
| Copyright ©2019 IEI Integration Corp. All Rights Reserved. Design and specifications are subject to change without prior notice. | |