Powering IIoT Edge-Computing for Vertical Market AI, Energy and Transportation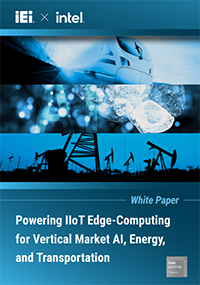 As IIoT applications are growing in number and popularity, these connected devices generate more and more data at the edge. Deploying expanding workloads close to the edge also brings multiple challenges, such as bandwidth bottlenecks, increased data quantity, and data-intensive workloads, for system integrators and service providers. IEI has formed strategic partnerships with reliable leading performance to manage data acquisition, transmission, inference, and storage tasks. We provide high performance and reliable edge computing solutions to serve mission-critical markets like AI, energy and transportation to enhance capabilities, capacity and reliability.
Download this white paper to learn how IEI solutions can enable the acquisition, processing, and display of incoming data in near real time.
Download the file
Request Form
Fill out the following information and click Submit. The requested file will be emailed to you automatically. * Required information
via Social Login
Login with your social account and the requested file will be emailed to you automatically.
*By signing in to this service you accept IEI's Terms of Use and Privacy Policy and agree to be a member of IEI Memberzone.