Unlock Remote Efficiency
with Seamless Control
Achieve greater efficiency and reliability in your industrial
applications through the IEI Remote Management Solution
In today's rapidly evolving industrial landscape, effectively managing and maintaining multitude of devices distributed across multiple locations can be an overwhelming challenge for organizations. IEI Remote Management (iRM) solution excels at the ultimate answer. By providing a centralized control for edge devices and real-time visibility into their crucial metrics, iRM solution not only helps businesses reduce maintenance costs, but also simplifies IT/OT operations, ensuring optimal system performance and reducing operational complexities, to create a sustainable digital ecosystem.
IT/OT Challenges in Industrial Settings

Device Proliferation

IIoT Device Oversight

Equipment
Malfunction

Staffing & Financial
Limitations
Advantages of iRM Solution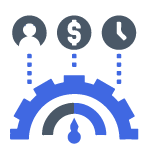 Efficient Management &
Troubleshooting
Seamless monitoring, centralized
control of managed applications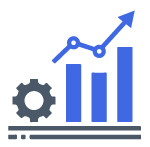 Improved Availability
Quick issue diagnosis for
device accessibility, and
reduced downtime.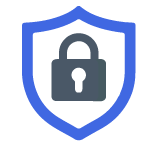 Secure Sever Platform
Wide-temp mini server with
pre-installed OS and one-click
OS recovery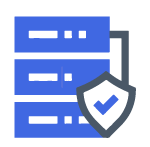 Enhanced Data Protection
Wide selection of RAID
technology support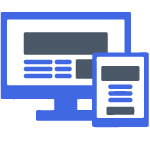 Cross-platform Capabilities
Full compatibility with any x86 platform
and ability to manage devices running both
Linux and Windows OS.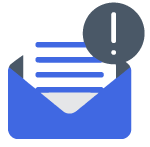 Customizable Email Alerts
Tailored email notifications
for targeted metrics tracking
Remote Management Software
Designed for Optimized Efficiency
Leveraging a user-friendly online platform, iRM software allows users to manage multiple industrial devices from a single, intuitive dashboard efficiently. Users can remotely configure settings, visualize historical performance and carry out diagnostics.
Get the Full Scope
Our user manual is your key to mastering every feature of iRM and maximizing your experience Joining Forces for Excellence:
The iRM Solution by IEI and QNAP
QNAP, initially an IEI Integration Corporation subsidiary, transformed into QNAP Systems Inc. in 2004 through strategic reinvestment, embarking on an industry revolution. IEI has cultivated a dynamic alliance with QNAP, a pioneering force in IT infrastructure solutions. Together, we present an unparalleled remote management solution that redefines efficiency, security, and reliability. Our integrated iRM solution marries QNAP's prowess with our decades-long immersion in the industry, culminating in a package that transcends the mere sum of its individual components.
Industrial-Grade Mini Server,
where Reliability Meets Performance
Cross-Device Functionality
One of the factors that distinguishes our solution is its versatile platform integration. iRM goes beyond IEI hardware by being fully compatible with any x86 device and accommodating both Linux and Windows operating systems on managed devices. This allows for seamless integration into businesses' existing infrastructure, regardless of the hardware you currently depend on. It's definitely a future-proofing investment that brings unparalleled flexibility to your operations.
OT Network Management
In iRM solution, the utilization of OT network management plays a crucial role, which leverages the existing network infrastructure responsible for regular data traffic, to establish reliable connection between the central management and managed devices through I/O connection. This feature translates into cost-efficiency, eliminating the need for additional hardware installations. By using the same network paths, OT network management enables administrators to quickly respond to device issues and collect data without delay of setting alternative communication channels.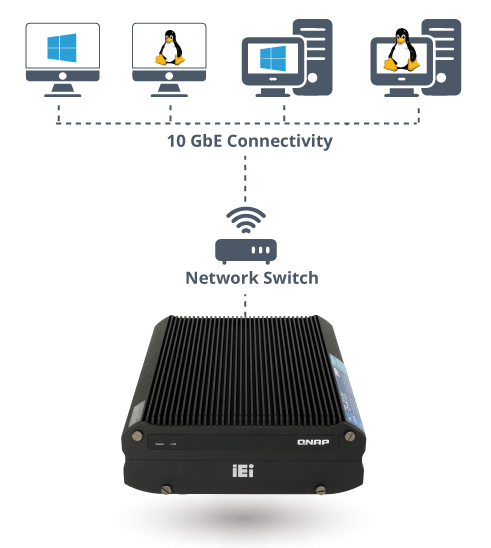 Hardware Dimensions
Unit:mm
iRM Software Specifications
Main Features
Sub Features
Dashboard and Widget
(user difined dashboard by system build-in widget)
CPU Utilization
Memory Utilization
Disk Utilization
Disk Volume Live Information
Disk Throughput
Network Utilization
Device Health Overview
State Change Log
Shutdown Devices (Recent 10)
Performance Monitor (Multiple Devices)
Performance Monitor (Single Devices)
Export to PDF
Export and email as PDF document
Device Discovery
(add your client device in iRM platform through network)
Device Discovery by network
Add Device
Search Device
Device Management
Single and Multi Device Management Page
• Export PDF
• Email as PDF
• Add Device
• Delete Device
Remote Power Control
Remote Desktop
Network Topology View
Alert Configuration
CPU Utilization
Memory Utilization
Disk Utilization
Power Status
Logs
IRM Alerts Log
System Log
Historic Data Log Query
Settings
Notification Settings
Applicatoin Settings
User Management: system admin, OT power user
IRMAgent Repository Download

Monitored Client OS Support
• Window® 32-Bit: Window® 7, Windows® 8/8.1
• Window® 64-Bit: Windows® 7, Windows® 8/8.1, Windows® 10,
• Window® 11, Windows® Server 2012, Windows® Server 2016,
• Windows® Server 2019, Window® Server 2022
• Ubuntu 64-Bit: Ubuntu 16.04, Ubuntu 18.04, Ubuntu 20.04, Ubuntu 22.04
• Debian 64-Bit : Debian 8, Debian 9, Debian 10, Debian 11
• CentOS 64-Bit: CentOS 7

Software Standard Warranty and Support
1 Year
iRM Mini Server Appliance
Model
iRM-TSi410X
iRM-TS410E
Chassis
Color
Black
Black
Dimensions
(H x W x D)
65 x 180 x 254 mm (2.56 x 7.09 x 10 in)
60 x 180 x 254 mm (2.36 x 7.09 x 10 in)
Fan/Fanless
Fanless
Fanless
Construction
Extruded alluminum alloy
Extruded alluminum alloy (front panel: plastic)
Processor
CPU
Intel® Atom® x6425E
Intel® Celeron® J6412
Frequency
4-core/4-thread 2.0 GHz base/3.0 GHz burst
4-core/4-thread processor, burst up to 2.6 GHz
Encryption engine
AES-NI
AES-NI
Graphics
Intel® UHD Graphics for 10th Gen Intel® Processors
Intel® UHD Graphics for 10th Gen Intel® Processors
Memory
Pre-installed
8 GB RAM
8 GB RAM (on board)
Maximum
8 GB RAM
8 GB RAM (non-expandable)
Flash memory
4 GB (dual-boot OS protection)
4 GB (dual-boot OS protection)
Storage
Drive bays
4 x 2.5-inch SATA 6 Gbps
4 x 2.5-inch SATA 6 Gbps
Hot-swapping
This device supports hot-swapping for all drives.
This device supports hot-swapping for all drives.
Pre-installed SSD/ HDD
2 x 2.5-inch 512GB SATA SSD with RAID 1
Operational Temperature: - 20°C to 75°C
2 x 2.5-inch 512GB SATA SSD with RAID 1
Operational Temperature: 0°C to 70°C
RAID
Support RAID 1 / 5 / 6 / 10
Support RAID 1 / 5 / 6 / 10
Network
10 Gigabit network interface
2 x 10G BASE-T
(10G/5G/2.5G/1G)
2 x 2.5 GbE RJ45
(2.5G/1G/100 Mb./10 Mb.)
External I/ O Ports & Expansion Slots
USB ports
4 x USB 3.2 Gen 2 Type-A
4 x USB 3.2 Gen 2 Type-A
HDMI™ ports
1 x HDMI™ 1.4b
(up to 3840 x 2160 resolution at 30Hz)
1 x HDMI™ 1.4b
(up to 3840 x 2160 resolution at 30 Hz)
Interface
Buttons
Power / Reset
Power / Reset
Power
Power supply unit
1. External power adapter 90W and above, 100-240V AC
2. 9-36V DC input
External power adapter, 90W and above, 100-240V AC
System battery
CR2032 lithium battery (3V, 225 mAh)
CR2032 lithium battery (3V, 225 mAh)
Relative humidity
Relative humidity
• Non-condensing relative humidity: 5% to 95%
• Wet-bulb temperature: 27˚C (80.6˚F)
• Non-condensing relative humidity: 5% to 95%
• Wet-bulb temperature: 27˚C (80.6˚F)
Package
Package Dimensions
290 x340 x195 mm (11.42 x 11.39 x 7.68 in)
290 x340 x195 mm (11.42 x 11.39 x 7.68 in)
Reliability
Operating Temperature
-40˚C to 70˚C (-40˚F to 158˚F)
0˚C to 40˚C (32˚F to 104˚F)
Storage Temperature
-45 - 85°C (-49°F - 185°F)
-20˚C to 70°C (-4°F - 158°F)
Mount
Mount support
• VESA mount: 75 x 75 mm (2.95 x 2.95 in)
• Stand Mount
Load bearing: > 15 kg (33.07 lbs)
• VESA mount: 75 x 75 mm (2.95 x 2.95 in)
M4x6 screws
Load bearing: > 15 kg (33.07 lbs)
Hole depth: 7.5 mm (0.26 in)
M4x6 screws
Tooth depth: 5 mm (0.20 in)
Hole depth: 7.5 mm (0.26 in)
Tooth depth: 5 mm (0.20 in)
Weight
Net weight
2.54 kg (5.6 lbs)
2.64 kg (5.82 lbs)
Gross weight
3.85 kg (8.5 lbs)
3.83 kg(8.44 lbs)
Safety / EMC
CE / UKCA / FCC / VCCI–B / BSMI
CE / UKCA / FCC / VCCI–B / BSMI
Hardware Standard Warranty
3 Years
3 Years
Pre-install Application
IRM(IEI Remote Management)
IRM(IEI Remote Management)
Ordering Informaton
| | |
| --- | --- |
| Model | Description |
| IRM-TSi410X-8G2H-R10 | Ruggedized Fanless IRM Mini Server with IRM application , QTS OS , Intel® Atom® x6425E 4-core/4-thread , 8GB RAM,2 x Industrial grade 512GB SSD pre-install, 4 x Drive Bay, 1 x HDMI™, 9-36V DC or power adapter, 90W AC 100-240V , RoHS |
| IRM-TS410E-8G2H-R10 | Ruggedized Fanless IRM Mini Server with IRM application , QTS OS , Intel® Celeron® J6412 4-core/4-thread , 8GB RAM, 2 x commercial grade 512GB SSD pre-install, 4 x Drive Bay, 1 x HDMI™, power adapter 90W 100-240V AC , RoHS |
Optional Storage
| | |
| --- | --- |
| Part No | Description |
| 79700-G51201TC09-RS | 512 GB 2.5 inch SATA3 industrial grade SSD , Operational Temperature:- 20°C to 75°C |
| 79700-G51201AP05-RS | 512 GB 2.5 inch SATA3 standard grade SSD , Operational Temperature: 0°C to 70°C |
Notes: The optional storage for storage expansion
Packing List
1 x iRM Mini Server
1 x AC power adapter
1 x Ethernet cable (RJ45)
Screws for 2.5-inch drives
2 x Stands(only iRM-TS410E)
1 x Power cord
1 x Hardware Quick Installation Guide (QIG)
1 x iRM Software Quick Setup Guide (QSG)