IEI Launches New ATX Motherboard Featuring 10th/11th Gen Intel® Core™ CPU and AI Capability – IMBA-H420


10th/11th Intel Core

2.5GbE LAN

DP++
The IMBA-H420 is an ATX motherboard powered by 10th/11th Gen Intel® Core™ processors. With the support of multiple expansion slots and feature rich interfaces, it offers a variety of functionalities and capabilities for the applications that require accelerated computing, blazing-fast transmission, seamless upgrades, and high reliability.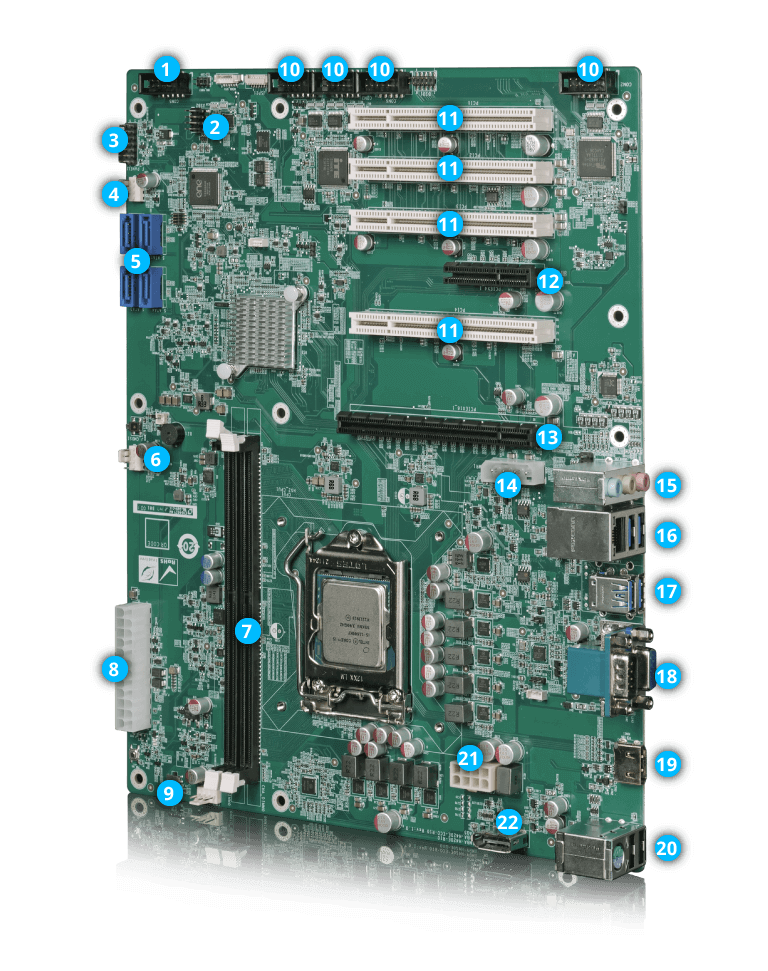 1

RS-232/422/485

2

2 x USB 2.0

3

Front panel

4

System fan

5

4 x SATA 6Gb/s

6

System fan

7

2 x DDR4 DIMM

8

ATX power
9

CPU fan

10

4 x RS-232

11

4 x PCI slot

12

PCIe x4 slot

13

PCIe x16 slot

14

12V power for PCIe slot

15

3 x Audio jacks

16

2.5GbE & 2 x USB 3.2 Gen 1
17

2 x USB 3.2 Gen 1

18

RS-232 & VGA

19

HDMI™

20

Keyboard/Mouse & 2 x USB 2.0

21

12V CPU power

22

Internal DP++
Leadership Performance
IEI's IMBA-H420 motherboard supports both 10th and 11th Gen Intel® Core™ processors, which boosts up to 80% better performance than its precedent (Core i5 processor). The 10th Gen Intel® Core™ platform supports up to 10 cores and improved performance over Coffee Lake-Refresh. The 10th Gen Intel® Core™ processors contain Intel® UHD Graphics 630 that offers 24 execution units and support outstanding 4K displays.
With the combination of new Intel Core processor technology and graphics architecture, the IMBA-H420 delivers superior computing power that sets it apart from other products available in the market.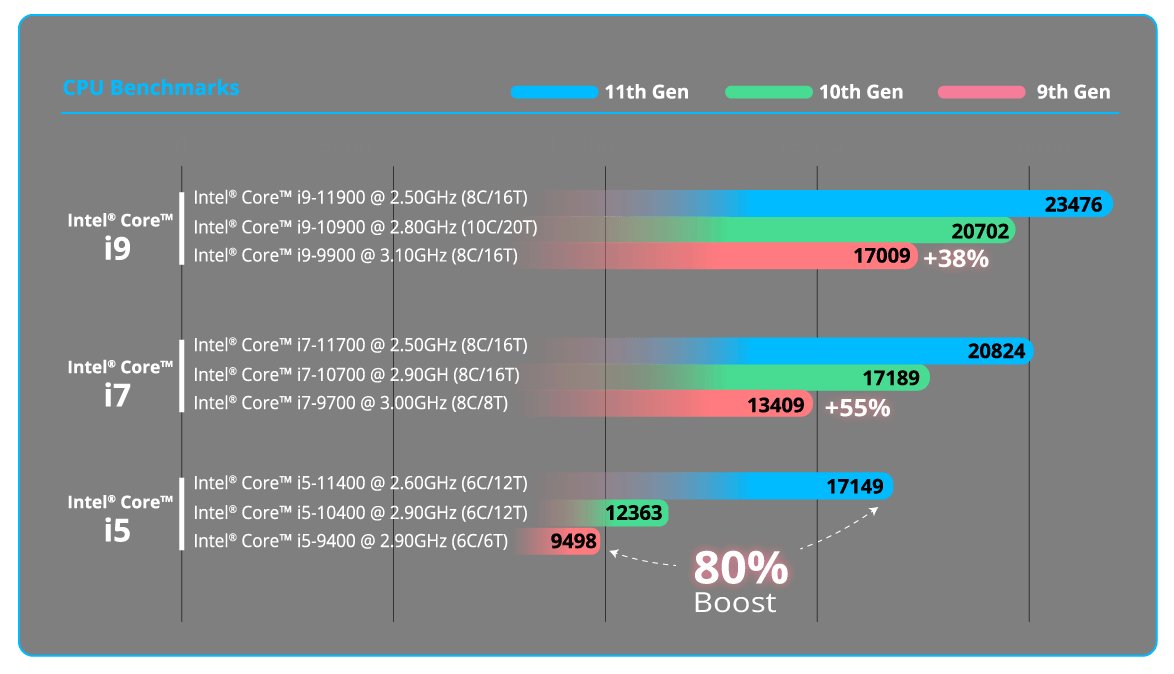 10th Gen Intel® Embedded CPU Support List
Up to 10 cores / 20 threads in LGA1200 socket
Sockets
Brand
Process
Cores/Threads
CPU
Processor Base Frequency
Cache
TDP
Processor Graphics
Graphics Base Frequency
Memory Types
Chipset
FCLGA1200
CoreTM i9
14nm Comet Lake-S
10/20
I9-10900E
2.8 GHz
20MB
65W
Intel® UHD Graphics 630
350 MHz
DDR4-2933
Q470/Q470E
10/20
I9-10900TE
1.8 GHz
20MB
35W
DDR4-2933
CoreTM i7
8/16
I7-10700E
2.9 GHz
16MB
65W
DDR4-2933
8/16
I7-10700TE
2.0 GHz
16MB
35W
DDR4-2933
CoreTM i5
6/12
I5-10500E
3.1 GHz
8MB
65W
DDR4-2666
CoreTM i5
6/12
I5-10500TE
2.3 GHz
8MB
35W
DDR4-2666
CoreTM i3
4/8
I3-10100E
3.2 GHz
9MB
65W
DDR4-2666
CoreTM i3
4/8
I3-10100TE
2.3 GHz
9MB
35W
DDR4-2666
Pentium®
2/4
G6400E
3.8 GHz
4MB
58W
DDR4-2400
Pentium®
2/4
G6400TE
3.2 GHz
4MB
35W
DDR4-2400
Celeron®
2/2
G5900E
3.2 GHz
2MB
58W
DDR4-2400
Celeron®
2/2
G5900TE
3.0 GHz
2MB
35W
DDR4-2400
Pixel-accurate 4K Resolution
The IMBA-H420 is equipped with three display output connectors, including HDMI™, internal DP++ and VGA. The HDMI™ and DP++ interfaces support pixel-accurate 4K resolutions for high-end applications while the VGA is reserved for legacy devices.
DP++ Supported
The IMBA-H420 provides various display outputs for customers to connect to a device with the same native interface to avoid quality loss. However, when conversion is needed, the equipped DisplayPort Dual-Mode (DP++) connector allows the use of a simple, inexpensive passive adapter to convert to HDMI™. It is completely plug and play, handles both video and audio, and does not need any driver to work.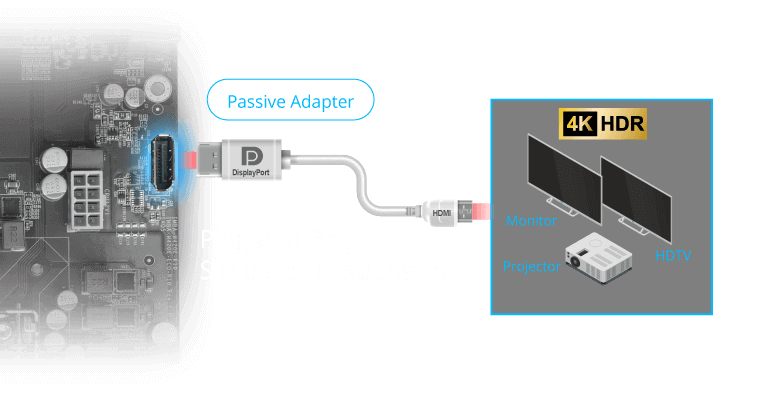 Rich Expansion Options
Bringing together PCIe 3.0 technology and legacy PCI standard creates endless possibilities in developing a wide range of solutions. A graphics card or AI card can be added via the PCIe x16 for sophisticated applications, like medical diagnosis, machine vision, robotics or AI-based projects.
Four PCI slots are also provided to maintain backward compatibility. Legacy systems in machine controllers, test rigs, real-time simulations or many other PC-based applications can be upgraded easily without a full rebuild.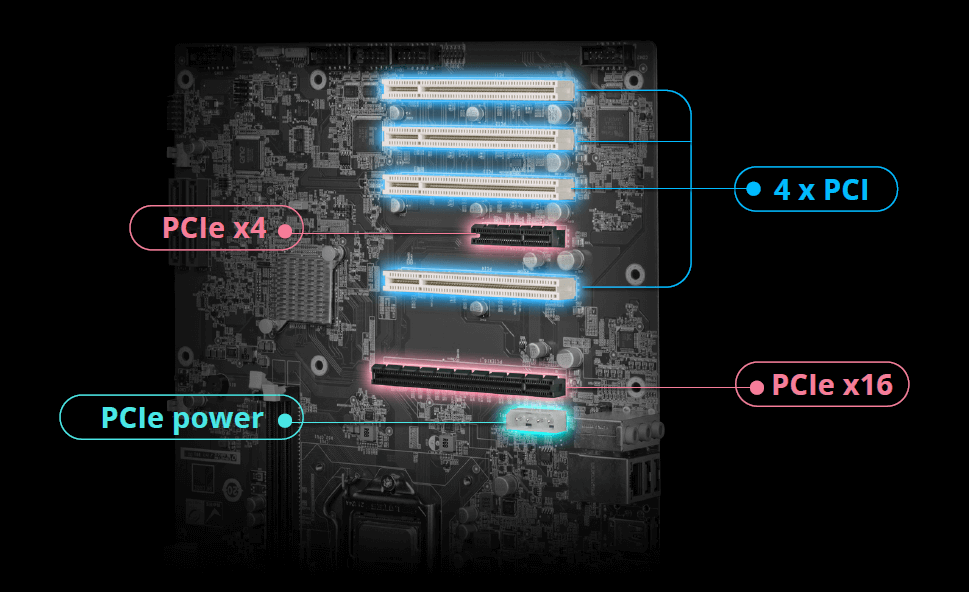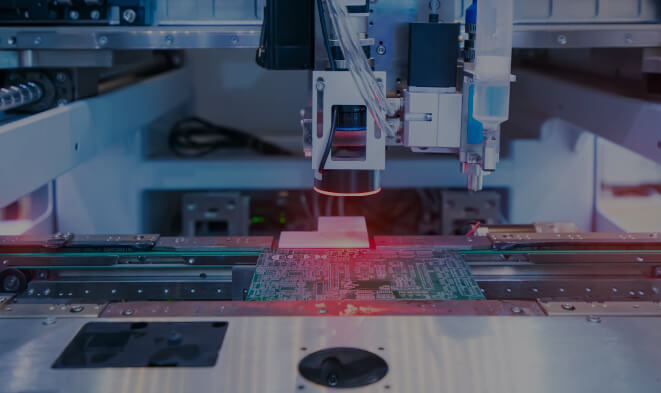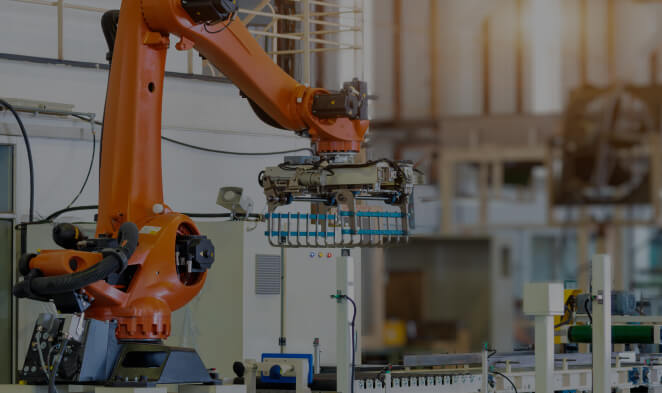 Tap into the Power of AI
In recent years, Edge AI has became a virtual role. We are now at a time where AI is revolutionizing the world. The IMBA-H420 can deliver excellent computing capabilities to accelerate AI adoption in food/fruit inspection, factory automation and test equipment. By adding IEI's Mustang accelerator card, it could be used for deep learning inference computing to help you get faster, deeper insights for your customers and your business.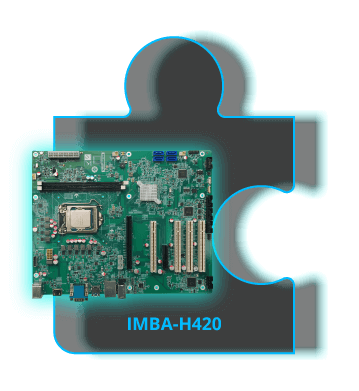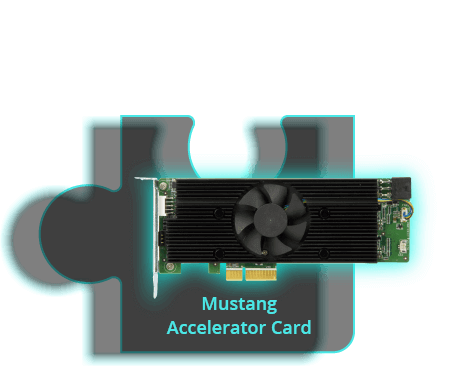 2.5GBASE-T Ethernet Technology
The 2.5GBASE-T speed is a contemporary solution to an old problem due to the increases in throughput. Enterprises that choose the IMBA-H420 as their solutions for the implementation of 2.5GBASE-T technology will benefit from a simple change that achieves a noticeable gain in bandwidth, while at the same time realizing cost savings from reuse of existing Cat5e cables.
Energy Efficiency
As shown in the following table, the IMBA-H420 is compliant with ErP, which requires a system should not consume more than 0.5 W during off state or standby. The IMBA-H420 consumes nearly no energy in sleep mode or shutdown, making it a green and eco-friendly product that saves cost and electricity.
Voltage
3.3 V
5 V
5 V Standby
12 V
EuP Mode Enabled
Current
0.84 A
8.12 A
0A
3.77 A
Power Consumption
2.77 W
40.6 W
0W
45.24 W
EuP Mode Disabled
Current
0.81 A
8.21 A
0.02A
3.84 A
Power Consumption
2.67 W
41.5 W
0.1W
46.08 W
Touch-enabled BIOS
The BIOS menu in the latest IEI products is re-designed to a touch-enabled user interface to eliminate excessive steps and unnecessary keyboard connection. It allows users to navigate with finger on a touch-enabled monitor to make BIOS configuration easily. The new design features the followings:
Graphical interface
BIOS menus is transformed from text-based to graphical user interface, making it intuitive and easy to navigate.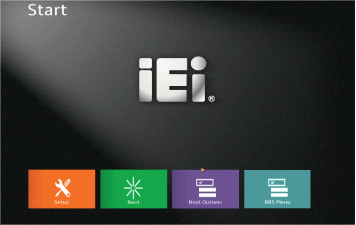 Shortcut to boot device setup
The main menu provides quick access to the boot device configuration, helping users save time on boot option priority setting.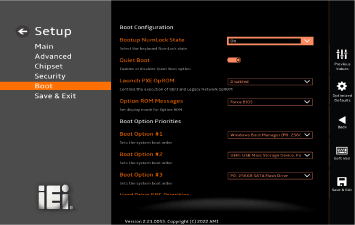 Easy-access function keys
The BIOS function keys are arranged vertically on the side of the screen and indicated by icons, so that users can access them without the need of using a keyboard.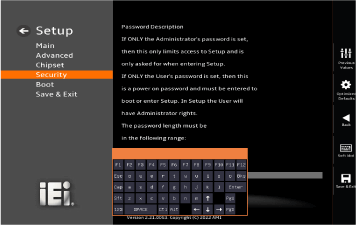 On-screen keyboard
An on-screen keyboard is available when it is needed to enter text in BIOS, such as administration password setup.