Media contact
IEI Integration Corp.
TEL: +886-2-8691-6798
+886-2-2690-2098
FAX: +886-2-6616-0028
IEI Technology USA
TEL: +1-909-595-2819
FAX: +1-909-595-2816
IEI Integration China
TEL: +86-21-3462-7799
FAX: +86-021-3462-7797
IEI Integration Corp. 東京支店
TEL: +81-3-5901-9735
FAX: +81-3-5901-9736
AI-based Video Analytics Solutions in Smart City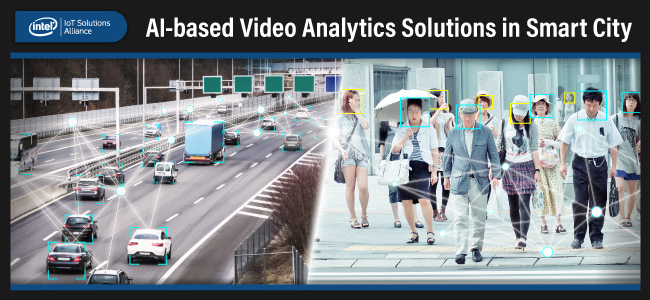 AI-based Video Analytics Solutions in Smart City
This year, IEI Integration Corp. displays various solutions particularly containing the hottest AI theme of recent years in such application fields as smart medical care, smart city and smart retail in Embedded World 2020 Germany. Among them, there are two applications jointly exhibited for the first time, AI Police Patrol System of AlphaInfo and GV-AI Guard of GeoVision.

Alpha PPS, AI Police Patrol System Solution

The solution, AI Police Patrol System (Alpha PPS), collaborated with AlphaInfo integrates with IEI's FLEX-BX200 along with the accelerator card Mustang-V100-MX4. By using OpenVINO™ Toolkit, it optimizes the deep-learning frame and the layout of inferential model onto Intel AI front-end computing hardware platform.

The dynamic Vehicle Recognition System (AlphaVRS), independently developed by AlphaInfo, unites real-time videos taken from the dashcams in patrol cars. When cars enter the detection area, it will be automatically positioned and vehicle characteristics including license plate number, car model and color will be recognized. After the GPS positioning is integrated into the database and vehicle data is checked, suspected vehicles can be spotted, requested to pull over and questioned in no time. It offers a safer, more real-time and efficient practices when policemen execute patrol tasks at public areas like highways and parking lots, realizing the idea of law enforcement with modern technology.

GV-AI Guard, AI Image Recognition System

GV-AI Guard, an AI Image Recognition System developed by GeoVision, possesses the advantages of the human-and-vehicle identifying ability, full analysis of real-time street view, law violations records as well as the assistance in improving traffic safety and effective reduction in the rate of false alarms. After integrated with FLEX-BX200 along with IEI's accelerator card Mustang-V100-MX8, the solution speeds up the characteristic recognitions of pedestrians and vehicles, including the trajectory tracks of people and vehicles, vehicle plate recognition, vehicle models and colors etc. Moreover, the solution can be applied to precise discrimination of traffic steering analysis, illegal parking, detection of safety helmets and electronic fences. It reverses the passive state of traditional surveillance system, which can only "monitor" rather than "control", with the steps starting from real-time extraction, filtering and further sending out alerts.

Product Highlights

FLEX Series AI Embedded System

Four hot-swappable and accessible HDD drive bays, support RAID 0/1/5/10
Two PCIe 3.0 by 4 and two PCIe 3.0 by 8 slots

- Specifications
- Introduction Video [English] [Chinese]

---

Mustang-V100-MX8 | VPU Card

Computing Accelerator Card with 8 x Movidius Myriad X MA2485 VPU, PCIe gen2 x4 interface, RoHS

- IEI Deep Learning Inference Acceleration Card - Mustang V100 [English][Chinese]

New Products

IMBA-H112 | ATX Motherboard

LGA 1151 Intel® 6th/7th generation Core™ i7/i5/i3, Pentium® or Celeron® processor supported
Dual-channel DDR4 2133MHz
Support dual displays with VGA/HDMI/iDP
Support USB 3.2 Gen 1 (5Gb/s) and SATA 6Gb/s

---

PUZZLE-IN003B | Desktop Network Appliance

Intel® Atom® processor C3000 processor up to 16 CPU cores
Support six GbE and two 10 GbE SFP+ via integrated C3558/C3758
DDR4 2133MHz ECC or non-ECC UDIMM / RDIMM up to 128GB
1 x 2230 M.2 A key (USB 2.0, PCIe x1), 1 x 2260/2280 M.2 M Key, 1 x PCIe Mini (USB 2.0, PCIe x1), SIM card slot, 1 x eMMC 32GB

- Specifications - Product News
- Introduction Video [English][Chinese]

---

PulM-M2-2S | Network Module

M.2 PCIe SSD expansion card supports two M.2 2280 PCIe NVMe (3.0 x4) SSDs; two PCIe 3.0 x4 host interface.

---

PulM-10G4SF-XL710-BP | Network Module

Intel® Ethernet Controller XL710-BM1 based Network Interface Card with four 10GbE Fiber ports, two pair Bypass.
IEI Integration Corp.

---

Tel:+886-2-8691-6798
+886-2-2690-2098
Fax:+886-2-6616-0028

sales@ieiworld.com
| | |
| --- | --- |
| Copyright©2020 IEI Integration Corp. All Rights Reserved. Design and specifications are subject to change without prior notice. | |