Media contact
IEI Integration Corp.
TEL: +886-2-8691-6798
+886-2-2690-2098
FAX: +886-2-6616-0028
IEI Technology USA
TEL: +1-909-595-2819
FAX: +1-909-595-2816
IEI Integration China
TEL: +86-21-3462-7799
FAX: +86-021-3462-7797
IEI AI Computing Solution with 8th Generation Intel® Core™ Desktop Processors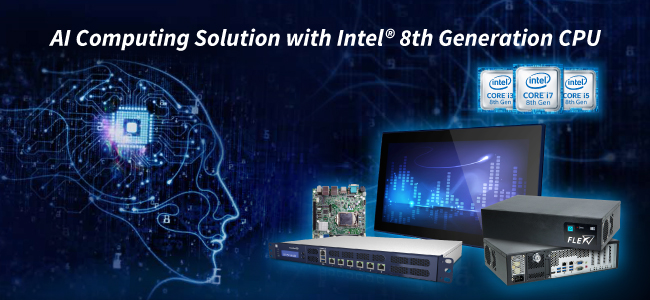 8th Generation Intel® Core™ Desktop Processors

---

The FLEX-BX200 is an AI hardware ready system ideal for deep learning inference computing to help you get faster, deeper insights into your customers and your business. IEI's FLEX-BX200 supports graphics cards, Intel FPGA acceleration cards, and Intel VPU acceleration cards, and provides additional computational power plus end-to-end solution to run your tasks more efficiently. With the NVIDIA TensorRT, QNAP QuAI, and Intel Open Visual Inference & Neural Network Optimization (OpenVINO™) toolkit, it can help you deploy your solutions faster than ever.
---

Mini-ITX SBC supports 14nm LGA1151 Intel® 8th Generation Core™ i7/i5/i3, Celeron® and Pentium® processor, DDR4, dual independent displays, dual GbE LAN, M.2, SATA 6Gb/s, HD Audio and RoHS

- Specifications - Product News

- Live Show(9/27, 18:00pm GMT+8)

---

ATX motherboard supports 14nm LGA1151 Intel® 8th Generation Core™ i7/i5/i3, Celeron® and Pemtium® processor, DDR4, triple independent displays, dual GbE LAN, M.2, USB 3.1, SATA 6Gb/s, HD Audio and RoHS

---

Full-size PICMG 1.3 CPU Card supports LGA1151 Intel® Core™ i7/i5/i3/ Pentium®/Celeron® CPU per Intel® Q370, DDR4, VGA, Dual Intel® PCIe GbE, USB 3.0, SATA 6Gb/s, PCIe mini, HD Audio, iAMT and RoHS
---
New Products

♦

FLEX-BX200-Q370

Intel® Coffee Lake AI Modular Box PC

---

♦

AFL3-12C-ULT3

Intel® Core™ i5 and Celeron® ULT Processor

- Specifications
- Product News

---

♦

AFL3-W19A-AL

Intel® Celeron® J3455 ( quad core , 1.5GHz up to 2.3 GHz)

- Specifications

---

♦

PCIE-Q370

LGA1151 Intel® 8th Generation Core™ i7/i5/i3, Celeron® and Pentium® processor supported, Support M.2 M key for storage (PCIe x4), Intel® PCIe GbE with Intel® AMT 11.0 supported

---

♦

HYPER-AL

PICO-ITX SBC supports Intel® 14nm Apollo Lake on-board SoC with DDR3L, HDMI, LVDS, dual GbE, USB 3.0, SATA, M.2 and RoHS

- Specifications

---

♦

NANO-GLX

EPIC SBC supports AMD® Embedded G-Series SoC with VGA/HDMI/LVDS, Dual PCIe GbE, USB 3.0, PCIe Mini, SATA 6Gb/s, mSATA, COM, HD Audio and RoHS
---
---
---
Taiwan

---


IEI Integration Corp.

Tel:+886-2-8691-6798
+886-2-2690-2098
Fax:+886-2-6616-0028
Email: 

sales@ieiworld.com
| | |
| --- | --- |
| Copyright ©2018 IEI Integration Corp. All Rights Reserved. Design and specifications are subject to change without prior notice. | |