AIO Medical Grade Panel PC |POCi-W22C-ULT5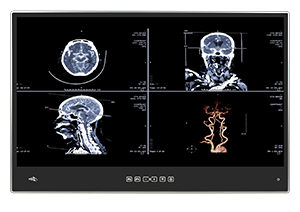 POCi-W22C-ULT5
✔

Medical-grade PPC powered by 14nm 8th generation Intel® Whiskey Lake U platform

✔

Aluminum front bezel (IP66) & PC/ABS rear cover

✔

Chemical etching AG coating

✔

Modular PCIe x4 expansion slot

✔

Dual reading light

✔

FHD IPS panel with optional DICOM preset

 
Intelligent Working Station
The POCi-W22C-ULT5 is a medical panel PC featuring AI, edge computing with rich expansion functions. It is ideal to work in many kinds of medical scenario such as radiology, telemedicine, endoscopy system or surgical working station.

Ultra-slim Aluminum Front Bezel

Ultra slim front bezel creates a premium user experience. This design lets the medical personnel more focus on the clinical information displayed on the screen.
Optional DICOM Preset

The way the human eye responds to contrasts in light levels is not linear. At low levels, we can notice small changes in luminance. At higher luminance, the change needs to be much greater before we perceive the difference from one level to the next. Calibration of the display system is important to ensure that each image is shown consistently every time it is viewed.
IP Protection

IP66 front bezel and cover are easy to be cleaned with cleaners.
Modular Expansion Design
The highly expandable PCIe x4 slot makes the whole system more flexible and easily meet the individual needs from different applications. For instance, adopting the Mustang-V100 to enhance computing power, adding an all-in-one capture card to connect with medical devices, integrating PoE injector card with webcam, or expanding the desired I/O card for multiple usage.

Optional Built-in Battery

Uninterruptible Power System (UPS) is widely used in medical industry for securing patient's safety. The lateral expansion slot is available for a built-in battery which provides emergency power for 60 mins when the input source or main power fails under unexpected events.* This feature needs to be requested before product shipment only and it will interfere with the lateral PCIe x 4 expansion slot.
POCi-W22C-ULT5

POCi-W22C-ULT5

| | |
| --- | --- |
| Copyright©2021 IEI Integration Corp. All Rights Reserved. Design and specifications are subject to change without prior notice. | |