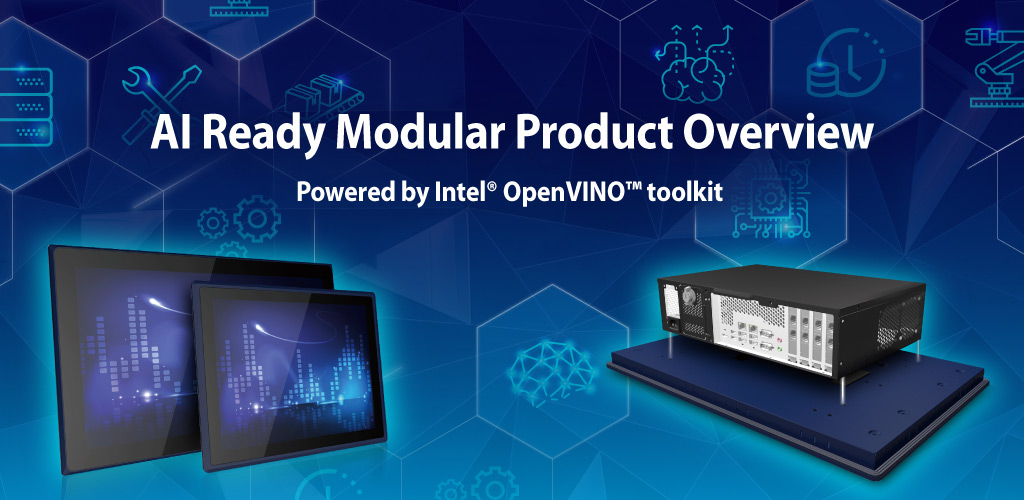 AI Ready Modular Product Overview
Video Highlights
AI Applications FLEX Series - H/W ready kit for AI
Configurable Design
PCIex4/x8 Low Profile Expansion Slots
Inference Server Computing
Secured and hot-swappable HDD Bays
Versatile Mounting with Easy Installation
---
Unique Modular Design
IEI PPC-F-Q370 series AI ready modular panel PC combines FLEX-BX200 Series AI box PC and FLEX-PLKIT Series Panel Kit Modules. The panel and box modules are docked by cabling way that can be easily integrated into various configurations.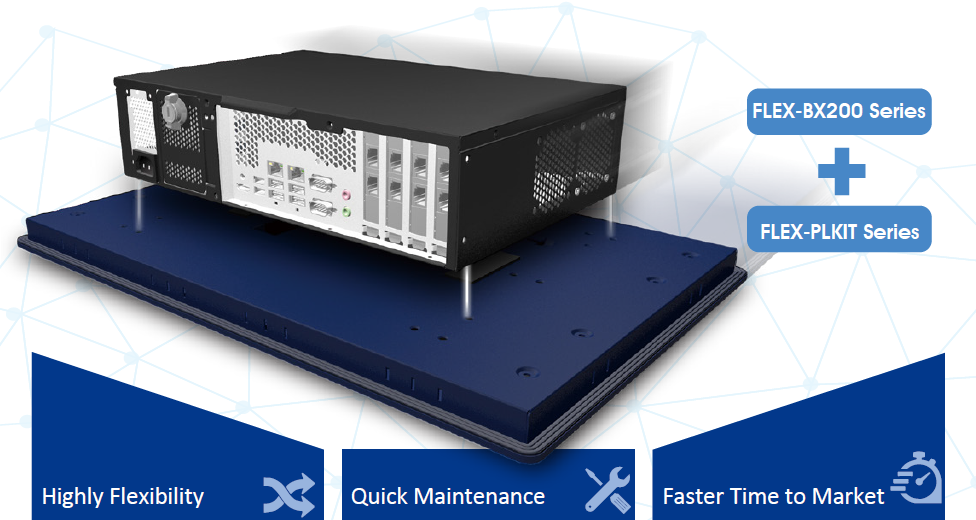 ---
IEI AI ready solution accelerates your AI initiative
OpenVINO™ toolkit is based on convolutional neural networks (CNN), the toolkit extends workloads across Intel® hardware and maximizes performance.It can optimize pre-trained deep learning model such as Caffe, MXNET, Tensorflow into IR binary file then execute the inference engine across Intel®-hardware heterogeneously such as CPU, GPU, Intel® Movidius™ Neural Compute Stick, and FPGA.

---
4-Bay Hot Swappable HDD RAID 0/1/5/10 Protection
The PPC-FxxC series offers four 2.5"HDD bays with high speed SATA 6Gb/s interface that can expand storage capabilities and enable fast data transfers. The equipped Intel Q370 chipset provides reliable and high performance hardware RAID protection to back-up your media and critical information. You can configure the RAID 0/1/5/10 from the BIOS menu to increase performance and/or provide automatic protection against data loss from drive failure.
What type of RAID do I need?
RAID 0 (Striping) - The highest performing level
RAID 1 (Mirroring) - Data safety
RAID 5 (Distributed Parity) - offers both data safety and performance
in reprehenderit in voluptate
RAID 10 (combining mirroring and striping) - data safety and big data volume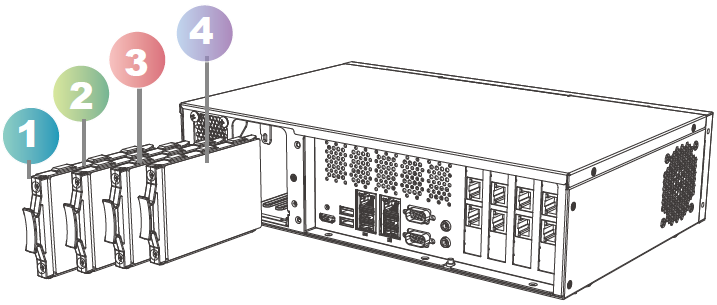 Four PCIe x4/x8 Low Profile Expansion Slots
The PPC-FxxC series supports multiple PCIe slots including two PCIe 3.0 x8 and two PCIe 3.0 x4 slots, which are compatible with standard low profile add-on cards, to meet different edge inference computing applications.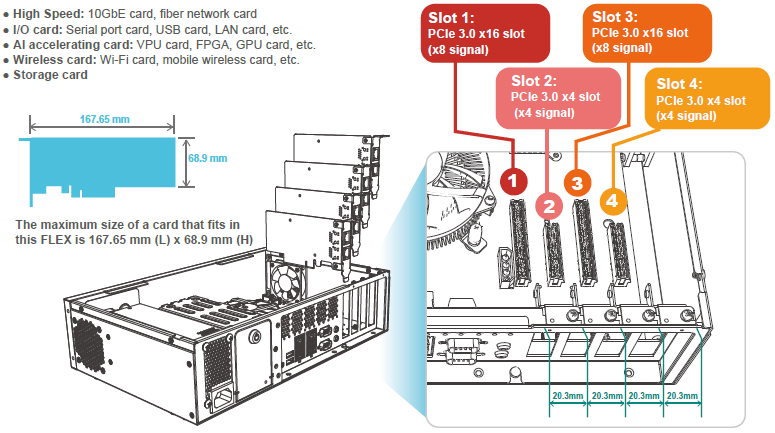 Built-in 250W/350W 80-Plus Gold Power Supply
The 80-plus Gold power supply is implemented into the PPC-FxxC series, which reduces power loss and increases efficiency during power transition. With the certified power supply, the power transition between AC source and DC source could maintain up to 87% efficiency, and the power loss is only 13% or less. For customers, the high efficiency of power transition could reduce not only cost but also heat loss. Furthermore, it could make an eco-friendly environment.

---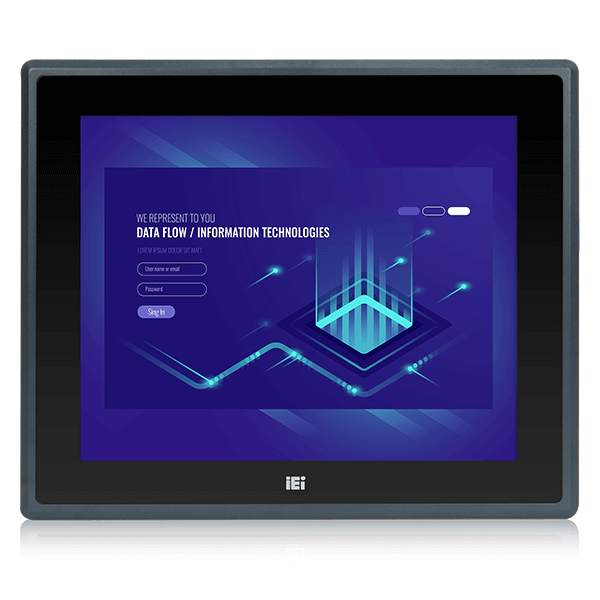 PPC-F-Q370 series AI ready modular panel PC
Panel PC with 8th Generation LGA 1151 Intel® Core™ i7/i5/i3 and Pentium® processor
Four hot-swappable and accessible HDD drive bays, support RAID 0/1/5/10
Two PCIe 3.0 by 4 and two PCIe 3.0 by 8 slots
Dual M.2 2280 PCIe Gen 3.0 x4 NVMe™ SSD support
QTS-Gateway support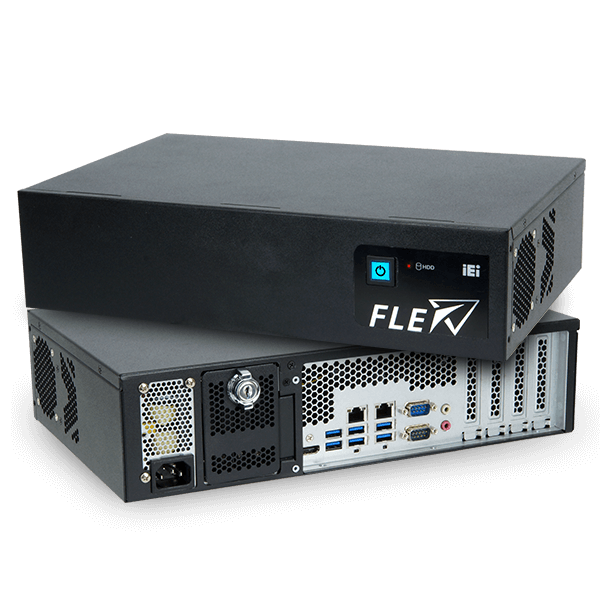 FLEX-BX200-Q370
2U AI Modular PC with 8th Generation LGA 1151 Intel® Core™ i7/i5/i3 and Pentium® processor
Four hot-swappable and accessible HDD drive bays, support RAID 0/1/5/10
Two PCIe 3.0 by 4 and two PCIe 3.0 by 8 slots
Dual M.2 2280 PCIe Gen 3.0 x4 NVMe™ SSD support
QTS-Gateway support
Modular LCD panel kit design
---