Media contact
IEI Integration Corp.
TEL: +886-2-8691-6798
+886-2-2690-2098
FAX: +886-2-6616-0028
IEI Technology USA
TEL: +1-909-595-2819
FAX: +1-909-595-2816
IEI Integration China
TEL: +86-21-3462-7799
FAX: +86-021-3462-7797
IEI Launches NANO-GLX EPIC SBC supports AMD® Embedded G-Series SoC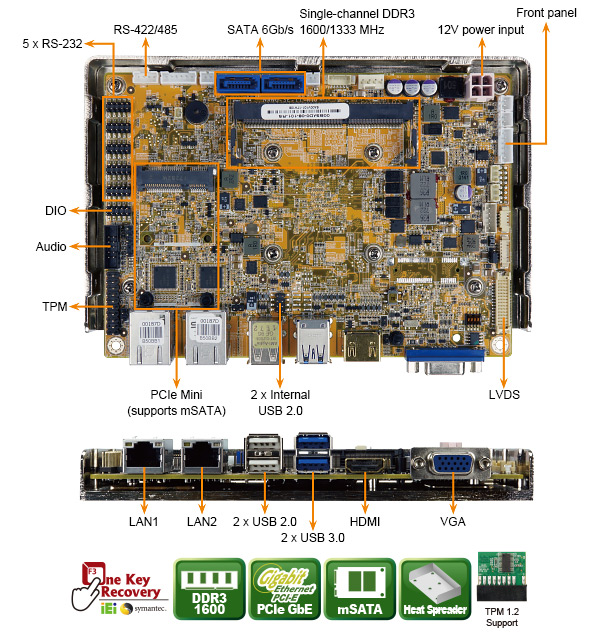 | | |
| --- | --- |
| | EPIC SBC supports AMD® Embedded G-Series SoC |
| | Dual independent display support |
| | HD Audio supported by S/PDIF |
| | COM, USB 3.0, SATA 6Gb/s PCIe Mini, mSATA and audio supported |
| | IEI One Key Recovery solution allows you to create rapid OS backup and recovery |


Lower thermal design with dual display solution

| | |
| --- | --- |
| | AMD Embedded G-Series LX Family SOCs which is compatible with AMD Embedded G-Series "eKabini" and "Steppe Eagle" platform |
| | Highly-competitive price, performance profiles and low power attributes |
| | AMD Embedded G-Series LX Family SOCs support up to two display interfaces, enabling flexible multi-display configurability |
|   | |
Model
NANO-GLX
SoC
AMD® Embedded G-Series "LX" SoC
GX-218GL on-board Soc (1.8GHz, dual core, 1MB cache, TDP=15W)
GX-215GL on-board Soc (1.5GHz, dual core, 1MB cache, TDP=15W)
GX-210KL on-board Soc (1.0GHz, dual core, 1MB cache, TDP=4.5W)
BIOS
AMI UEFI BIOS
Memory
One 204-pin 1600/1333 MHz single-channel DDR3 & DDR3L SDRAM unbuffered SODIMM slot supports up to 8 GB
Graphics Engine
Support DirectX® 11.2, OpenGL 4.1 and OpenCL1.2
UVD4.2 decode for H.264, MPEG2/4, VC1, MVC
VCE 2.0 encode for H.264, VCE
Display Output
Dual independent display
1 x VGA (up to 2048x1536@60Hz)
1 x HDMI (up to 3840x2160@60Hz)
1 x 18/24-bit dual-channel LVDS (up to 1920x1200@60Hz)
Ethernet
LAN1: Intel® I210-AT PCIe controller with NCSI support
LAN2: Intel® I211-AT PCIe controller
External I/O Interface
2 x USB 2.0
2 x USB 3.0
Internal I/O Interface

1 x KB/MS (1x6 pin)
2 x USB 2.0 (2x4 pin, P=2.0)
1 x RS-422/485 (1x4 pin, P=2.0)
5 x RS-232 (2x5 pin, P=2.0)
2 x SATA 6Gb/s with 5V SATA power connector (no RAID)

TPM
1 x TPM (2x10 pin)
SMBus
1 x SMBus (1x4 pin)
I2C
1 x I2C (1x4 pin)
Audio
Realtek ALC892 HD Audio codec
1 x Front audio (2x5 pin)
1 x S/PDIF (1x4 pin)
Front Panel
1 x Power LED & HDD LED (1x6 pin)
1 x Power button (1x2 pin)
1 x Reset button (1x2 pin)
LAN LED: 2 x LAN LED (1x2 pin)
Expansion
1 x Full-size PCIe Mini card slot (supports PCIe, SATA signal co-lay SATA port 2)
Digital I/O
8-bit digital I/O (2x5 pin)
Fan Connector
1 x System smart fan (1x4 pin)
Watchdog Timer
Software programmable, support 1~255 sec. system reset
Power Supply
12V only DC input
1 x Internal power connector (2x2 pin)
Support AT/ATX mode
Power Consumption
12V@2.29A (AMD GX-210KL 1.0GHz with 1600 MHz 4 GB DDR3 memory)
Operating Temperature
0°C ~ 60°C
Storage Temperature
-10°C ~ 70°C
Operating Humidity
5% ~ 95%, non-condensing
Dimensions
115mm x 165mm
Weight
GW: 850g / NW: 350g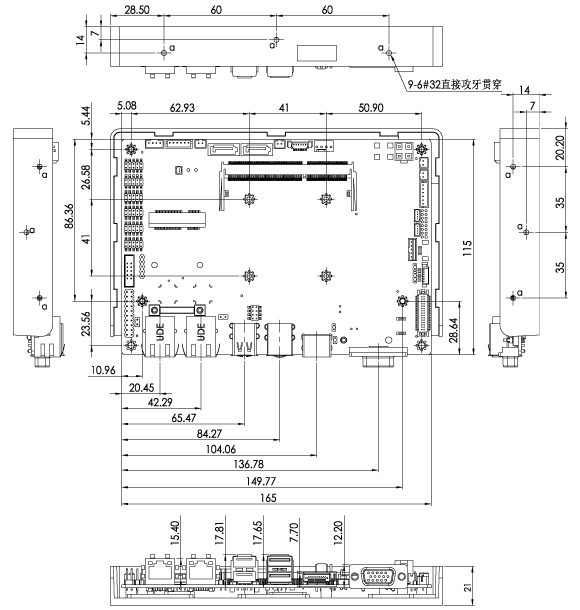 Part No.
Description
NANO-GLX-2101-ECO-R10
EPIC SBC supports AMD® 28nm dual core GX-210KL 1.0GHz (4.5W)on-board SoC with VGA/HDMI/LVDS, Dual PCIe GbE, USB 3.0, Dual PCIe Mini, SATA 6Gb/s, mSATA, COM and Audio, ECO packing and RoHS
Note: Models with other CPUs not listed in the table are requested by MOQ - 100 pcs/lot.

NANO-GLX single board computer with heatspreader
QIG
*

ECO packing for 10pcs SBC per box, each box includes one QIG except connection cables.